[Report from Kobori in Bangkok] Bangkok has a new and popular service - the Itasha anime wraps service. How about getting your car done up in anime wrappings?
Itasha: "A Japanese animator drew these specially for me!"
Are you at all aware of the term "Itasha?" An Itasha is when you put anime-related stickers, drawings, or wrappings on your car, motorcycle, or bike. The above, however, is the only animation car of its kind in existence.
In Thailand, Japanese anime is extremely popular. With clothes, everyday goods, and practically anything you can think of being all anime-themed and fashioned after favorite characters, it's almost painful to take in. Taking this to the extreme, is the Itasha - decorating your own car in anime.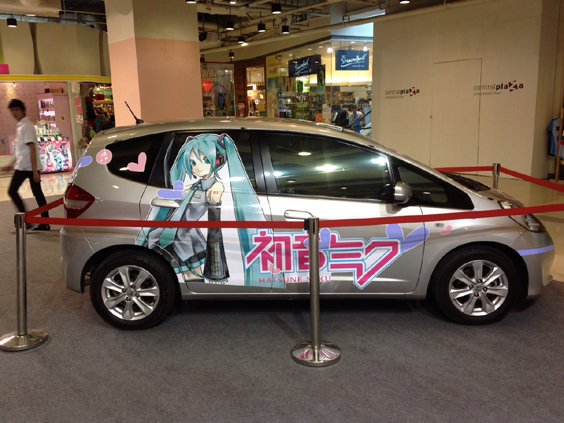 The leading industry in Thailand that is heading this Itasha "wrapping service" is a company run by Toru Sato under the name SHOGUN WORLD CO.,LTD. Sato-san's company is the only one to provide this service in both Japan and Bangkok.

Sato-san's influence in this field is made apparent in that he has managed to own the only original Itasha while not violating any copyrights.Unfortunately, many of the Japanese anime copyrights are not protected to the same extent outside of Japan, and infringements are not at all uncommon. Thailand is no exception to this.

Sato-san also has a lot of online followers in Japan. With the blessing of the copyright owner of this popular anime, he placed an order for illustrations. He then transferred the illustrated version onto a piece of film and shipped it to the Thai anime fan that originally requested the car. The slogan for this car? "A Japanese animator drew these specially for me!"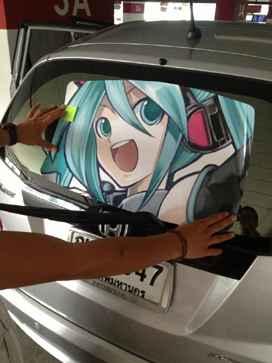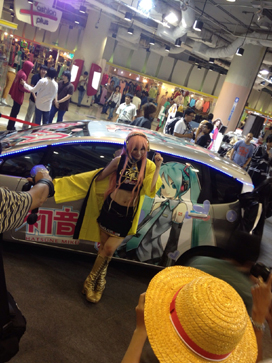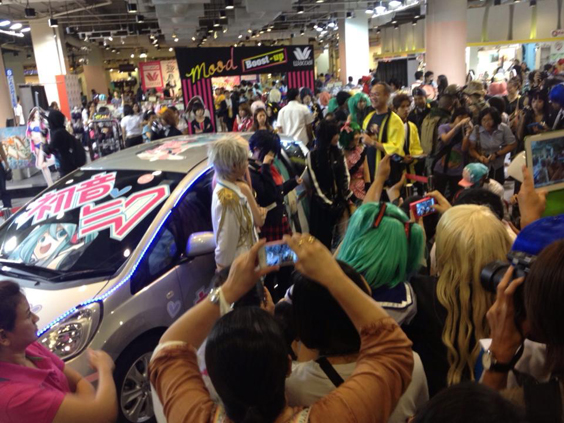 For those truly captivated by the anime-craze, not only will they go through and do the outside "wrappings," but they will also decorate the interior of their car and sometimes even their roof. They'll even go so far as to make sure the music stays in theme. The wealthy are the primary buyers, generally found purchasing these things for their sons or daughters.
The "wrappings" (stickers) cost about 2,500,000 yen and can be even be put on small cars. By no means is this cheap, but Sato-san says he has felt a solid market growth take place. He states, "If you explain why the prices are as expensive as they are, the majority of your consumers will understand."
In Thailand about thirty "Itasha" are being driven around publicly in early 2014. Gaining popularity are events in which cosplayers along with Itasha owners band together. Following this same line of thought Itasha fanatics have started their own conventions. We think all this certainly has the potential to become one of the biggest booms!
Photos: provided by SHOGUN WORLD CO.,LTD
Related Articles
Overseas correspondent Kobori PROFILE

Former newspaper journalist who ventured alone to Bangkok, Thailand, in November 2011. Regularly employed by Tokyo Shimbun (Chunichi Shimbun Tokyo HQ) and TV Asahi in the local news department. Was in charge of Section 2 and 4 of the Metropolitan Police Press Club for a total of four years. Originally a police reporter but also covers a variety of fields, including politics, economy, society and culture. Currently writes for website "Bridge" (
http://bridge-kakehashi.net/
)– Asian news and info from a Thai perspective.
PRESENTS
All the info. on asianbeat's present campaign!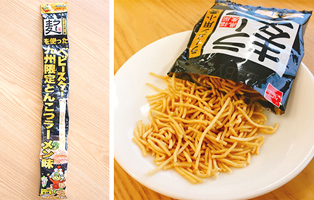 * Win a packet of "Ramugi Baby-Star (Kyushu limited edition tonkotsu ramen flavor)"!
[Details] Click
HERE
!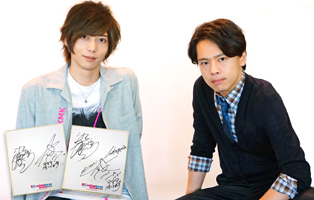 *Win a card signed by Akinori Nakagawa & Toshiyuki Someya!
[Details] Click
HERE
!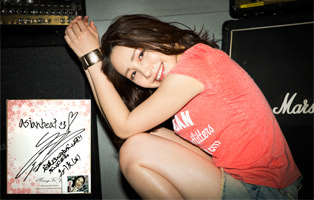 * Win a card and a cheki (photo) autographed by You Kikkawa!
[Details] Click
HERE
!