[ICON] Osamu Namba - Top Shop "sinkirou" Owner
Oyafuko Dori street – the pinnacle of fun and fashion during the bubble years
Japan's economy was flourishing in the late eighties thanks to the economic bubble.
In Fukuoka, the shops along Oyafuko Dori were doing extremely well.

Oyafuko Dori (which literally means "Disobedient child" street) got its name from the nearby two cram schools and the students who studied there.

The street was full of cafes and game centers targeting the cram school students, and also the Maria Club disco, the biggest in Kyushu at the time. The students stayed out late having fun (instead of studying) – thus the name. But after the economic bubble burst in the late 90', and the cram schools and discos closed, the area lost much of its luster.

Namba Osamu is someone who was himself experienced the rise and fall of Oyafuko Dori and has his finger to the wind of Fukuoka fashion. He opened the store sinkirou Fukuoka in Daimyo Chuo-Ku back in January this year.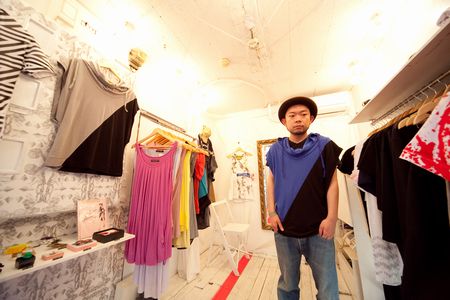 Namba was always into fashion and started working in an apparel shop in Oyafuko Dori when he was 18, the center of fashion in those days.
Since then he worked as a manager at an addidas Originals store and also got involved in a development project for a new apparel shop in Tokyo. Now he has opened his own store. It is a tiny shop, only four and a half tatami mats in size. Colourful brand goods line the unique space which is like an art studio.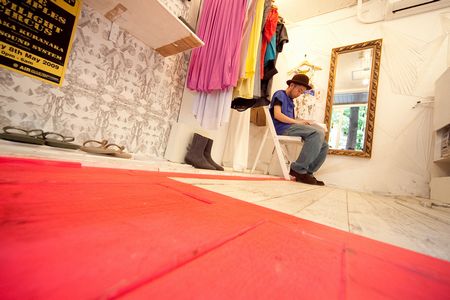 Namba, coming home again to the Fukuoka fashion scene has this to say about the city:
"In a way Fukuoka is very influenced by trends.
However, at the same time there is a lot of original fashion. It portrays its own unique sense to the world. That's why I want to make it here in Fukuoka."
Fukuoka has long been at the forefront of exchange with the Asian continent and Korean Peninsular, the people being free and easy and interested in new things.
The proof of this can be seen in the fact that rice cultivation, noodles, Buddhism and even the sailor school uniform came to Japan via Fukuoka.
You can say that the welcoming way that Fukuoka greets food and culture is a characteristic of the place.
On the other hand popularity comes and goes quickly. It is this essence of Fukuoka being susceptible to change which makes it so interesting.
Festival loving Fukuoka – individuality and impact the key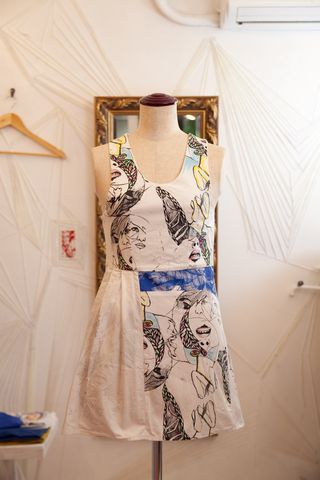 Sinkirou Fukuoka
features items with impact like military, punk, folklore and designers with unique philosophy such as
popular sperm show
and
dissteady own philosophy
.
Namba feels that the festival loving Fukuoka population will take to the sense embedded in his high quality lineup, way before it takes off in the major cities.
It is said that since the coming of the mobile phone 15 years ago, Japanese are exposed to 530 times more information than before. With this flood of information, Fukuoka is bound to change at a rapid pace.
This will make places like sinkirou Fukuoka – places that peruse the real thing – more important in the future.
The Japanese word "Shinkiro" means mirage. I'm hoping that this sure will become a small hub for Asian culture.

sinkirou Fukuoka
TEL.092-712-6557
1-5-5-103 Daimyo Chuo Ku Fukuoka City
Hours of business: 12:00〜20:00
E-mail. sinkiroufukuoka@kotona.jp
Site.
http://sinkirou-web.com/
PRESENTS
All the info. on asianbeat's present campaign!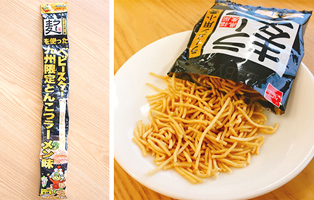 * Win a packet of "Ramugi Baby-Star (Kyushu limited edition tonkotsu ramen flavor)"!
[Details] Click
HERE
!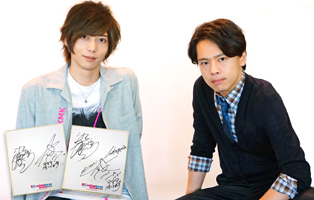 *Win a card signed by Akinori Nakagawa & Toshiyuki Someya!
[Details] Click
HERE
!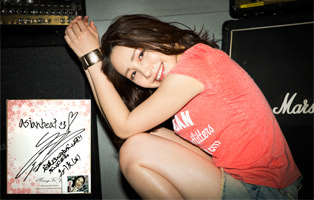 * Win a card and a cheki (photo) autographed by You Kikkawa!
[Details] Click
HERE
!