[ICON] Sebastian Masuda – On a mission to bring Harajuku Kawaii Culture to the world(3/4)
Kyary's worldwide fame was a natural progression.

●The Kyary Pamyu Pamyu single PONPONPON released after the earthquake and tsunami, and with its colorful music video went round the world in a flash.Sebastian Masuda was the artistic director of this video.
――Did you make any new discoveries at this event?

Masuda: I realized why Japanese aren't that highly admired overseas, it is because overseas you have to be able to explain why you made an item or work of art – and if you can't you won't get that recognition.When we were in San Francisco with the shop for the month I decided to hold a talk show as a token of appreciation for all those who supported us there. The result was more than a full house. I talked about why they are attracted to Harajuku culture and what specifically that attraction is. Their response was an endless standing ovation. San Francisco is an academic region and I think they had been waiting to ask someone how Japan's original Harajuku culture came to be. There were girls with colorful hair and tattoos who with tears rolling down their cheeks said "It's OK to believe in my own fashion" and "At last I know why I dyed my hair blue".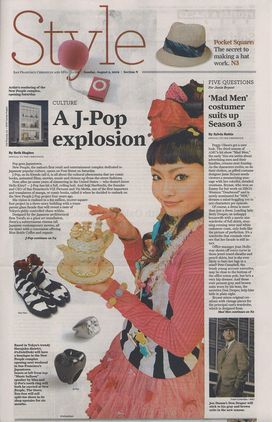 ●6%DOKIDOKI takes up a whole page of the San Francisco Chronicle
There are a lot more single mothers overseas than in Japan, and they all have issues bottled up inside. The one place that they can find solace is their fashion. Those girls in America see Harajuku as a sacred place where they can express themselves through fashion, no matter what they look like, without fear of discrimination.

――What was the media reaction in each country on your world tour?

Masuda: We got a lot of media coverage in every country and every region we visited, and gradually the link between KAWAII and HARAJUKU grew. We were in the San Francisco Chronicle and also made the front page of the Seattle IBUKI MAGAZINE. Japanese tend to belittle themselves thinking "Japanese stuff would never be accepted overseas", but overseas it gains momentum and there is a bit of a time lag before the reaction comes back to Japan. And just when the words KAWAII and HARAJUKU together swiftly rose in stature overseas, the Great East Japan Earthquake and Tsunami hit. It was top news all over the world. Japan was under the spotlight for the wrong reasons and I was even interviewed by CNN. And just when the world saw Japan in despair, the colorful culture was a beacon of hope for the future. Out of all this came the icon Kyary Pamyu Pamyu.

――Kyary appearing on the scene seems like a natural progression.

Masuda: This kind of fashion had become popular in the past, but it had no "icon" to showcase it. Kyary was a customer of 6%DOKIDOKI. She got a break and music was composed to fit her style and all of a sudden she became an icon. In fact, the earthquake and colorful culture are closely linked, and Kyary's world fame was a natural progression. Her post earthquake debut song PONPONPON and its colorful music video went viral throughout the world. At a time when Japan was under the world spotlight due to the natural disaster it was easy to get the attention of the people of the world.
I'm sure that people watching her were inspired to think that Japan had hope for the future.
●The cultural even Roots of Kawaii produced by Masuda SebastianSebastian Masuda attracts an audience of 6,000「Roots of kawaii」
――Subsequently you and Kyary were able to link up with many different people…
Masuda: That's right. In December 2011 we held the event Roots of Kawaii in LA. I thought that with the word KAWAII spreading around the world we had to correctly explain the definition. The reason behind this was, for example, if you ask foreigners about Hello Kitty they would say "Mickey is a mouse so Kitty is a cat, isn't she?" In other words, they think Hello Kitty is a rip-off of Mickey Mouse. But on the contrary, the KAWAII culture runs in the blood of we Japanese, and in Hello Kitty, which we consider a Japanese original. So it is up to us to explain the roots of KAWAII culture it would get lost in the crowd. I want to pass on the reality and history of KAWAII culture from the origin of Japanese fancy culture Naito Rune san right through to the cutting edge of Kyary chan. By the way, some people lined up for 6 hours for tickets. KAWAII culture expanded in quite an advanced context.
We create things from scratch without any overseas cultural influences and we feel like pioneers slashing our way through unchartered jungle. We have pioneered events in Japan and then there was HARAJUKU KAWAII!!!! organised by Nakagawa san and ASOBISYSTEM. Our network of friends spread so much that now it reaches overseas. With the current fashion culture being so popular I think the colorful 90s fashion culture is being reassessed. If it wasn't for us the culture of the era would have been forgotten. But we actually lived in that era and it did exist. And it continues today, the free spirited Harajuku of the 90s is alive in the senses of people like Kyary. We want to see it again and feel what it is like – this is the driving force. People overseas see this culture and feel there is hope for Japan in the future.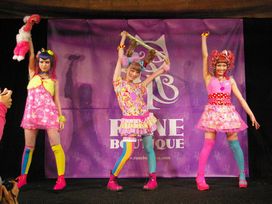 ●Kyary Pamyu Pamyu in a fashion show wearing 6%DOKIDOKI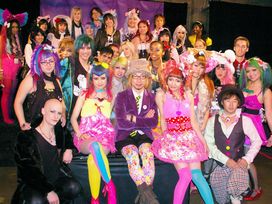 ●Group photo of the support staff at the Roots of Kawaii event
The events Sebastian Masuda holds overseas are unusual in the fact that he is a Japanese organizer and the staff and audience are all locals.