#35 Fahion, Beauty and the Moscow J FEST
Moscow's "J FEST" has become a signature event of the winter season in Moscow and is now in its fourth year – the most recent installment being held in December last year (2012). It's the largest Japanese pop culture event of its kind in Moscow and the main attraction has remained constant from the very beginning: the fashion show.
Japanese "kawaii" fashion really suits the girls in Moscow!
As producer of the show I get to see everything from the auditions to what happens backstage, but I would feel bad if it was just me who got to experience this, so I've decided to share some photos to give you all a taste of what the J FEST fashion show is all about.
The clothes look so good on them and they actually yearn to wear them, but there's just no easy way for girls in Moscow to get their hands on these Japanese fashions. They could order them online but when you include the price of shipping it's not exactly cheap. So how do we overcome this dilemma? Maybe someone out there has some ideas?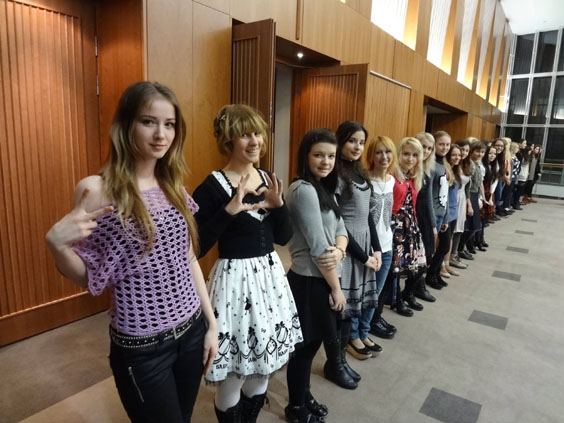 The auditions.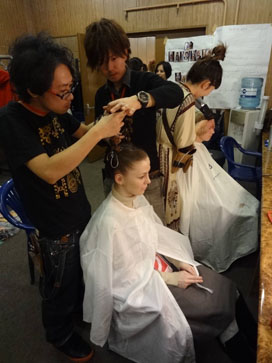 Backstage. Hair and Makeup by Ash.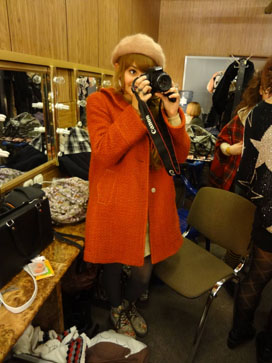 A big fan of Morning Musume.
The brands participating in the J FEST "kawaii" fashion show this year were ALCONGUINS, galaxxxy, ISBIT DAIKANYAMA and PUTUMAYO – everything from street fashion to girlie-girl fashion. It was an exhibition of the trends coming out of Tokyo and Japan right now. Since the event's second year we've been enlisting the help of Japanese hair/beauty salon, Ash, to do the model's hair and makeup. This is one of the things the Moscow girls really look forward to.
Japan's fashion and beauty industries want to make advances on the world stage but progess has been fairly slow. So at least this is another step in the right direction. I don't think there's anything that American or European companies can do that Japanese ones can't. If there's no demand for the product than it's likely there won't be any efforts to reach global audiences, but there are people all over the world who really try to keep up with Japanese fashions and beauty and I was reminded at J FEST once more that I need to relay this information to people back home.

The Auditions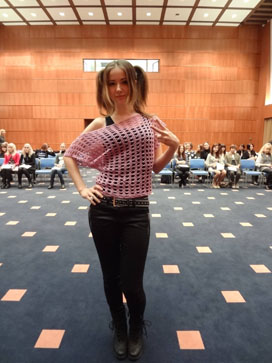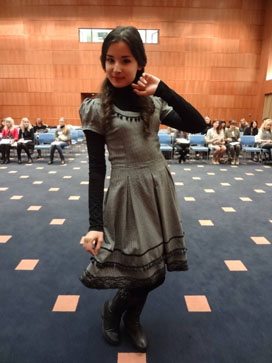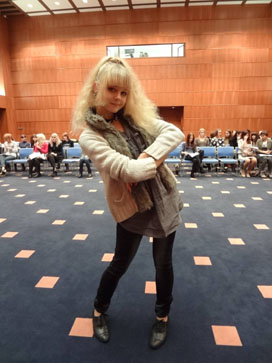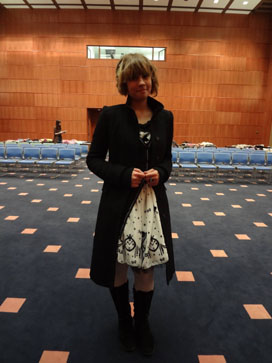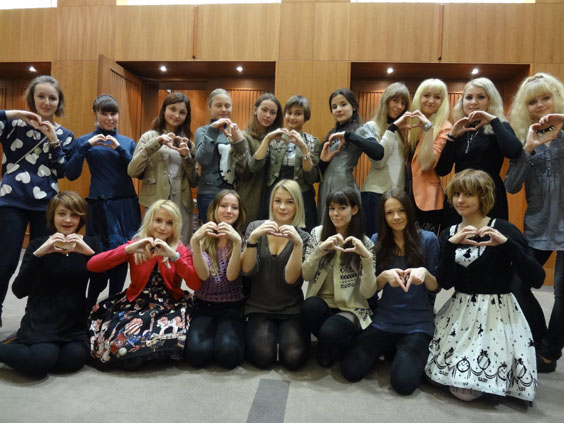 A photo with all the models chosen for the show.
The Dressing Room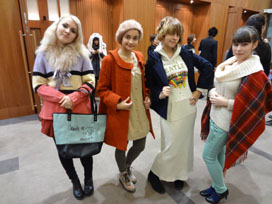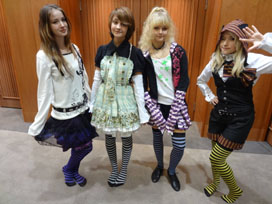 Backstage Before the Show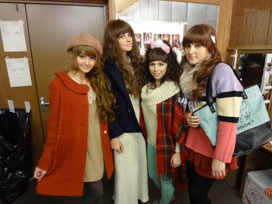 ISBIT△DAIKANYAMA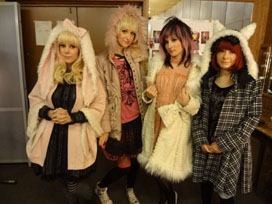 ALGONQUINS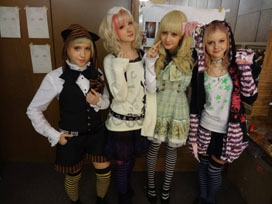 PUTUMAYO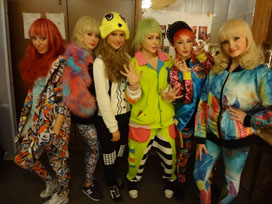 galaxxxy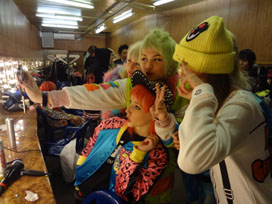 Backstage. Taking a selfie.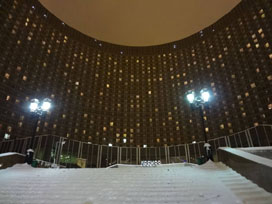 J FEST event hall, Hotel Cosmos.
The Fashion Show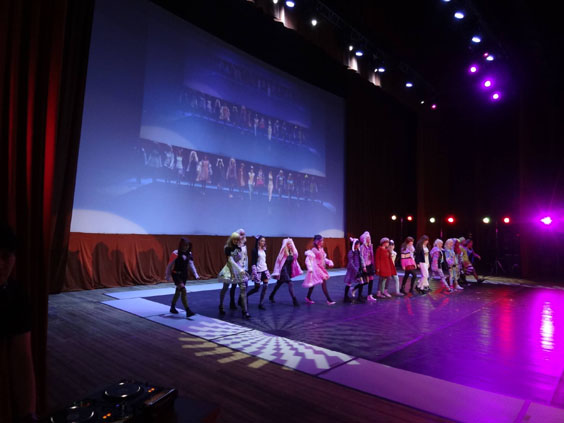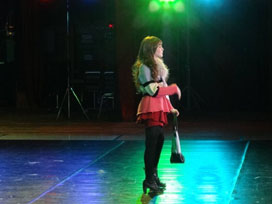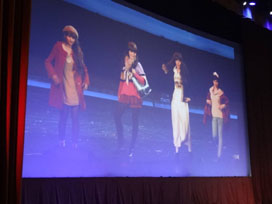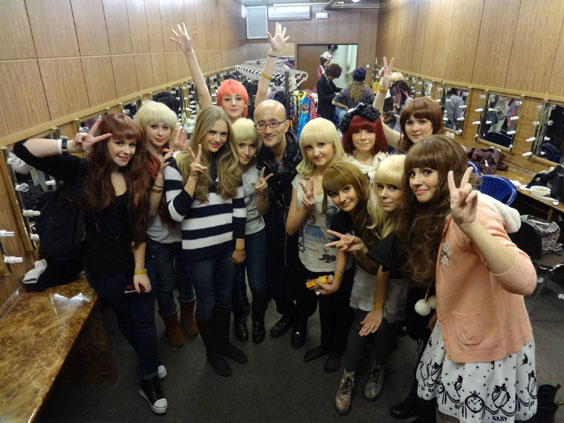 A pic with everyone after the show.
This time around I was also joined by Terashima Nagisa, designer for Wendine, an original label of participating brand, ISBIT DAIKANYAMA, and their press manager, Nakamura Yuka.
"I've really come to love Moscow! I had no idea how much love there was for Japan here. We need to learn more about Russia now as well."
I think that the more Japanese that come and actually experience this event for themselves, the greater the influence it will have on relations between Russia and Japan in the future.

Fan Fashions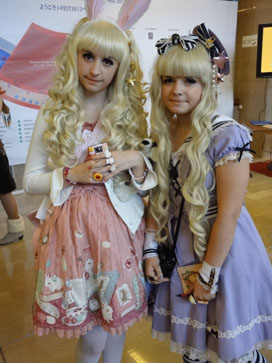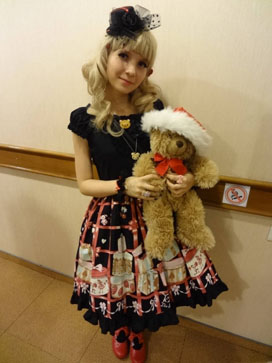 A new article every Wednesday!
Next time: A year in the making – Japanese pop culture event in Qatar.

Columnist: Sakurai Takamasa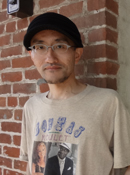 Contents Media Producer, author, journalist, managing director of Contents Street Inc. Chief Editor of iPhone magazine "Tokyo Kawaii Magazine" (ASCII Media Works), World Cosplay Summit Executive Advisor, Chief Researcher at Kodansha/Kodansha BC China Management Laboratory.
Cultural diplomat producing events in 103 cities in 24 countries. Books include "Galapagos-ka no susume"(Kodansha), "'Suteru' de shigoto wa umakuiku"(Diamond-sha), "Nihon wa anime de saiko suru
"(ASCII Shinsho), "Sekai no kawaii kakumei " (PHP Shinsho), and "Anime bunka gaiko "(Chikuma Shinsho). Writes regular columns in the weekly magazine "ASCII" and Yomiuri Shimbun.

●twitter http://twitter.com/sakuraitakamasa/
PRESENTS
All the info. on asianbeat's present campaign!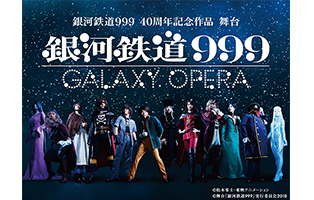 * Win 2 pairs of tickets to the play "Ginga Tetsudo 999" -GALAXY OPERA- Kitakyushu Performance!
[Details] Click
HERE
!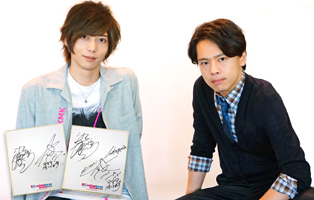 *Win a card signed by Akinori Nakagawa & Toshiyuki Someya!
[Details] Click
HERE
!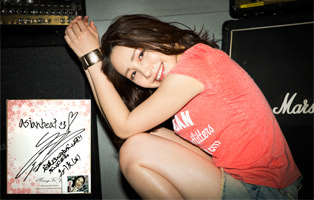 * Win a card and a cheki (photo) autographed by You Kikkawa!
[Details] Click
HERE
!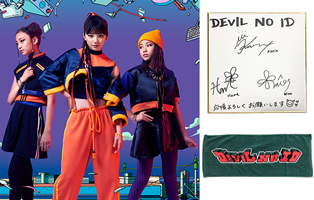 * Win a card or a towel autographed by DEVIL NO ID
[Details] Click
HERE
!