#38 From Idols to Fashion – This Qatari Girl's Room is Full of Kawaii
One is all it takes. Just make one friend from another country and your view of that country will change completely. That's what I believe to be the fundamental truth behind all foreign diplomacy.
It's the people that countries are formed upon and by getting to know the people, countries become more than just places you've seen on a map or in the media.

The first time I met my Qatari friend Tammy was during a visit to Doha in March 2012, at a lecture I gave with Ambassador Kenjiro Monji at the Japanese Embassy in Qatar.
"Is there anyone here who has a favorite Japanese idol or idol group?" I asked the audience casually, but there was one girl who shot her hand straight up and said Yamashita Tomohisa and Natsuyaki Miyabi of Berryz Kobo. That girl was Tammy. She's a university student in Qatar and the more I came to learn about her the more I realized just how much love she has for Japan. It was also through knowing her that my knowledge and understanding of Qatar changed dramatically.
She offered to volunteer for us at the Japan booth at the Doha International Book Fair in December 2012, and the difference that her presence and the presence that the other like-minded young Qatari people made over the 11 days that the event was held, impacted on the Japan booth greatly.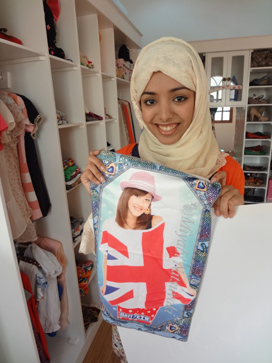 ● A big fan of Natsuyaki Miyabi of Berryz Kobo.
The day after the Book Fair, Tammy and her family invited me and Aoki Misako around to their house. This was such a rare and valuable opportunity and when I asked if it was alright if I wrote about it in my column, they gave me the OK immediately.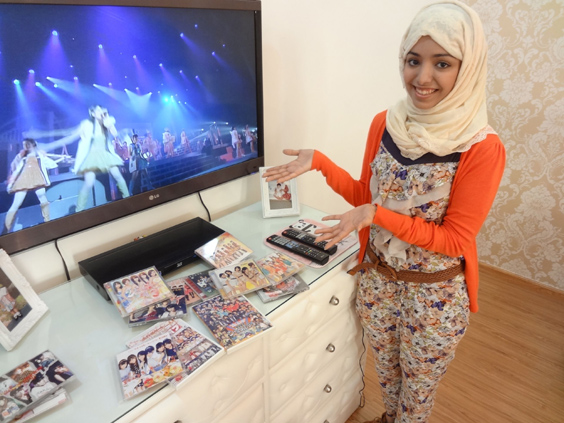 ● She has even visited Japan just to watch an idol group perform live.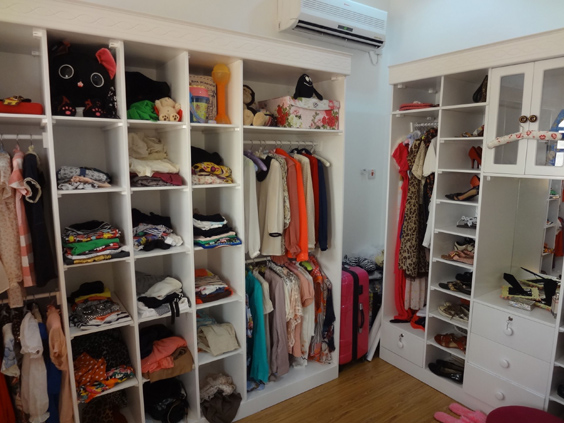 ● Her wardrobe looks just like a shop the way its all so neatly arranged.
She had told me about her collection prior, but actually seeing so many Japanese idol CDs and DVDs at a home in Qatar took me by surprise. She played her favorite Hello! Project video for us and it began to feel like we weren't even in Qatar anymore. But it's these kinds of feelings and encounters that make cross-cultural diplomacy so enjoyable.
In one corner of the room she has a dresser for all the things she considers kawaii. "Monozukuri" (making things/craftsmanship) is a big part of the Japanese psyche. It is what has led to Japan being labeled as "a country that makes things that can only be found in Japan," and seeing all the origami, Hello Kitty and Hatsune Miku items lined up in this room reminded me of that.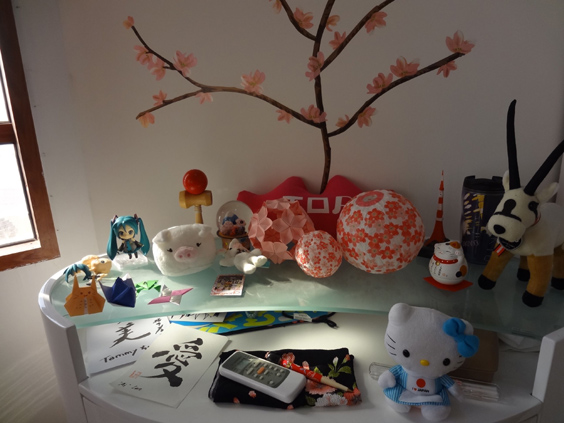 ● So much kawaii. The Japan corner of Tammy's room.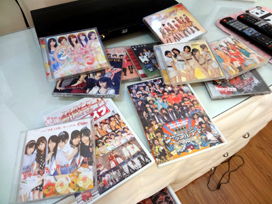 ● Her collection of CDs/DVDs includes groups like Berryz Kobo and ℃-ute.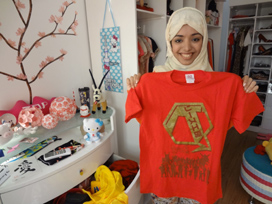 ● Holding a Berryz Kobo t-shirt she bought at a concert in Japan.
A new article every Wednesday!
Next time: Voice actress Uesaka Sumire's report on her first cultural diplomacy trip to Doha.

Columnist: Sakurai Takamasa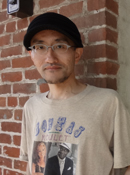 Contents Media Producer, author, journalist, managing director of Contents Street Inc. Chief Editor of iPhone magazine "Tokyo Kawaii Magazine" (ASCII Media Works), World Cosplay Summit Executive Advisor, Chief Researcher at Kodansha/Kodansha BC China Management Laboratory.
Cultural diplomat producing events in 103 cities in 24 countries. Books include "Galapagos-ka no susume"(Kodansha), "'Suteru' de shigoto wa umakuiku"(Diamond-sha), "Nihon wa anime de saiko suru
"(ASCII Shinsho), "Sekai no kawaii kakumei " (PHP Shinsho), and "Anime bunka gaiko "(Chikuma Shinsho). Writes regular columns in the weekly magazine "ASCII" and Yomiuri Shimbun.

●twitter http://twitter.com/sakuraitakamasa/
PRESENTS
All the info. on asianbeat's present campaign!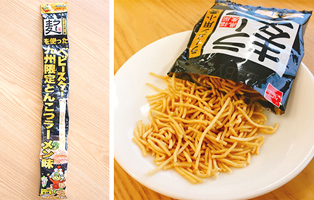 * Win a packet of "Ramugi Baby-Star (Kyushu limited edition tonkotsu ramen flavor)"!
[Details] Click
HERE
!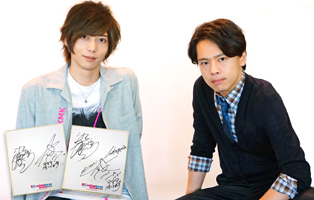 *Win a card signed by Akinori Nakagawa & Toshiyuki Someya!
[Details] Click
HERE
!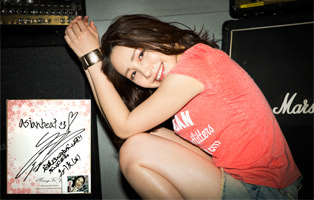 * Win a card and a cheki (photo) autographed by You Kikkawa!
[Details] Click
HERE
!