#62 Cultural Diplomacy in China and the Chinese Girls With a Lot of Love for Japan
In July this year, I released my new book, "Nihon ga Suki Sugiru Chugokujin Joshi" (lit: The Chinese Girls With too Much Love for Japan) (PHP Shinsho), and I've decided to make this the theme for my article this week.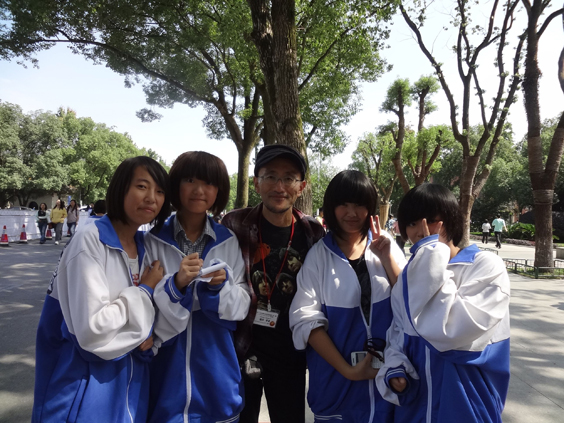 October 2011. Changsha. Talking anime and signing autographs.
I first began my cultural activities in China in January 2010. Three and a half years later and I've visited the country 21 times and carried out activities in 38 individual cities. During this time I've constantly been interacting with the local youth in China in various shapes and forms. I've been a part of large projects like official group tours, produced fashion shows in pedestrian malls and given lectures at universities where I don't come across a single other Japanese citizen. Lately, the social and political state-of-affairs between Japan and China has been on somewhat shaky grounds. Rather than mention the good relations between Japan and China, newspapers and magazines only report the opposite. But there's always a lot more to the story. I've been carrying out my cultural diplomacy activities right in the midst of this media turmoil and that's exactly what I felt.
What I want to focus on in this article, though, are all the girls I've met in China in the course of my work who love Japanese pop culture and take an interest in Japan.

Why is it that "anti-Japan" gets all the attention in the media, whereas "pro-Japan" doesn't even get a mention?
Why is it that Japanese fashion magazines sell so well in China but Japanese brands don't?
Why aren't Japanese companies successful in the Chinese market?
Why do Chinese girls like cool male Japanese anime and manga characters?
Why are Chinese universities such hotbeds for budding female otaku?

Chinese girls play a central role in my book as I attempt to answer all the "why's" that I felt while in China.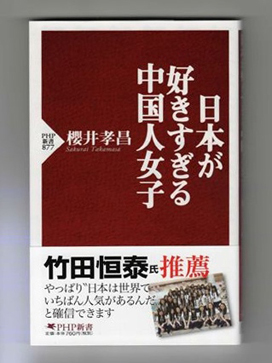 "Nihon ga Suki Sugiru Chugokujin Joshi" (PHP Shinsho) Now on sale.
It's rather important for Japan and the Japanese economy, but what kind of lives young Chinese girls lead and what the kinds of things they think about is almost never reported.

People who have experienced the same thing for themselves in China will probably read this and know exactly what I'm talking about. But it's these things that seem so natural that don't relay to Japan. Girls like these who have a strong passion for Japanese anime and fashion are vital to the future of Japan-China relations.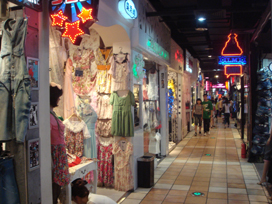 June 2010. Shenyang. You can find a lot of Japanese fashion in China.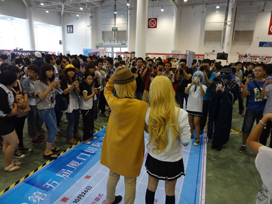 October 2012. Xiamen. A lot of Japanese anime cosplayers turn out for anime/manga events.
China is a country that's so close, yet seems so far away. But once you see these girls who have all this love for Japan, the gap between the two countries suddenly feels a lot smaller. I hope that people will read this book and come to understand a little more about China through what I experienced during my travels there.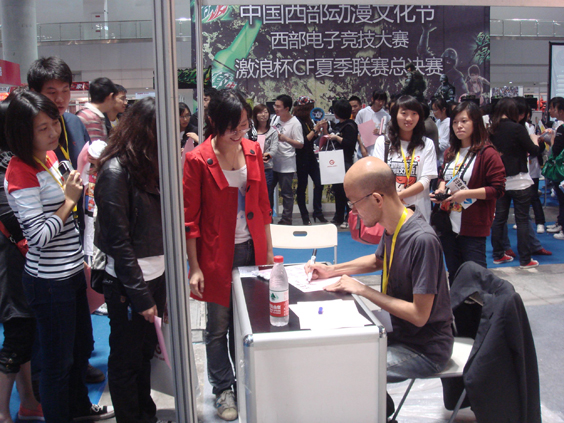 October 2010. Chongqing. Fans lining up for an autograph.
A new article every Wednesday!
Next time: Local Idol Report. Interview with Hime Kyun Fruits Kan.

Columnist: Sakurai Takamasa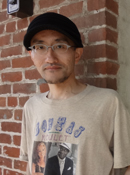 Contents Media Producer, author, journalist, managing director of Contents Street Inc. Chief Editor of iPhone magazine "Tokyo Kawaii Magazine" (ASCII Media Works), World Cosplay Summit Executive Advisor, Chief Researcher at Kodansha/Kodansha BC China Management Laboratory.
Cultural diplomat producing events in 103 cities in 24 countries. Books include "Galapagos-ka no susume"(Kodansha), "'Suteru' de shigoto wa umakuiku"(Diamond-sha), "Nihon wa anime de saiko suru
"(ASCII Shinsho), "Sekai no kawaii kakumei " (PHP Shinsho), and "Anime bunka gaiko "(Chikuma Shinsho). Writes regular columns in the weekly magazine "ASCII" and Yomiuri Shimbun.

●twitter http://twitter.com/sakuraitakamasa/