#63 Local Idols and the Potential They Hold for Japan
It has long been said that Japan is currently in a "warring idols" period, but the situation has changed drastically over the years and I believe that period is now in its second phase. The force behind this change: Japan's regional idol (also called local idol or "locodol") boom. I think "locodol" has a nice ring to is, so this is how I like to refer to them. Locodol concerts are now even held in Tokyo quite regularly. However, I'm a firm believer in seeing is believing, and I don't think you will truly understand the nature of something unless you get in amongst it yourself. Once you see these locodols on their home soil, you begin to understand their true appeal. With that in mind, I made my way Ehime prefecture, to see locodol group, Hime Kyun Fruit Can (aka Himekyun), perform live in Matsuyama.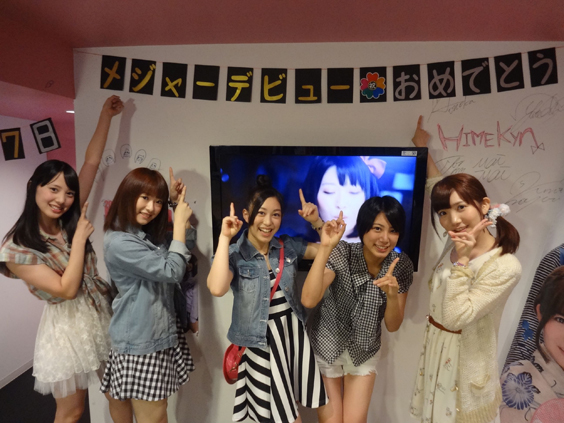 At the "Himekyun Shop" in Gentengai mall after their major debut.
I first met the girls when I was working on NHK's world music program, "J-MELO." J-MELO runs a project called "ikinari sekai debut" (sudden world debut), and one of Himekyun's video clips, "Tatoeba no Monster," received most votes from around the world for this project in 2012 and I was the one to present them their award. That was how we first met.
Himekyun's home turf - the "Salon Kitty" live house. Kitty Hall is on the fifth floor.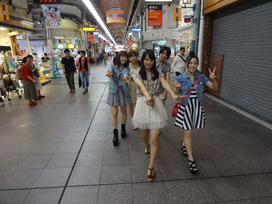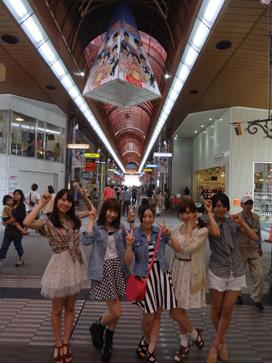 At the local shopping mall, Gintengai.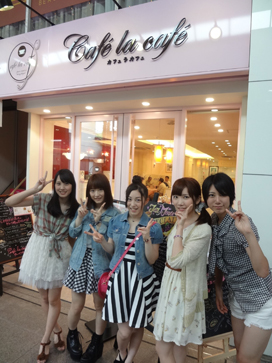 Himekyun's home-ground is a well-established live house in Matsuyama, Ehime, called "Salon Kitty." A number of my friends who are in rock bands have played this live house numerous times. Of course their songs are good, but when you have talented musicians like the ones at this particular live house working on song creation, production and recording, it's not hard to understand why they made such a big impression on people throughout the world. According to people in the industry, Himekyun have really formed a solid base around them. You could say the same of most locodols, but they've undertaken the mission to revitalize their local areas, and while that may be their ultimate goal, they still have to balance their training schedules and time to work on their songs, so making it all work surely can't be easy. At the end of the day, it is the songs and the idols themselves who have to win people over after all. Once that's sorted their hometown activities can get underway. To find out just how local areas get involved with these groups and to develop a better understanding of these locodols known as Himekyun, I decided to speak to the people who have long supported Himekyun, the people at Gintengai mall in Matsuyama. I'll be bringing you my interview with the key members of this shopping mall in my next installment.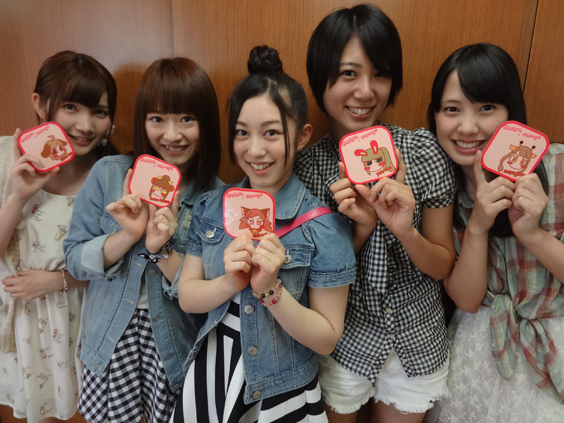 Holding the Himekyun goods made by Gintengai shopping mall.
I asked the members of Himekyun what they think it means to be a part of an idol group in Matsuyama.

Tanio Sakurako: "I'm happy that I get to do this kind of work in the very same environment that I live in."

Kono Honoka: "We have fans that visit Shikoku for the first time so they can see us. I hope that Himekyun can become the reason for more people coming to learn more about Ehime or Shikoku."

Even on the bus as I made my way to the city from Matsuyama airport I saw a number of people who looked to be Himekyun fans. I think it's good if there are a number of things that lead people to finding out more about Japan. Just like how anime is used to promote Japanese companies overseas, there's a high possibility that locodols can do the same for regional areas in Japan.

So just what's different about concerts held in Matsuyama?

Kono: "At the performances we regularly hold at Kitty Hall, everyone remains seated right up until the encore. Our dance routines are quite energetic and although people might have the impression that our concerts are mostly standing only, I think it's this "laid-back" attitude that is what's so appealing about Matsuyama and Himekyun."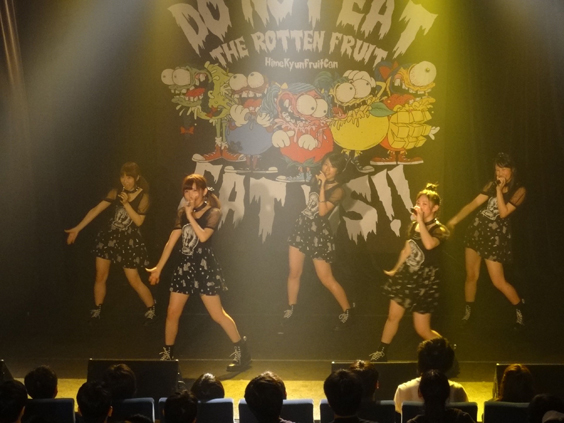 Himekyun live. Their energy is amazing.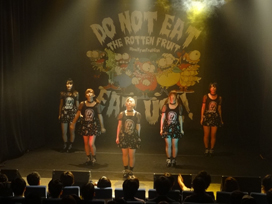 At all-standing concerts it's difficult for anyone not in the front row to see anything other than the faces of the group performing, but at Himekyun's concert in Matsuyama you could see everything the girls did. For the encore performance at the very end of the concert, everybody stands up and I feel that this really strengthens the sense of unity between Himekyun and their fans.

Tanio: "Performing in regions all over Ehime, I've come to appreciate the area a lot more myself."

All the girls say how they've fallen in love with Ehime through their activities with Himekyun. Knowing the charm of a region and sharing it with the rest of the world. Local people see the pride that these girls have for their hometown and they then in turn develop similar feelings.

I asked them how they currently view their hometown, Matsuyama.

Okamoto Mai: "It's neither too big nor too small; it's a city that makes you feel secure."

Okumura Mayuri: "Life is slow and laid back."

Kikuhara Yuria: "I like how everything here is done in moderation."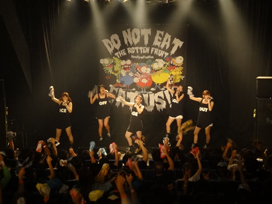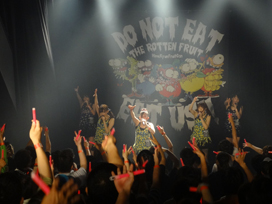 Everyone stands for the encore.
I'm sure there are a lot of people who feel that the entertainment business is a very fast-paced industry, but talking with these girls, everything seems more real-to-life. But their vitality on stage is almost overwhelming. There are a lot of overseas fans of idols who say that the gap between the on-stage professionalism and the honesty they show in their blogs and their emceeing is the unique and appealing quality of Japanese idols, and Himekyun fits that profile to a T. It was only the second time I met Himekyun, but it felt like I had known them for years – like they were girls that had grown up in my neighborhood.

Okumura: "My whole world expanded after joining Himekyun. I sometimes think what I would be doing right now if I hadn't joined Himekyun."

Kono: "I wanted to become an idol ever since I was little and I dreamed of living in a big city. But after joining Himekyun and taking part in various festivals in Ehime, I've come to love Ehime."

Tokyo and regional Japan. This has been a big issue for a long time now for all young people aiming for careers in the entertainment industry. Over-concentrating everything into Tokyo isn't the best choice for Japan. Everyone is well aware of these issues and locodols are overcoming them one by one. It's a matter that concerns all industries and Japanese society as a whole, and I think that Japanese people should embrace the activities of these locodol groups and give them their support.

A new article every Wednesday!
Next time: Interview with the key people of the local shopping mall supporting locodol group, Hime Kyun Fruit Can. And, Walking the streets with Himekyun.

Columnist: Sakurai Takamasa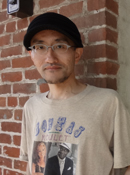 Contents Media Producer, author, journalist, managing director of Contents Street Inc. Chief Editor of iPhone magazine "Tokyo Kawaii Magazine" (ASCII Media Works), World Cosplay Summit Executive Advisor, Chief Researcher at Kodansha/Kodansha BC China Management Laboratory.
Cultural diplomat producing events in 103 cities in 24 countries. Books include "Galapagos-ka no susume"(Kodansha), "'Suteru' de shigoto wa umakuiku"(Diamond-sha), "Nihon wa anime de saiko suru
"(ASCII Shinsho), "Sekai no kawaii kakumei " (PHP Shinsho), and "Anime bunka gaiko "(Chikuma Shinsho). Writes regular columns in the weekly magazine "ASCII" and Yomiuri Shimbun.

●twitter http://twitter.com/sakuraitakamasa/