[J-Pop Culture Observations]#20 Guests and Visitors All Staying in the Same Hotel!? Journey to New Jersey with Kanon (An Cafe)

#20 Guests and Visitors All Staying in the Same Hotel!? Journey to New Jersey with Kanon (An Cafe)
Antic Café (or An Cafe) is one band on Japan's visual-k rock scene that gets some major international attention, and ever since I had the opportunity of getting to know them personally in spring 2010, I've been involved with them in cultural diplomacy activities overseas on numerous occasions.

In July 2011 I took to the stage with An Cafe bassist, Kanon, as guests of the Japanese pop culture event, AnimeNEXT, in New Jersey.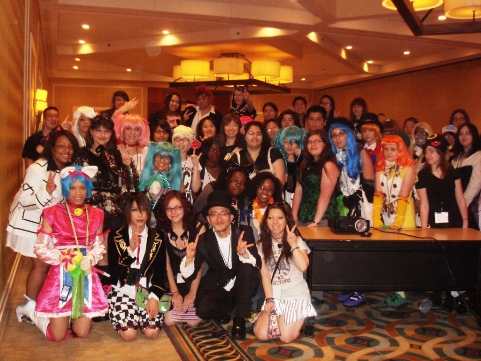 Kanon and his fans (more in next week's installment!).
Attendees were in the tens of thousands at the AnimeNEXT convention (about the 10th largest convention in the US) which took place somewhere in the centre of the state of New Jersey, at an event hall in the outskirts of a township called Somerset. It's about an hour away from Manhattan by car when there's not much traffic about. I had a look on Google Earth just to find out where we were in relation to things, but there really wasn't anything else around... The hotel we stayed at also happened to be adjacent to the event hall. Many of the people there to attend the event were also staying in the same hotel. So with invited guests and visitors all staying in the one place you can imagine how easily it would turn into a three day long, all-out, Japanese pop culture bender. I can't imagine it happening in Japan but I felt very at home and a bit like I was attending a training camp with a sports club or something.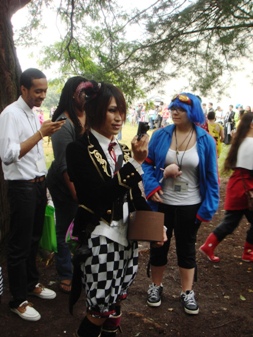 Kanon taking photos of cosplayers outside the event hall. Guests and visitors mingled in harmony.
With no travel time between the hotel and the event hall there was no physical burden whatsoever. Even if you forgot something in your room you could go get it and be back at the convention within 5 minutes. During the day I went back to the hotel to check my mail and as I looked out the window from my first floor room I found a cosplay photo shoot going on. Now this is the setting of a rather peaceful event, I thought to myself. The otakus at this event were much more "immersed" then those at the New York Anime Festival which I attended last year also.
The New York event isn't enough! We want to be able to participate in otaku events all throughout the year! That's the kind of otaku spirit going around at AnimeNEXT.

The flight back to New York airport was also quite fun as other guests of AnimeNEXT were also on board with me. There were the members of visual-k band, Mix Speaker's Inc., who gave a performance at the event, Sixh, who appeared in the fashion show, model and singer, Yu Kimura, who made her solo debut at the event, as well as Kanon and myself.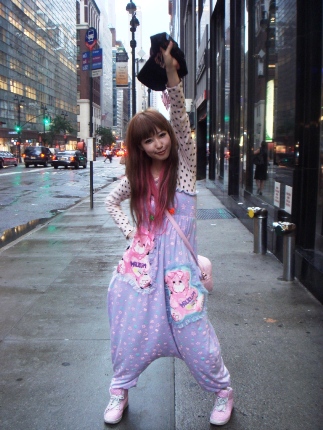 Just landed – Yu Kimura strikes a pose in Manhattan.
Yu Kimura was entrusted with the position of Kawaii Ambassador for Japan by the Ministry of Foreign Affairs in 2009. I also happened to be the producer for that project, but America, this time around, was the fifth country we've visited together.
From the end of 2007 to 2008 I was mostly alone on my trips around the globe, to Europe, the Middle East, South America, all across Asia, when I first began trying to form the foundations of anime cultural diplomacy. So it really is heartening to now have all these friends who keep me company whenever I travel.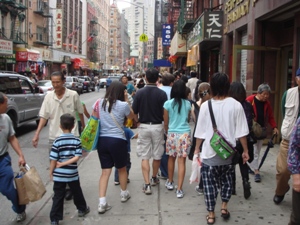 After AnimeNEXT we went out to dinner to celebrate at China town in Manhattan. Kanon in front.
I think it's important to get out there and experience a foreign land all by yourself, but doing something like being part of a large-scale event with a group of friends is just as important and rewarding. My adventures will only continue from here on and I hope that the links I've established through cultural diplomacy thus far continue to expand even further too. No matter how many links you have, there's no such thing as too many.
Out Every Wednesday!
Next time: AnimeNEXT – the report continues! Popular model and former Kawaii Ambassador, Yu Kimura, launches her solo singing career in the US.
Columnist: Sakurai Takamasa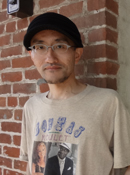 Contents Media Producer, author, journalist, managing director of Contents Street Inc. Chief Editor of iPhone magazine "Tokyo Kawaii Magazine" (ASCII Media Works), World Cosplay Summit Executive Advisor, Chief Researcher at Kodansha/Kodansha BC China Management Laboratory.
Cultural diplomat producing events in over 100 cities in 23 countries (as of July 1st, 2012). Books include "Galapagos-ka no susume" (Kodansha), "'Suteru' de shigoto wa umakuiku" (Diamond-sha), "Nihon wa anime de saiko suru
" (ASCII Shinsho), "Sekai no kawaii kakumei " (PHP Shinsho), and "Anime bunka gaiko " (Chikuma Shinsho). Writes regular columns in the weekly magazine "ASCII" and Yomiuri Shimbun.

●twitter http://twitter.com/sakuraitakamasa/