[J-Pop Culture Observations]#24 At the California KINTOKI-CON with Teruki from An Cafe!

#24 At the California KINTOKI-CON with Teruki from An Cafe!
During summer this year (2011), I made a trip to Sacramento, the capital of California in the US, with the drummer of internationally popular visual-k rock band, Antic Café (An Cafe), Teruki, as we were both invited to attend the first ever Japanese pop culture event to be held in that area, KINTOKI-CON.

I have been to other cities in California such as L.A. and San Diego on numerous occasions, but this was first time to Sacramento.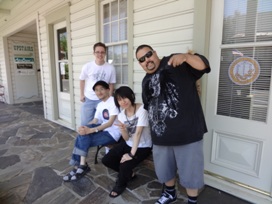 We were taken for a drive around outer Sacramento
Whenever I visit a new city for the first time I always seem to get a little more excited than usual (even more so when it's a new country!).

This was my third trip with Teruki following our visits to Taiwan and China in 2010, but this was his first time attending an event to promote Japanese pop culture, and from the looks of it he had a ball. I will go into KINTOKI-CON in more detail in my next article but I will say that as it was the kickoff year for this event it's still relatively small-scale. The event was held in a section of the Hyatt Regency Hotel and over the three days I got to know the attendees and exhibitors at the booths really well. Our schedules had us moving around a lot but we also had a good time driving around Sacramento and the outskirts of western America.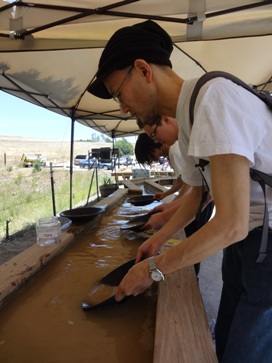 Panning for gold!
Teruki: "This is actually a lot of fun. Is it always like this, Sakurai-san?"
Sakurai: "Nope. This time is totally different (lol)"

We both took part in a panel discussion together and spent time interacting with all the die-hard Japanese pop culture fanatics.
One unique characteristic of the visitors at KINTOKI-CON was that a lot of them were Americans of Asian descent. Japan, China, Korea, Cambodia, Burma, Vietnam, Taiwan…it was a completely different atmosphere to the NY Anime Festival or the Baltimore Otakon.

Something that always awes me at American events is the level of hospitality awarded to the guests. I think this is connected to the level of satisfaction of the volunteer staff and what they get out of being able to participate in such events as well. It's quite common for people who have a regular job to volunteer at events they're interested in, each one performing a specific role. Although we guests only get to come in contact with a small hand full of those volunteers, the positive attitude that they all have really translates. We can tell just how passionate the organizers, the staff and all the visitors are about Japanese culture. As a Japanese, I couldn't be happier.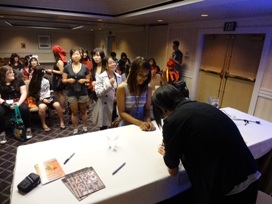 Autograph signing session. Quality time with the fans.
A group shot with the event goers. So many of the locals have Asian backgrounds!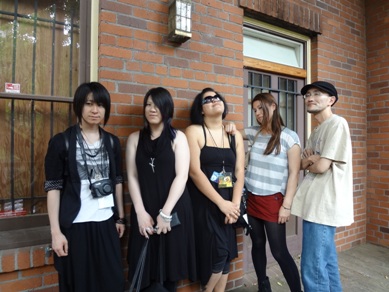 A new band has formed!...? A CD jacket cover style shot with the volunteers.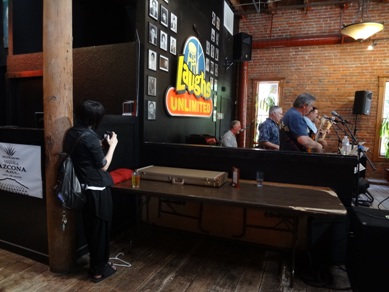 The old town live house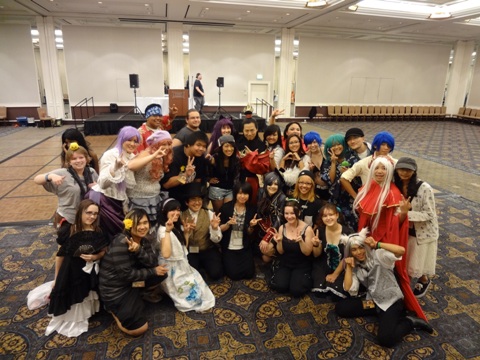 The two day event comes to a close. Parting is such sweet sorrow.
In return we guests try to spend as much time talking to and getting to know you all within the amount of time we're provided. In that short but intimate time the ties between Japan and the rest of the world slowly start to grow stronger and stronger. With Teruiki too taking away a similar feeling, California turned out to be the perfect start to a great summer.
Out Every Wednesday!
Next time: From maid café's to visual-k rock – all the deets on KINTOKI-CON!

Columnist: Sakurai Takamasa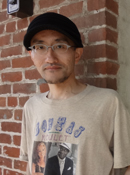 Contents Media Producer, author, journalist, managing director of Contents Street Inc. Chief Editor of iPhone magazine "Tokyo Kawaii Magazine" (ASCII Media Works), World Cosplay Summit Executive Advisor, Chief Researcher at Kodansha/Kodansha BC China Management Laboratory.
Cultural diplomat producing events in over 100 cities in 23 countries (as of July 1st, 2012). Books include "Galapagos-ka no susume" (Kodansha), "'Suteru' de shigoto wa umakuiku" (Diamond-sha), "Nihon wa anime de saiko suru
" (ASCII Shinsho), "Sekai no kawaii kakumei " (PHP Shinsho), and "Anime bunka gaiko " (Chikuma Shinsho). Writes regular columns in the weekly magazine "ASCII" and Yomiuri Shimbun.

●twitter http://twitter.com/sakuraitakamasa/