[J-Pop Culture Observations]#25 KINTOKI-CON. Japan-related Events held Overseas are just like Real-life Akihabara & Harajuku Simulators

#25 KINTOKI-CON. Japan-related Events held Overseas are just like Real-life Akihabara & Harajuku Simulators
This year, Teruki of Antic Café (Ancafe) and I attended KINTOKI-CON as special guests and although there are countless events of the sort (Japanese pop culture events held by locals for locals) held all over the world, this was my first time witnessing the birth of such an event as this was the very first KINTOKI-CON. And it was an invaluable experience at that.
The well-established OTAKON which attracts more than 30,000 people each year started off with a mere 350, and Paris's 190,000 attendee strong Japan Expo didn't just become the Paris Japan Expo overnight. It takes time for an event to become established as such and that's what I took away from KINTOKI-CON this year.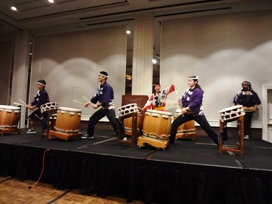 Opening Ceremony. A performance by a local Japanese drumming group.
The event was held in a section of the Hyatt Regency Hotel in Sacramento. If you try to imagine a few hotel banquet halls used for buffet parties and such than you'll get some idea of the layout of the event.

Of course there were regular hotel guests, but there were also numerous cosplayers there for the event that were staying in the same hotel and it was quite funny to see the intermingling of the two throughout the lobby and the elevators. I was frequently coming and going between the hotel and the event wearing my stage clothes, so I got a few enquiries from passers-by asking what kind of event was going on.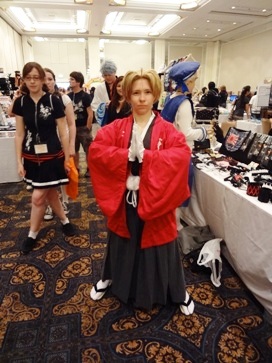 A very traditional looking Edward Elric(Fullmetal Alchemist)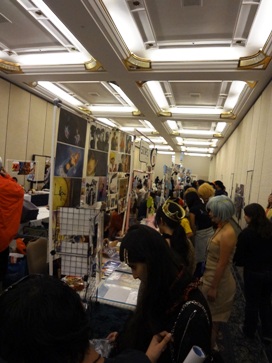 The event space was a division of a number of hotel banquet rooms.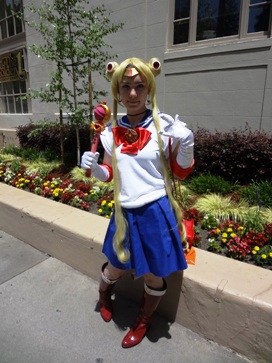 I called out to Sailor Moon in English and she replied "I'll punish you!" in Japanese... lol.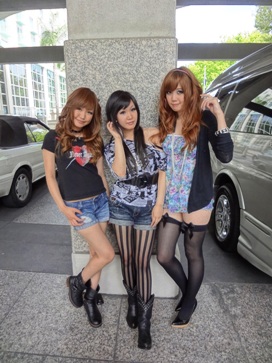 Gyaru fashion hits Sacramento.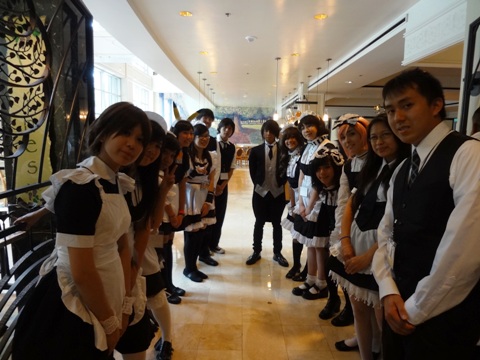 Here I was greeted with "Welcome back, Master"
Another funny thing was the maid and butler café that was held in one of the tea rooms on the first floor of the hotel. We're on the west coast of America but most of the participants have Asian backgrounds…you could have mistaken the scenario for a maid café in Shanghai or Taipei quite easily.
Of course however, there are no maid cafes in Sacramento. To the people at this event who aren't able to just pop over to Akihabara for a visit, the few hours spent here are valuable and just like a simulation of the real thing.
Walking around the likes of Akihabara or Harajuku, places which the rest of the world has come to recognize as icons of Japan, it's obvious what's so attractive about them for young people the world over. Japanese pop culture events that are held overseas are the exact embodiment of the appeal and allure of that side of Japan.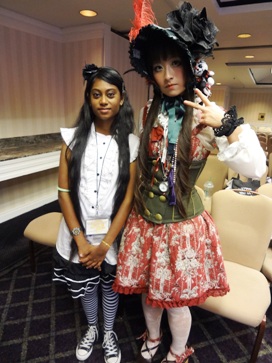 Expressions of self through fashion.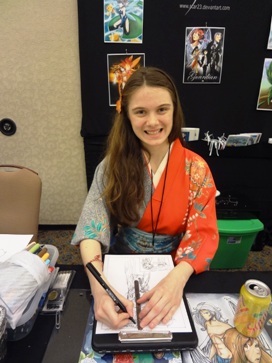 At the self-published comic booth.
Event goers understand that if they make it to Japan then they won't be limited to just a few days every year at simulation-like pop-culture events, but will be able to immerse themselves in this atmosphere everyday if they like. They know they'll get there one day so in the meantime they scour the internet and magazines collecting various bits of information here and there. What concerns me when I think about Japan's approach to tourism, though, is just to what extent the feelings of these people, who can't go to Japan immediately but would like to go a few years down the track, are being taken into account.

From among the millions of people who attend Japanese pop culture events overseas each year there isn't one person who doesn't yearn to one day visit Japan. I know it's important to fulfill yearly tourist quotas but having a long term planning strategy would without doubt be of great benefit to Japan as well. Overseas events are the perfect opportunity to interact with the people who would be most interested in this sort of planning and the fact that such action, for the most part, can't be seen is a shame. I often think, if only there was a better tourism initiative that could show these young people that even if it takes a few years their vision of Japan can be made a reality.
I felt like I managed to memorize all of the faces of the attendees at KINTOKI-CON, and perhaps because of the small scale of the event it brought to mind the importance of said tourism strategies and a long-term planning initiative once more.

So many people all over the world are nurturing little flames of love for Japan and it's our job to work out how best to protect those flames and prevent them from going out.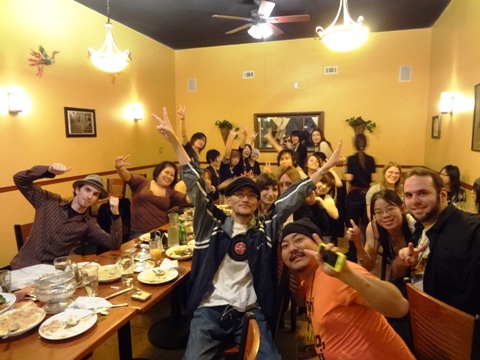 The guests and organizers celebrating at the "job well done" party.
Out Every Wednesday!
Next time: News Flash! My visit to Harbin (China) with former Morning Musume member, Linlin, and her long-awaited live performance!

Columnist: Sakurai Takamasa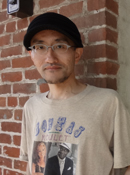 Contents Media Producer, author, journalist, managing director of Contents Street Inc. Chief Editor of iPhone magazine "Tokyo Kawaii Magazine" (ASCII Media Works), World Cosplay Summit Executive Advisor, Chief Researcher at Kodansha/Kodansha BC China Management Laboratory.
Cultural diplomat producing events in over 100 cities in 23 countries (as of July 1st, 2012). Books include "Galapagos-ka no susume" (Kodansha), "'Suteru' de shigoto wa umakuiku" (Diamond-sha), "Nihon wa anime de saiko suru
" (ASCII Shinsho), "Sekai no kawaii kakumei " (PHP Shinsho), and "Anime bunka gaiko " (Chikuma Shinsho). Writes regular columns in the weekly magazine "ASCII" and Yomiuri Shimbun.

●twitter http://twitter.com/sakuraitakamasa/

PRESENTS
All the info. on asianbeat's present campaign!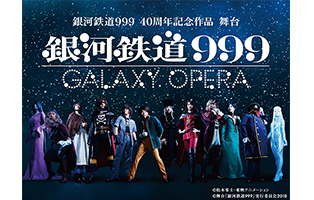 * Win 2 pairs of tickets to the play "Ginga Tetsudo 999" -GALAXY OPERA- Kitakyushu Performance!
[Details] Click
HERE
!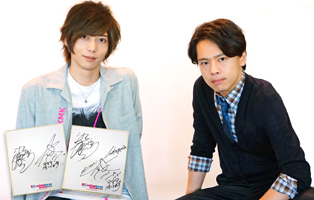 *Win a card signed by Akinori Nakagawa & Toshiyuki Someya!
[Details] Click
HERE
!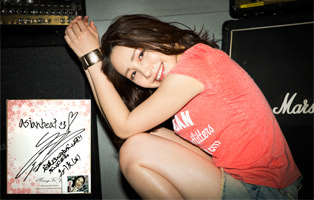 * Win a card and a cheki (photo) autographed by You Kikkawa!
[Details] Click
HERE
!