[J-Pop Culture Observations]#28 Popular Japanese Brand "Sixh." on Show! Japanese Fashion and it's Gender-free Appeal!

#28 Popular Japanese Brand "Sixh." on Show! Japanese Fashion and it's Gender-free Appeal!
In Summer 2011, I attended two Japanese pop culture events in the US with fashion designers IBI and MINT of the popular Japanese brand, Sixh. One of those events was New Jersey's AnimeNEXT. The other event, and also the background setting for this article, was Baltimore's OTAKON.

The Sixh. fashion show was held at OTAKON on July 29th, and it was a great success! Both designers in attendance are also members of a visual-k rock band and also participated as models in the show. I guess you could say their abilities are rather dynamic.
Japanese brand fashion shows are always one of the highlights at these kind of overseas events that all the visitors cue for. It's a sight that Japanese people themselves rarely get witness, and that atmosphere is what I will try to recreate for you here.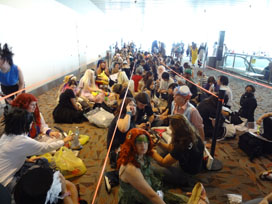 People queuing up well before opening time.
The hall that was set up for the show seated about 1000 people at max capacity. But even before the doors opened there was a long queue of people lined up; everyone wanting to get the best seat they could.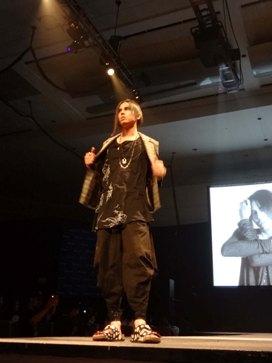 Designers IBI and MINT also taking part as models.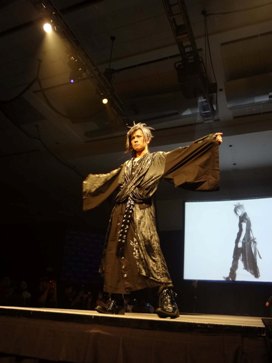 IBI.
"In America you can easily distinguish fashion by gender (you can tell what's "for men" and what's "for women"), but in Japan even boys have taken to wearing skirts and it's now considered a part of men's fashion. The way that people creatively coordinate and personalize their clothes just like designers do is what's so great about the fashion over there (in Japan)."

These were the words of one of the fashion show models when I spoke with him back stage.
He and the rest of the models were all avid supporters of Japanese visual-k bands and have been since high school days. Whether you're male of female, if you want to express yourself through fashion and various other ways it shouldn't matter what your gender is – that's what Japan taught them.

"In America, everybody just wears their clothes exactly as they're shown in the shop front. But in Japan people think of various other ways of wearing their clothes and how to inject their own style into them – that's why Japanese are so fashionable."

These guys were big fans of Sixh. and continued to talk openly and passionately about the originality of Japanese brands and the relationship between designer and consumer, etc.
Everyone highly valued Japan, the appeal of which they readily pinned down to originality.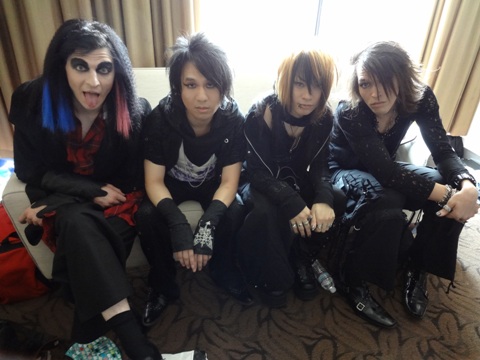 Visual-k had a big influence on their pursuit of Japanese fashion. From right: Matt, Shiroh, Chris, Lee.
"Japan is overflowing with originality."

Although we've earned an immense amount of trust from people and countries the world over, we're continually becoming more and more domestically oriented – at least that's the feeling you get from the current Japanese economy. But if we don't get out there and see the rest of the world now it's surely going to lead to serious problems in the future.

Despite the current economic climate though, designers IBI and MINT went out of their way to go and meet their fans themselves. More examples like them – that's what Japan is in need of right now.


OTAKON 2011 - The Sixh. Fashion Show in Pictures!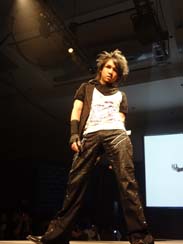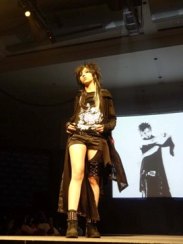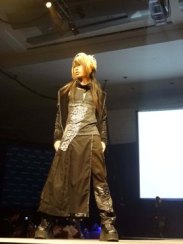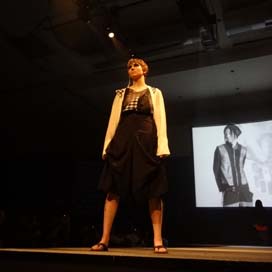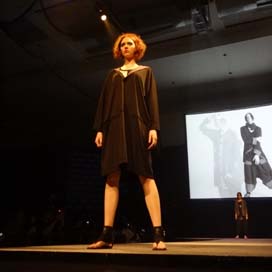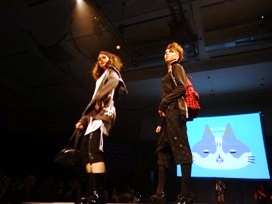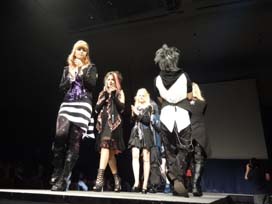 Out Every Wednesday!
Next time: All the coverage on OTAKON – now in its 18th year!

Columnist: Sakurai Takamasa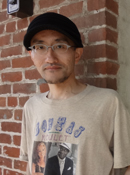 Contents Media Producer, author, journalist, managing director of Contents Street Inc. Chief Editor of iPhone magazine "Tokyo Kawaii Magazine" (ASCII Media Works), World Cosplay Summit Executive Advisor, Chief Researcher at Kodansha/Kodansha BC China Management Laboratory.
Cultural diplomat producing events in over 100 cities in 23 countries (as of July 1st, 2012). Books include "Galapagos-ka no susume" (Kodansha), "'Suteru' de shigoto wa umakuiku" (Diamond-sha), "Nihon wa anime de saiko suru
" (ASCII Shinsho), "Sekai no kawaii kakumei " (PHP Shinsho), and "Anime bunka gaiko " (Chikuma Shinsho). Writes regular columns in the weekly magazine "ASCII" and Yomiuri Shimbun.

●twitter http://twitter.com/sakuraitakamasa/