#38 Italy – A Cosplay Super Power! Cosplayers Flock to Italy's World Cosplay Summit Qualifying Round
When it comes to cosplay, Italy is right up there with fellow cosplay super powers, China and Brazil, and when I visited Rome's "ROMICS" in September 2010, Italy's cosplayers were out in force.
All the regular anime characters were there, but there were also Italians cosplaying much more recent characters, like those from the "Blue Exorcist" series, even Vocaloid. Everyone looked truly happy as they walked around the spacious event hall.

In that kind of environment you begin to wonder if even the people in regular clothes aren't actually cosplaying a character of some sort also. Seeing this makes me want to urge all the young people in Japan, why not venture overseas and cosplay to your heart's content with all the locals?
I wrote about this is one of my publications, "Eigo de Hanaso! Sekai ga Koi suru Nippon" ("Let's speak in English! The World's Adoration of Japan" (published by Alc), but I really do fear that the tendency of Japanese children and young adults to be so introverted is bound to have a significant negative impact for Japan in the near future.
In terms of money and time, compared to when I was the same age as the young people of today, "overseas" is more accessible than ever, but for the current generations psychologically, I feel it couldn't be further. Sure the media has some influence on that too though.
But if you just go over sees even once, you'll soon understand just how much the world adores Japan.
And that's why places that promote Japanese pop culture and host events like ROMICS are a definite must-see.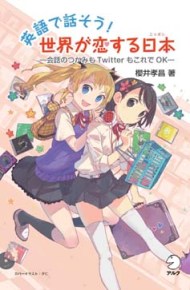 "Eigo de Hanaso! Sekai ga Koi suru Nippon!" By Sakurai Takamasa (Published by Alc) (1400 Yen + tax)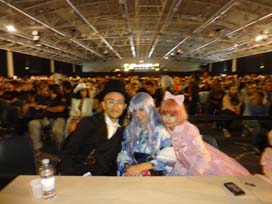 The three judges and a sea of spectators in the background.
At ROMICS they also held the Italian qualifying round for the annual "World Cosplay Summit" (WCS). Two years ago I was a member of the judging panel, along with the Kawaii Ambassador of that year, Misako Aoki. This year I was joined by the current Kawaii Ambassador, Yu Kimura, as well as the WCS Italian representative from the previous year. I hadn't seen the Italian representative since the opening of the WCS in Nagoya in August, when we all went out for a meal together.
This year's qualifying round was as hotly contested as ever. The 3000 or so spectators would cheer and scream out at even the slightest of efforts by the performers.

The fierce battle to compete at the championship in Nagoya next year has begun and it's happening all over the world. Not to play favorites or anything, but I wish the best of luck to the team we picked at the qualifying round when they converge on Nagoya next year.
A heated battle. World Cosplay Summit Italian qualifying round.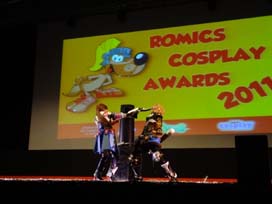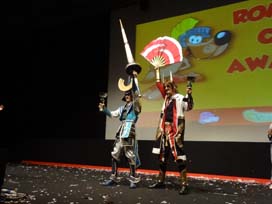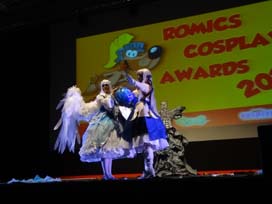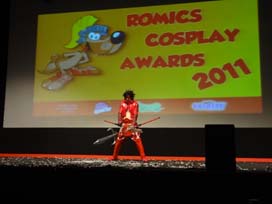 The Italian Cosplay Collection!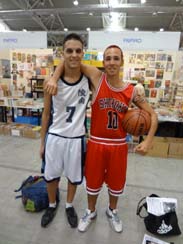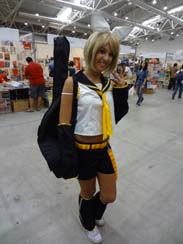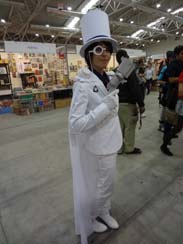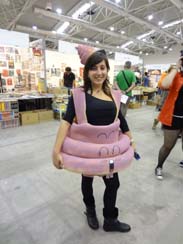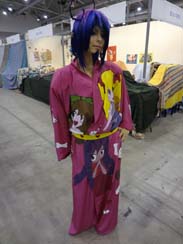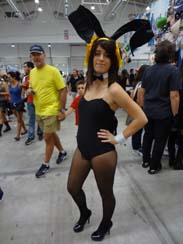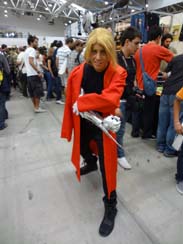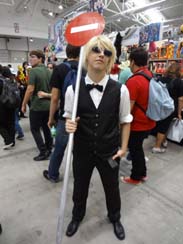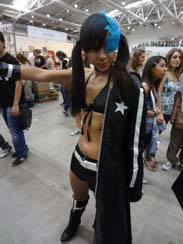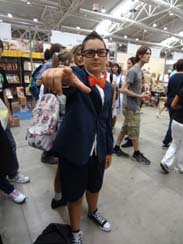 Out Every Wednesday!
Next time: The university student I met in Moscow with a penchant for Japanese bento!

Columnist: Sakurai Takamasa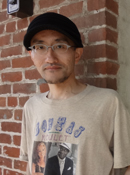 Contents Media Producer, author, journalist, managing director of Contents Street Inc. Chief Editor of iPhone magazine "Tokyo Kawaii Magazine" (ASCII Media Works), World Cosplay Summit Executive Advisor, Chief Researcher at Kodansha/Kodansha BC China Management Laboratory.
Cultural diplomat producing events in over 100 cities in 23 countries (as of July 1st, 2012). Books include "Galapagos-ka no susume" (Kodansha), "'Suteru' de shigoto wa umakuiku" (Diamond-sha), "Nihon wa anime de saiko suru
" (ASCII Shinsho), "Sekai no kawaii kakumei " (PHP Shinsho), and "Anime bunka gaiko " (Chikuma Shinsho). Writes regular columns in the weekly magazine "ASCII" and Yomiuri Shimbun.

●twitter http://twitter.com/sakuraitakamasa/