#39 The Moscow University Student who takes her own Bento to School! "I can't make it as good as Japanese people do, though…"
As I've mentioned in a previous article, every year, the Japanese consulate in Moscow holds a Japanese modern culture event called "J FEST" and I made my way there in November to take part. I've been involved in this event from the beginning, performing my role as content producer, as well as emceeing and giving talks.

 I'll go into further details on J FEST in the coming weeks but this week I want to write about a few of the people I met in the lead up to the event who say they are just "Japan fanatics."

In Japanese anime you can find various aspects of modern Japan portrayed through pictures. A lot of people also say that it's because of anime that they learned such things (those parts of Japanese culture) even existed. One common example of this is seifuku (school uniform) fashion. The Japanese seifuku is kawaii! – this has become a common understanding amongst girls all throughout the world.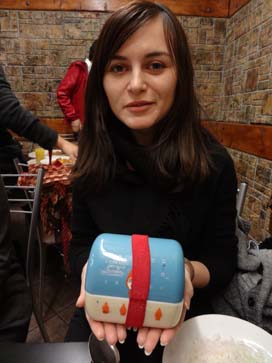 The lunch box itself, she says, was given to her as a present.
Anime, you could say, acts just like a PR consultant for Japanese society.
One other thing which is a part of every day life for Japanese people, unknown to the rest of the world but made popular through anime, is "obento" (Japanese boxed lunch). The word has even been imported as is into other languages around the world, just like "karaoke."

In anime you often see scenes of students going about their daily school lives. It would be quite difficult to portray conversations between the main characters during class time, so naturally a lot of the scenes revolve around the lunch time period. One of the unique characteristics of Japanese anime is the fine attention to detail, right down to the contents of these bento which are often depicted so cutely.

Young people throughout the world picked up on this and the bento box has now become somewhat of a boom in recent years. In the more up-market variety stores in places like Paris even, you can find Japanese made bento boxes available for purchase.

However, while it's customary in Japan for the parents to prepare the obento for their children, this is not quite the case overseas, and at anime events and the likes that are held outside of Japan I've come across people who fill their obento boxes with things like pasta and such. One of the people I met in my travels to Moscow was a female university student who prepares her own bento box, just like you might find in Japan, and takes it to school with her.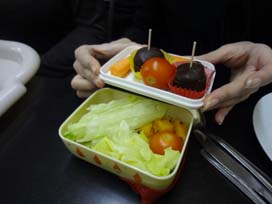 Russian student's hand-made obento.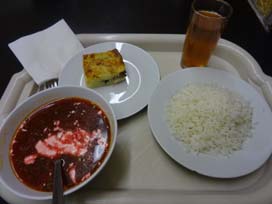 The food I purchased from the school cafeteria. I just had to go for the borscht.
A two-tiered obento box filled with vegetables and dessert, as well as sautéed pork which you can't see in the photo beneath the lettuce. The item with the toothpick through it is a chocolate dessert. She even let me have one of them to try - it was just like being back in high school. Rice was the only thing she bought from the school cafeteria.

"I still can't make it as good as Japanese people do, though…"

I asked to take her photo and she immediately became a little bashful. That kind of shyness that this Russian school girl has picked up through watching anime is a rather unique (charming) characteristic, but I'll go into that further in another article in the coming weeks.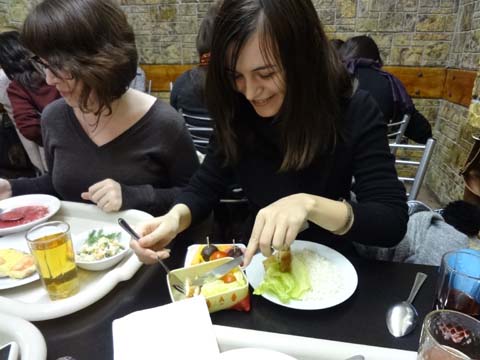 It's obento but it's done with knife and fork.
Japanese anime touches on just about anything and everything, from historical elements to modern society. That depth is one of the biggest appealing factors of Japanese anime and perhaps one of the reasons why anime has found so many supporters overseas.

Something so obvious for Japanese people can be something relatively unknown to the rest of the world.
Japan is a country which makes original things that can only be found in Japan. In order to know understand how the rest of the world evaluates Japan we need to know how Japanese culture is being dispersed and received overseas. And, for the future of Japan, it's important that we also view our culture products how everybody else views them outside of Japan.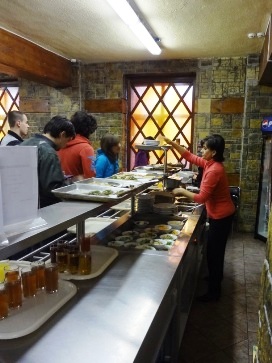 A school dining hall in Russia – cafeteria style.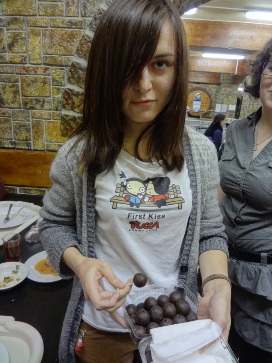 The next day she brought me a heap of traditional Russian sweets.
Out Every Wednesday!
Next time: The highlights of J FEST. The Harajuku fashion show – auditions and backstage. Plus, a few special photos only to be shown in this column!

Columnist: Sakurai Takamasa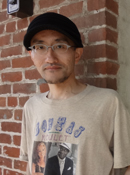 Contents Media Producer, author, journalist, managing director of Contents Street Inc. Chief Editor of iPhone magazine "Tokyo Kawaii Magazine" (ASCII Media Works), World Cosplay Summit Executive Advisor, Chief Researcher at Kodansha/Kodansha BC China Management Laboratory.
Cultural diplomat producing events in over 100 cities in 23 countries (as of July 1st, 2012). Books include "Galapagos-ka no susume" (Kodansha), "'Suteru' de shigoto wa umakuiku" (Diamond-sha), "Nihon wa anime de saiko suru
" (ASCII Shinsho), "Sekai no kawaii kakumei " (PHP Shinsho), and "Anime bunka gaiko " (Chikuma Shinsho). Writes regular columns in the weekly magazine "ASCII" and Yomiuri Shimbun.

●twitter http://twitter.com/sakuraitakamasa/

PRESENTS
All the info. on asianbeat's present campaign!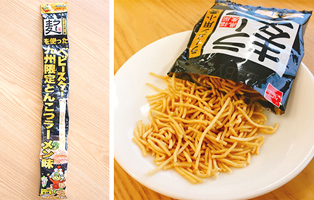 * Win a packet of "Ramugi Baby-Star (Kyushu limited edition tonkotsu ramen flavor)"!
[Details] Click
HERE
!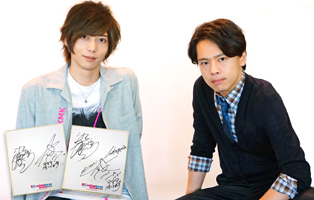 *Win a card signed by Akinori Nakagawa & Toshiyuki Someya!
[Details] Click
HERE
!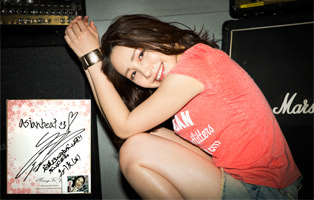 * Win a card and a cheki (photo) autographed by You Kikkawa!
[Details] Click
HERE
!