#42 The Kawaii Maids of Moscow
In November last year I made my third consecutive visit to Moscow in three years. The thing that surprised me most this visit was the establishment of a maid café that had recently opened in Moscow not but 2 months prior. It made me wonder just how far Japan's maid café culture will disperse throughout the world.

Although maids did not originate in Japan, it was here that they evolved and took on roles of waitresses rather than their traditional servant positions in mansions, etc. I believe that it's this kind of thinking and these kinds of Japanese creations that sublimate into cultures overseas that are most valued throughout the world.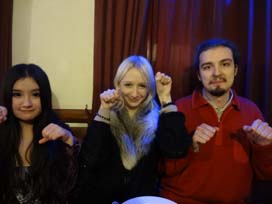 From left: Kira, Bella, and Nicolai. I met Nicolai through Twitter after he sent a message my way.
The same thing could be said for the creator of modern day Lolita fashion – a designer who wanted to live in the world of Marie Antoinette. Even to French people, Lolita fashion is now synonymous with Japan.

The maid café in Moscow is only open weekends (Saturday/Sunday). Unfortunately, the "J FEST" event, which I've written about over the past few weeks, also happened to be on the Saturday and Sunday I was there so I was unable to check out the café for myself. I did however, receive and introduction to two of the maids courtesy of Nicolai – the leader of the Morning Musume cheer squad which I wrote about in my last article.

"Welcome back, Master"

Sure enough, this is how the maids in Moscow greet their customers also.
The two maids I met were Bella (aged 20) and Kira (aged 16), and apparently, it was at the "J FEST" event held the previous year where Nicolai and Kira first met. I felt rather pleased to learn that the event which I helped established had become a meeting place for Moscowan fans of Japanese pop culture.
They say they now keep in touch on a regular basis online.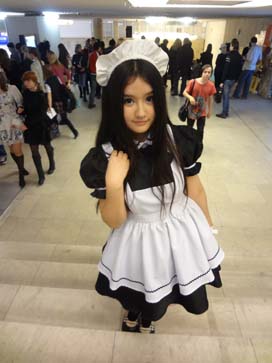 Kira at"J FEST" in her maid outfit.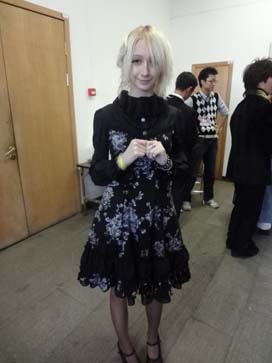 Bashful Bella. This bashfulness is perhaps a characteristic of Moscow girls who are also fans of Japanese culture.
"I love Japanese anime!" Said Kira, also mentioning her fondness of "Darker than Black" anime character, Lee, as well as Japanese "Johnnys" (boy band groups).

"I think Japanese boys are really kawaii"
Japanese boys are incredibly popular the world over right now. Guys, now's not the time to be acting so introverted! Kira also told me how if she were to date a guy she'd be more than happy if he were Japanese.
Bella has been to Japan on exchange before and also loves Japanese visual-k. She says she's obsessed with bands like ViViD and GazettE.

They both said that "host" (or "host-kei") fashion was their preferred fashion for Japanese guys. I had heard the term "host-kei" in regards to Japanese fashion styles during my time spent in America, but I was surprised to find that it had even made its way to Moscow.

The three of us together also discussed ways of improving relations between youth in Japan and Russia. If people in Russia are communicating and exchanging various Japan related info online, there's no reason why Japanese people can't get involved in the same way.

Young people in Moscow are watching the same anime, listening to the same music, and are interested in the same TV personalities and bands as the young people in Japan. This is important information to know for the Japanese youth of tomorrow - the ones who will eventually shape the future of Japan - but I think it's something that adults need to be aware of also.


My encounter with these three individuals in Moscow reminded me that there's significant potential that lies dormant between Russia and Japan.

The demographic I'm talking about is certainly not insignificant either, and the some 13,000 attendees at the modern Japanese pop culture event, "J FEST," is proof.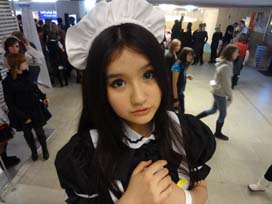 Out Every Wednesday!
Next time: An in-depth report on Moscow's J-pop culture event, "J FEST."

Columnist: Sakurai Takamasa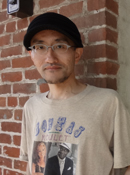 Contents Media Producer, author, journalist, managing director of Contents Street Inc. Chief Editor of iPhone magazine "Tokyo Kawaii Magazine" (ASCII Media Works), World Cosplay Summit Executive Advisor, Chief Researcher at Kodansha/Kodansha BC China Management Laboratory.
Cultural diplomat producing events in over 100 cities in 23 countries (as of July 1st, 2012). Books include "Galapagos-ka no susume" (Kodansha), "'Suteru' de shigoto wa umakuiku" (Diamond-sha), "Nihon wa anime de saiko suru
" (ASCII Shinsho), "Sekai no kawaii kakumei " (PHP Shinsho), and "Anime bunka gaiko " (Chikuma Shinsho). Writes regular columns in the weekly magazine "ASCII" and Yomiuri Shimbun.

●twitter http://twitter.com/sakuraitakamasa/

PRESENTS
All the info. on asianbeat's present campaign!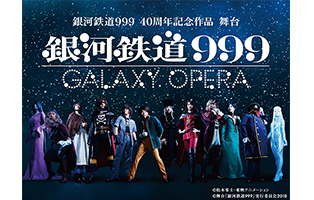 * Win 2 pairs of tickets to the play "Ginga Tetsudo 999" -GALAXY OPERA- Kitakyushu Performance!
[Details] Click
HERE
!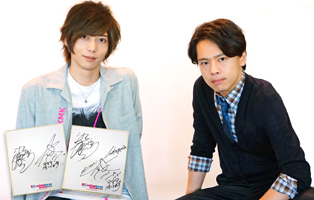 *Win a card signed by Akinori Nakagawa & Toshiyuki Someya!
[Details] Click
HERE
!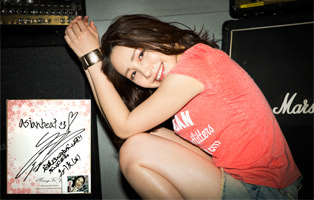 * Win a card and a cheki (photo) autographed by You Kikkawa!
[Details] Click
HERE
!