#41 Japanese Idols and Moscow's "Morning Musume" Cheer Squad
One of the things that Japanese pop-culture fans overseas long for most is to see Japanese idols perform live, but unlike anime songs and genres such as visual-k which have found strong support all over the world, Japanese idols and their live performances are still yet to find a place on the international scene.
At present, the idol groups leading the way overseas are "Shojo Jidai" (Girls' Generation) and other such products of the Korean pop-music (K-POP) industry.
From Japan's point of view it may seem like these K-POP groups are out to take over the Japanese market, but looking at it from an outsider's perspective (from countries other than Japan) the situation is much different: K-POP, rather, has it's sights set on the world.
K-POP may have taken the world by storm, but as I've been traveling around the globe I've grown more and more aware of the potential of Japanese idols also.
Japanese idols too have the ability to tap into the international market and they should be out there launching an offensive of their own. This is the conclusion I've come to after my various travels to 20 different countries all over the world.
I've written about this on a previous occasion also –
in article #36 – my interview with former "Morning Musume" member, Ai Takahashi
.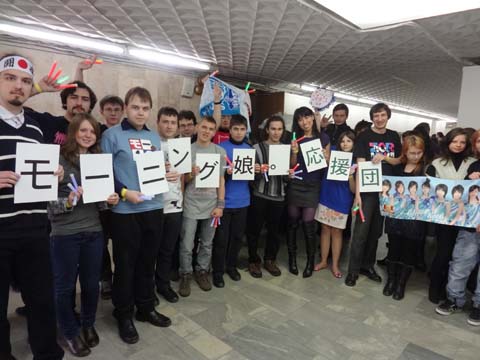 Moscow's "Morning Musume Cheer Squad." They're big fans of Hello!Project.
As I mentioned in last week's article, in November 2011 Moscow held it's third annual "J FEST" event for which I've been involved in from the beginning (the first being in 2009) as producer and making various appearances as well. The event promotes all aspects of modern Japanese culture like fashion, anime, music, etc., and this year we screened a "Morning Musume" live performance.
Over consecutive days more than 500 people turned up for the screening; glow-sticks in hand, Moscow's "Morning Musume Cheer Squad" too appeared to lend their support.
It was a pleasant sight to see the cheer squad scream out the Morning Musume member's names at all the pivotal moments and shake their glow-sticks at the screen, and I thought how great it would be to be able to show them an actual live performance.
There are more idol groups in Japan than you can possibly count. Their presence is just another part of life for Japanese people, but not so for people overseas.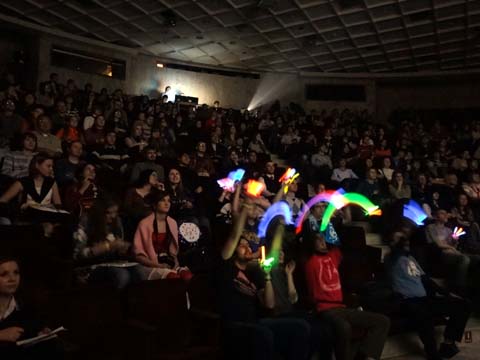 Morning Musume had plenty of support in the front row at the screening of their live performance.
"Anime" and "kawaii" – these are the two big keywords that the world has come to accept as current day "made in Japan," and Japanese idols fall smack-bang in the middle of "kawaii."
One Japanese idol fan I met in America told me, "I think it's really awesome how Japanese idols reveal things about their private lives so openly on their blogs."
Japanese idols don't seem as out-of-reach as the models you see in fashion magazines, but at the same time, the quality of their live performances is incredibly high. It's because of these things that are very ordinary for Japanese people but so very extra-ordinary for everyone else that the world has come to realize an originality and uniqueness in Japan.

In my line of work I make regular trips to China. When there I've asked dozens of young people why K-POP idols are so popular in China and the most common reply I received is that "It's because they come (to China)."
Korean idols perform concerts all over Asia and make frequent appearances across various media. When Japanese idols visit other countries though, it always tends to make news headlines.
There is a decisive difference here and I believe South Korea has taken a huge lead on the international idol scene as a result.
But this issue surrounding Japanese idols' lack of presence overseas is not something that should be dealt with by the idols alone. The country and the industry as a whole needs to work out what needs to be done to make the most of these Japanese idols who can do so much for the Japanese image, and get them out there on the international scene.
This is the exact thing that resonates from seeing avid international supporters of Japanese idols, like Moscow's "Morning Musume Cheer Squad."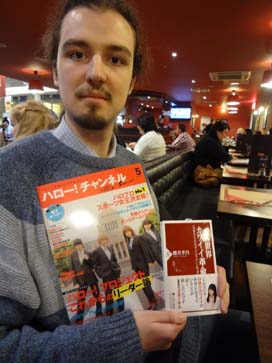 The cheer squad leader with his online purchases: a Hello!Project "mook" (magazine/book hybrid) and copy of my "Sekai Kawaii Kakumei" for which Morning Musume's Sayumi Michishige wrote the band on the cover.
Out Every Wednesday!
Next time: Maid cafes – they've become a hallmark of Japanese culture and you can even find them in Moscow. J CULTURE according to the maids of Moscow.

Columnist: Sakurai Takamasa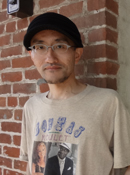 Contents Media Producer, author, journalist, managing director of Contents Street Inc. Chief Editor of iPhone magazine "Tokyo Kawaii Magazine" (ASCII Media Works), World Cosplay Summit Executive Advisor, Chief Researcher at Kodansha/Kodansha BC China Management Laboratory.
Cultural diplomat producing events in over 100 cities in 23 countries (as of July 1st, 2012). Books include "Galapagos-ka no susume" (Kodansha), "'Suteru' de shigoto wa umakuiku" (Diamond-sha), "Nihon wa anime de saiko suru
" (ASCII Shinsho), "Sekai no kawaii kakumei " (PHP Shinsho), and "Anime bunka gaiko " (Chikuma Shinsho). Writes regular columns in the weekly magazine "ASCII" and Yomiuri Shimbun.

●twitter http://twitter.com/sakuraitakamasa/

PRESENTS
All the info. on asianbeat's present campaign!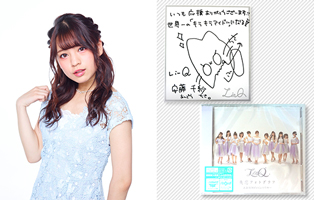 * Win a CD & a card signed by LinQ Chisa Ando!
[Details] Click
HERE
!