#1 My interview with Morning Musume。'14 before their New York concert. Also J-MELO, the Musume and me(1/3)

In 2008 I started work in earnest on the topic of cultural exchange. It's been almost 7 years since then, and during that time one group has been part of an enormous turning point for Japan's cultural image. Meeting them was a turning point for me too. Of course many of us have seen the cultural phenomenon that was Morning Musume。 when they released
Love Machine
so perhaps I should say the turning point was meeting the new Morning Musume。.
It was July 2010 in Paris when I went to a Morning Musume。 concert. A Morning Musume。 that I didn't recognize at all. I had a vague idea about the leader, Ai Takahashi. Behind her stood Sayumi Michishige, Reina Tanaka, Linlin and bunch of other members whose names I didn't even know. But we were in the very same Paris and I felt at ease taking in the performance. The ticket price was around 30 Euros, certainly not cheap, yet I was surprised at the 4,000 strong crowd that had amassed from France and the surrounding countries. More than that, I was overwhelmed by the sheer quality of the concert. The sublime performance is the result of the current members building on the work of the previous generations, a long held tradition in Morning Musume。.
I had been brought up on a diet of American and British rock and roll and thought that Japanese music could never measure up. It struck me then and there, right in front of my eyes: another direction for music, totally different from before.
At the same gig there was another person whose outlook on life had been changed in the same way. Nobuyuki Harada is the producer of the NHK* World show J-MELO. Immediately after the gig Harada brought Morning Musume。 on board as part of team J-MELO. Thinking about the group's CD sales and media exposure at the time it seemed like a bold move.
*NHK(Nippon Hoso Kyokai): Japanese national public broadcasting organization.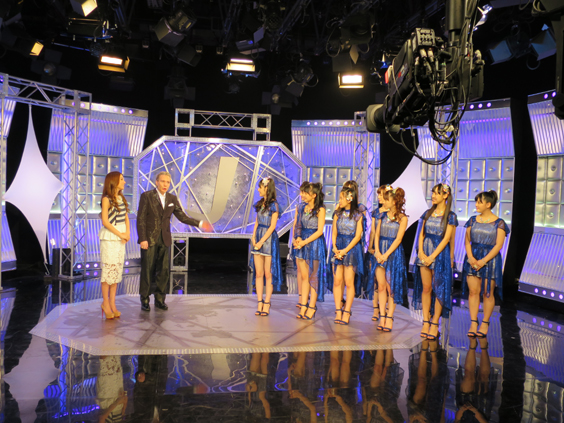 ▲Scenes from J-MELO
"To be honest, there were some tough times. We were doing more and more gigs abroad but TV appearances in Japan were really dropping off. I didn't think it was wonderful" Morning Musume。 member Ai Takahashi stated in my interview last year (2013) after a free concert given to a crowd of wildly enthusiastic Thai fans. When I asked Takahashi if she knew how much she was loved by her Thai fans she replied that the love and adoration made her happier than anything else.
With Morning Musume。'14's skyrocketing popularity would they be able to make history with a fifth consecutive number 1 in the ORICON* charts? It certainly seemed they had what it takes from their live performances. Takahashi led them in their platinum age, and right now it feels like the members are treading onto uncharted ground.
*The ORICON is the Japanese equivalent of the billboard charts, reflecting current trends in music.
However the actual performance had an irresistable pursuasive power to it drawing far more attention from the world's otaku than Japanese fans. With so much attention from abroad and not Japan wasn't a concert in Paris a natural choice? Before the concert in Paris Morning Musume。's young international fans were full of comments. I tried to get across my understanding that in the world of music, unlike anime, Japan is far behind but there was little interest. I regret not butting in and asking the fans more questions. The world's opinion of the group's real talent is still a way away.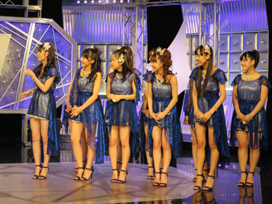 PRESENTS
All the info. on asianbeat's present campaign!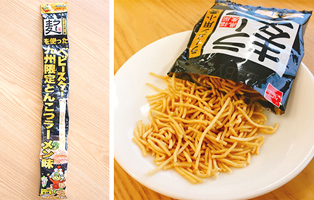 * Win a packet of "Ramugi Baby-Star (Kyushu limited edition tonkotsu ramen flavor)"!
[Details] Click
HERE
!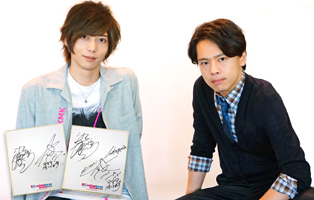 *Win a card signed by Akinori Nakagawa & Toshiyuki Someya!
[Details] Click
HERE
!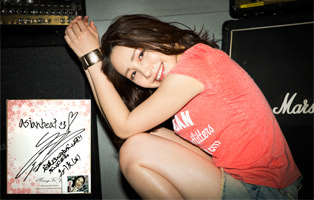 * Win a card and a cheki (photo) autographed by You Kikkawa!
[Details] Click
HERE
!