Vol.7 Ringo Koisio (siorin) , Oomomoko Amaterasu (Chanmomo◎) [BAND JA NAIMON!] - Hooked on the fashion style of the hottest in-demand idols!

"I want to become kawaii myself!"
Misako Aoki
I've wanted to speak with you two for a while now, so today's really exciting for me! What can you tell us about the outfits you're wearing today?
Chanmomo◎
I wear lots of different types of styles and clothes, but today I thought that you two would both be wearing kawaii outfits, so I wanted to go for a boyish, urban street kind of vibe that has a second-hand feel.
Aoki
I've seen that recently you've been tweeting about wanting to wear snidel!
Chanmomo◎
I was also wearing a lot of their stuff around 2 years ago. At that time, I was really into sweet looking outfits; I would have a ribbon in my hair and wear kawaii clothes. What I want to wear is always changing.
siorin
I'm in the outfit that I picked out and wore in the photograph from the sleeve for our CD. From my hair to my clothes, I just love the process of deciding a theme and look for what I'm wearing. I think from what I've gone on today it's easy to understand "who I am right now."
Aoki
It's Innocent World, isn't it?
siorin
Yes!
Aoki
But, it doesn't exactly look like something from Innocent World, right?
siorin
Well, I did make a few alterations. The original belt was lower and had a quite a graceful quality to it, but I wanted it to be a bit rougher and tomboyish, so I slightly raised the waist. I also added on a few cherry accessories, as well as the apron and have tied on this ribbon.
Aoki
Did you do it by yourself?
siorin
It's kind of a cumbersome task, but thanks to my time at fashion school, I'm able to make things by myself. It's not just wearing kawaii clothes, and behaving kawaii, I really have a strong feeling that I want to become "kawaii." So it's not just about the clothes that I wear, every day I'm trying my best whilst thinking about how to get closer to the idea of "kawaii" that I find so attractive.
Aoki
Actually, I have the same outfit, but when I see it in pictures, it looks completely different, and that's the reason! I think that putting your own spin on an outfit and adding your own style really takes a lot of courage, don't you agree?
siorin
Oh yes, I do. And on top of that, I wanted to add my own flavor to the outfit, whilst still respecting Innocent World's vision and creative outlook.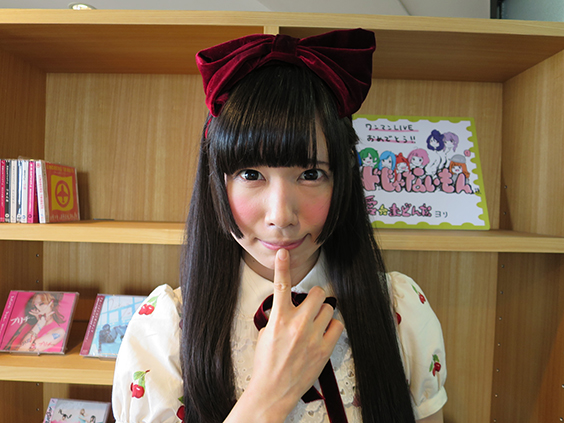 Ringo Koisio
For kawaii, I think of Japan, and for cool guy's clothes, I think of overseas items.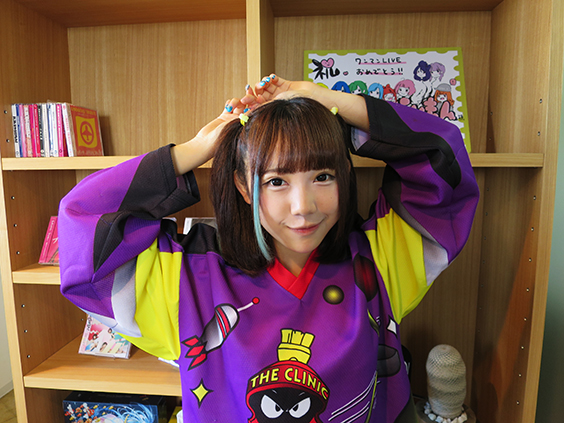 Oomomoko Amaterasu
Aoki
What kind of places do you go shopping?
Chanmomo◎
All over Harajuku, in second hand stores and places like Laforet. With clothes that I love, if I know about a boutique that has things that you cannot buy in Japan, I'll definitely go and check it out! At the boutiques, I buy more men's clothes. For me, when it comes to kawaii, I think of Japan and for stylish cool guy's clothes, I think of overseas items.
siorin
I like Harajuku and Shibuya, browsing in second-hand stores, buying things that tickle my fancy and just looking around Laforet. At heart, I'm a street fashion lover, so I'll go to Harajuku and have fun with my friends there. If I do go over to Harajuku I always think that everyone is going to be there, but recently not so many of my friends are around to hang out with…
Chanmomo◎
I guess that's the same for me too. When I've gone to the places that me and my friends used to hang out, I've suddenly realized that everybody's suddenly started working…
siorin
I feel like when everyone around you grows up and become adults, it's a little bit sad and lonely.
Aoki
In BAND JA NAIMON! you each have your own color. Do the clothes that you usually wear influence you?
Chanmomo◎
Quite a lot of the time we choose our own colors quite unintentionally.
siorin
When I joined "BANMON!," until I was put in charge of my own color, which we call "Koisuru Ringo iro," I really liked light blue and pink. But red is my color, I suddenly developed a strong fondness for it, and now I'm naturally drawn to it.
Aoki
Ringo-san, you're a big anime fan, right?
siorin
Definitely, anime is the number one influence in my life. I was cosplaying and making my own outfits and costumes even before I studied fashion. I really love making clothes which fit me, whilst imaging "what material would match an anime character's fluffy outfit, etc."
Aoki
Wow, even today you're still using your skills. That's so great!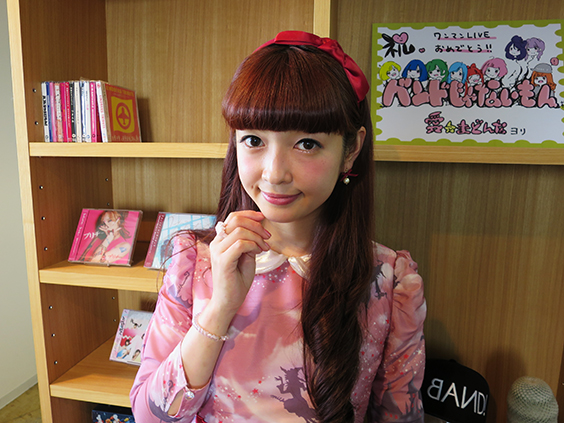 Misako Aoki
I decorate myself in order to become someone different from who I am.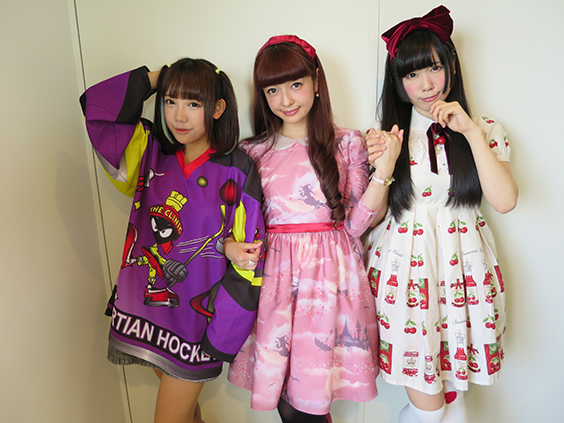 "On the topic of fashion and what I'm wearing today, I would really recommend a film by director Sion Sono called "TOKYO TRIBE."(Oomomoko Amaterasu - left)
Aoki
I would really love to hear about the aspects of your hair and make-up from today that you most like.
Chanmomo◎
I suppose it started because of "Koakuma Ageha" magazines, which I was just obsessed with when I was a high school student. At that time, my hair was blonde, and I wore it big, with lots of volume. If I hadn't styled my hair right, then I wouldn't to go to school. Things haven't changed that much since that time! I really like make-up and hair that looks like it isn't quite real. From a distance it looks kawaii, but up close it's kind of shocking. I suppose, I'm like a foundation to start with, then I decorate myself by adding more and more, in the end I want to become someone different from who I am. For me, I think it's really great if your fashion sense can be kawaii, as well as cool, and I'm really into hair and make-up that tries to achieve these various things. Rather than being just myself, I add extra flavor to my appearance, so that I can be someone different!
siorin
I long to be a "2D girl," a cartoon character. I want to be an anime heroine, and that's what I'm aiming for when I'm doing my hair and makeup. "Ringo Koisio" is my ideal image of myself , so I feel like I'm cosplaying. The reason I have a short "Heme cut" is not just to make my face look smaller, but also to recreate the look of female anime characters. I often find that the length of the characters' hime cut is at the same level as their mouth or just above. Not only in appearance, but I also want to become anime heroine on the inside, too. Even in the way I talk, and my behavior when no one's looking, I'm really trying to get close to my ideal image.
Aoki
Oh, I see… Ringo-san, the "Hime cut" really suits you. As a Lolita, I'm really into that kind of style. Today's talk has been so much fun, let's keep in touch!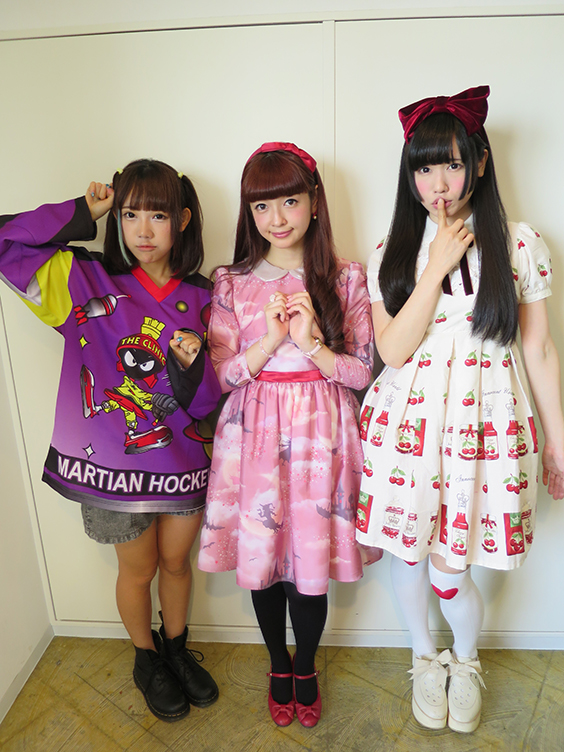 "I aspire to be like Yukari Tamura and Haruko Momoi." (Ringo Koisio - right)
A Word from the Producer
BANDO JA NAIMON! are an idol group that I'm following and really into right now. And they are so enjoyable to see live! That's why when Misako Aoki mentioned their name I was really excited. At their live shows, all six charming members perform together, so definitely try and get along to one of their shows!。     
Takamasa Sakurai
Ringo Koisio Profile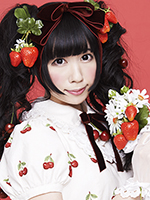 Joined in 2013.
Makes outfits and clothes, and is also a huge anime lover, who has established a reputation as "DJ sioringo," focusing on "Denpa Songs".
Created a huge buzz through appearances on the TV Asahi networks late night variety TV program "Onegai! Ranking."
Oomomoko Amaterasu Profile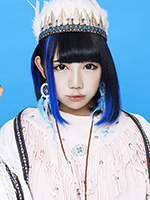 Joined in 2014.
Appeared as a regular on the first season of Fuji Television networks reality TV show "Terrace House." Besides work as an idol, has also written and published an autobiography under the name "Momoko. Takeuchi"
Appears on the internet radio program "Sura to Niwa to Chanmomo◎ to - Pleiades Seidan kara Ai wo Komete -."
Columnist: Misako Aoki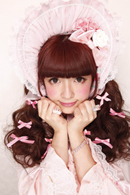 Started as an amateur model who appeared in Gothic Lolita magazines, triggering an interest in lolita fashion, which she now promotes with her charismatic personality. Appointed as a Trend Communicator of Japanese Pop Culture (Kawaii Ambassador) in 2009 by the Ministry of Foreign Affairs. Attended pop culture events in over 10 different countries and regions, has been featured in fashion shows and talk shows, promoting Japanese "kawaii culture."
Author of: Misako Aoki's Kawaii Kakumei "Lolita tokidoki Nurse" (Published June 16 2011 by TAKESHOBO Co., Ltd.)
Blog (Japanese):
http://ameblo.jp/ribbon-misa/
Columnist: Sakurai Takamasa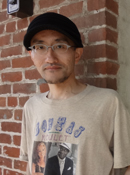 Contents Media Producer, author, specially-appointed professor of Digital Hollywood University / Digital Hollywood University graduate school, and International Otaku Expo Association Executive Office Director. Carrying out cultural diplomatic activities in over 150 cities across 27 countries/regions in total, has held numerous positions in various consultancy committees for the Ministry of Foreign Affairs. In 2009, served as a producer for the "Kawaii Ambassador" program, which was established by the Ministry of Foreign Affairs, has also pioneered cultural diplomacy that makes use of Japanese pop culture, such as anime fashion and music. Frequently invited as a guest to various Japanese events across the globe, has authored several books including, "Nihon ga Suki sugiru Chugokujin Joshi" (PHP Shinsho), "Sekai Kawaii Kakumei" (PHP Shinsho), and "Anime Bunka Gaiko" (Chikuma Shinsho). Has also worked as a television commentator, radio personality and contributed articles for newspapers, as well as web magazines. Currently writing the column, "Pop Culture Chronicles" for the asianbeat website (in Japanese, Chinese and English.)

-twitter http://twitter.com/sakuraitakamasa/
Pop Culture Chronicles: http://asianbeat.com/en/popculture/
Updated every 4th Thursday of the month!
*Next update: Thursday, the 24th of December
*Next update: Further details will be announced shortly.
This comment section is for readers to leave opinions and comments. Inappropriate comments may be deleted, so please remember to be respectful. Thank you!