#7 New experiences for Misako! Visiting 3 cities in 1 week! – First time trips to Hong Kong Disneyland Park, Wuhan and Chongqing! -(1/7)

I was up by 4am to catch the plane both times!
Recently I've been taking several trips to China every month! And during this time I've really noticed that a lolita fashion boom has been taking place there! I'm so grateful to have the opportunity to write this article every month! There's said to be over 200 lolita fashion brands that started in China and the number is continuing to increase. As someone who is involved in trying to spread awareness about the culture of lolita fashion, this is something that makes me super happy! Until now, the places I've been to in China include Shanghai, Nanjing, Nanchang, Jingdezhen, Beijing, Shenyang, and Guangzhou, but from the end of September to the beginning of October I got to visit some new places, such as Wuhan and Chongqing! Join me on my tour of China!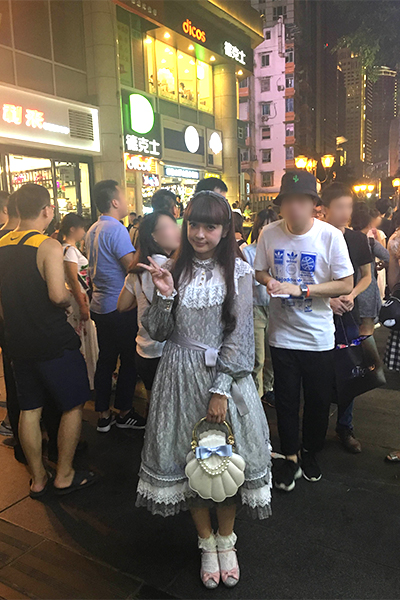 From Hong Kong I went to Wuhan and then onto Chongqing! I was in China right in the middle of their holiday period, and with a number of events being held, this was the first time that I went to 3 different cities consecutively without returning to Japan. In Hong Kong, I visited Hong Kong Disneyland Park for the first time with some fellow lolitas and we even held a tea party at the Disneyland hotel! Hong Kong Disneyland Park features a replica of the castle from Sleeping Beauty and has a slightly different vibe to the Disneyland in Japan. It's so fresh and super kawaii! Lolita fashion and the atmosphere inside Disneyland are a match made in heaven! There was so many great spots for us to take photographs together!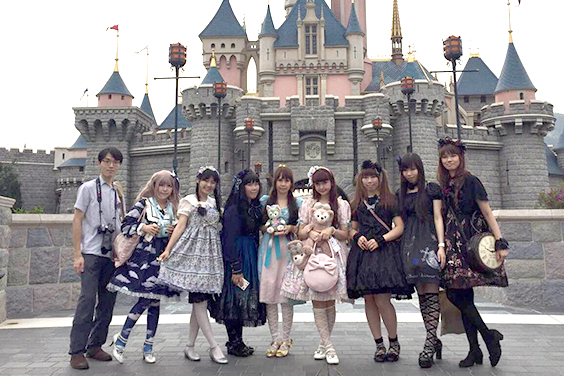 For both Wuhan and Chongqing, I was scheduled to arrive by plane on the day of the events, so was up and on the move by 4am each time. As soon as I arrived I went straight to the venues, so it was quite a tough schedule! This was my first time experiencing this kind of thing, so I was a bit anxious thinking "what if the plane is late?" and "what if the plane doesn't show up at all?" But there was no problem and I performed at both events without any issues arising, which was a real relief! These were huge anime-related events, which had lolita fashion booths inside. I participated in lolita fashion shows, talks and signing sessions. In both Wuhan and Chongqing I was a bit nervous wondering whether or not there would be anyone there who was into lolita fashion or if anybody would know anything about me. As I hadn't been to either place before, those were some of the concerns I was having, but in the end over 200 fans turned up, which was so moving! And it's not just something happening in Beijing, Guangzhou, and Shanghai; I realized that the number of people who love lolita fashion is increasing all over China. I really got the sense that this is what I have been working for up until now, which made me well up!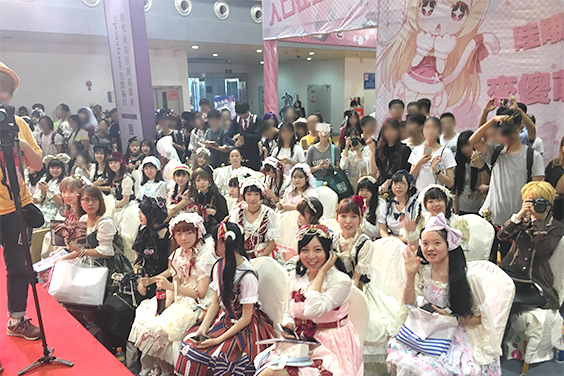 I started doing these kinds of activities in 2009, when I was appointed a Kawaii Ambassador by the Ministry of Foreign Affairs. This is my 7th year involved in promotional activities that aim to spread lolita fashion throughout the world! And I have to say once again, the lolita fashion boom in China is something that I've found moving and inspiring. Next month I will be in Chile and the month after that I will be going to Taiwan! I will continue give everything I've got in my efforts to spread the word about lolita fashion!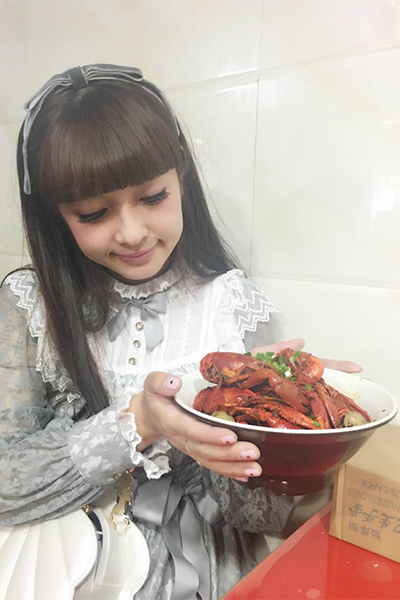 As a little side note, when I was in Chongqing I tried crayfish for the first time! When I was a kid I used to have a pet crayfish, so it was a bit of a culture shock for me! In Japan eating crayfish isn't really part of the culture, but in order to be able to communicate with and better understand a different culture, I gave it a go! To be honest, I found that it tasted a lot like shrimp! It was surprisingly delicious (lol)! When you travel abroad, it's so interesting to learn about different food cultures! That's the way I look at it, and not being too picky when it comes to food, I'll try pretty much anything. Experiencing the cuisine of different places is something that I really enjoy! I'll be sure to tell you more about any other rare dishes I try!
Misako Aoki
PROFILE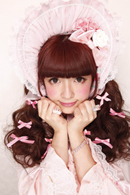 Misako Aoki
Lolita model, nurse, and President of the Japan Lolita Association

Models for KERA and the GOTHIC & LOLITA BIBLE while also working as a nurse. Was appointed as a Kawaii Ambassador (Lolita Fashion Representative) by the Ministry of Foreign Affairs in 2009. Has visited and attended events in over 30 cities across 20 countries and regions. Now has countless overseas fans.

Involved in setting up the Japan Lolita Association, has released "Lolita Fashion Book," has also worked in the development and promotion of new products. Contributes to activities that promote Lolita Fashion.

Misako Aoki official blog: http://lineblog.me/aokimisako/
Misako Aoki official website: http://www.misakoaoki.com/
Related Articles

This comment section is for readers to leave opinions and comments. Inappropriate comments may be deleted, so please remember to be respectful. Thank you!