#8 Misako was at a Lolita tea party in Korea for the first time in 6 years!(1/10)

Korea lolita fashion brands are proving popular all over the world!
Recently I have been going to China a lot, but I just had the chance to go to Korea for the first time in ages! With 6 years passing since my last visit, I went in order to make a guest appearance at a lolita tea party. I just love Korean food and cosmetics, so I was super excited that I was asked to go there for work.
It was a 1-night, 2-day whirlwind trip, but I still had a fantastic time! Korea is so close! By plane you get there in the blink of an eye! And with my last Korea excursion being so long ago, even privately it was a country that I really wanted to go again.
Korea lolita fashion brands are proving popular all over the world! You can even find some of them appearing in the magazine "Gothic & Lolita Bible." Lolita fashion seems to have really experienced a boom in China, but it is also very popular in Korea! It had been 6 years since I was in Korea, but lots of lolitas turned up to the event. The gorgeous location looked like a venue for wedding ceremonies, and there were many nice places to take photos.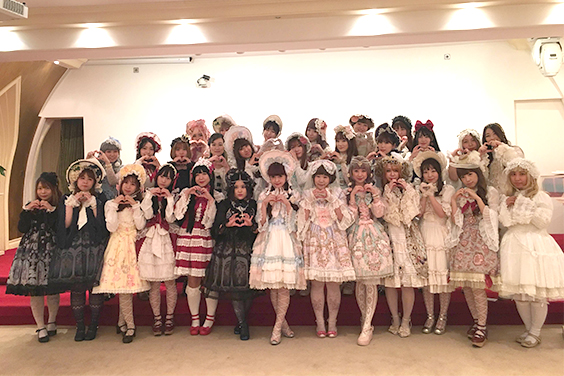 It was great to be back in Korea after so long. We took pictures together, I did some signings, and I also got to talk with lots of people… It was amazing how many people were able to speak Japanese. Even though it had been a while, everybody was so warm and friendly. That meant so much to me!
During some spare time, I went to eat some of my favorite Korean food! Me and some other lolitas went to get some Korean food like kimchi and bibimbap! It's kind of rare... Lolita fashion and Korean cuisine is not a combination you get to see that often!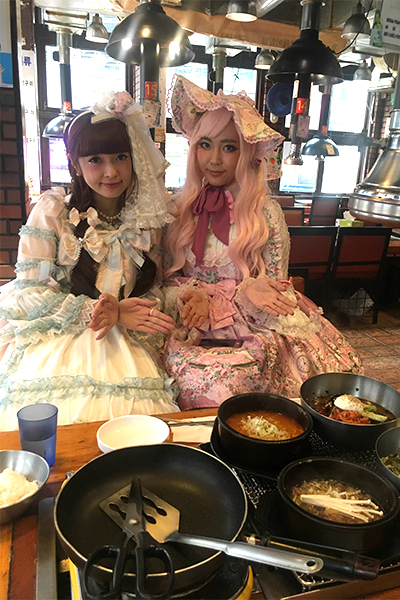 I'm so grateful that each month I get the chance to go to many different countries and meet lots of new lolitas! I still think that the best thing that I get to experience about a country's culture is the food! Enjoying lolita fashion and Korean cuisine… I was really able to take in the country and have some great cultural exchange! Interaction with other cultures and societies is the real pleasure of being involved in lolita-inspired cultural diplomacy. And so I'll keep doing my best!
Misako Aoki
PROFILE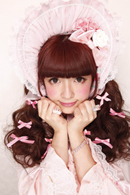 Misako Aoki
Lolita model, nurse, and President of the Japan Lolita Association

Models for KERA and the GOTHIC & LOLITA BIBLE while also working as a nurse. Was appointed as a Kawaii Ambassador (Lolita Fashion Representative) by the Ministry of Foreign Affairs in 2009. Has visited and attended events in over 30 cities across 20 countries and regions. Now has countless overseas fans.

Involved in setting up the Japan Lolita Association, has released "Lolita Fashion Book," has also worked in the development and promotion of new products. Contributes to activities that promote Lolita Fashion.

Misako Aoki official blog: http://lineblog.me/aokimisako/
Misako Aoki official website: http://www.misakoaoki.com/
Related Articles

This comment section is for readers to leave opinions and comments. Inappropriate comments may be deleted, so please remember to be respectful. Thank you!