#9 Lolita tea party in Santiago, Chile! - A 5 day trip, but only 1 night in Chile! Misako encounters the warmth of South American lolitas!(1/9)

A gathering for the whole of South America, there was over 150 people at this huge tea party!
I go abroad every month, but the furthest I've traveled this year was when I went to Santiago, Chile in November! Santiago is the capital of Chile! Actually, I also got the chance to go last year, so this was actually my second visit! But this time I had some VISA troubles, so it ended up becoming a one night whirlwind tour. The lolitas in South America were all so warm and welcoming! It was a long long way, but I was so happy I went! And I really want to say thank you so much to everyone at the event!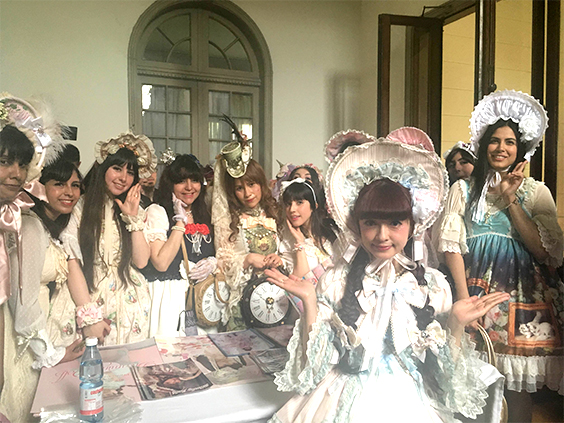 Actually, for my flight to Chile I had to transfer in Canada, at Vancouver and Toronto! My flight to Chile was taken care of for me, it was all simple and straight forward. I've also been to Canada quite a few times, but it seems that on the day I was due to set off it became a requirement that visitors need to have a VISA,… A bit like ESTA in America! And this was something that neither me nor the organizers knew about…
Getting a VISA is pretty easy to do online, but because this was something that only started on the day I was leaving, I couldn't get the VISA completion email in time… So I couldn't get on the plane that I wanted to… Even though I had gone all the way to Narita Airport… This was the first time that I've missed a plane since getting involved with lolita fashion cultural diplomacy… It's fair to say that I was pretty flustered. I've gotten used to travelling abroad, so I really regretted not checking about this properly.
There was lots of procedures to get through, but I was able to get on the same flight the next day! This schedule meant that I had to travel for over 30 hours and go straight to the tea party as soon as I arrive. And we didn't have to re-arrange the event. This ended up being a lightening quick trip, like nothing I've ever done before. But I knew the Chilean lolitas were waiting for me, so I had do everything I could to get there! And after all that, I was able to transit without any issues and managed to make it safely to the tea party!
At the tea party, there was also lolita fashion brands from Peru participating, and I had a chance to walk the runway wearing Peruvian lolita fashion! I was told that it was the designer's dream to see me wearing their clothes. It was so exciting to hear, any tiredness I was feeling soon disappeared!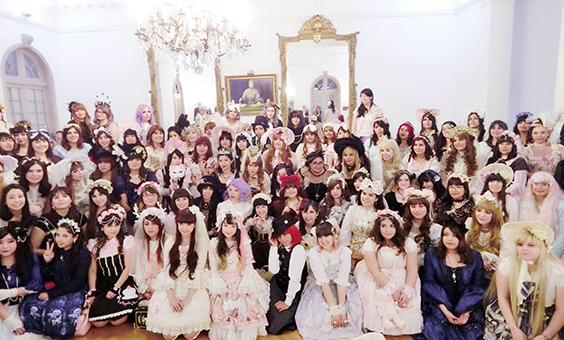 Aside from those who were there from Chile, there was also lolitas in attendance from countries such as Peru, Colombia, Argentina, and Mexico. A gathering of people from Central and South America, there was over 150 participants at this huge tea party! As well as me, the model Rinrin was also a guest at this gorgeous tea party!
This time it wasn't an anime festival, but an event organized and run by a lolita association! The energy it takes to put on a tea party, invite guests and work together collectively is so admirable!
Even though I had difficulties with my VISA, I traveled safely without any major problems. Compared to their hard work putting on the event, I feel that my 30 hours of travel is just a little thing! As always, I will continue to do my best to promote lolita fashion and carry out cultural diplomacy!
Misako Aoki
PROFILE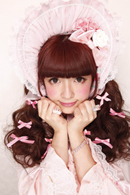 Misako Aoki
Lolita model, nurse, and President of the Japan Lolita Association

Models for KERA and the GOTHIC & LOLITA BIBLE while also working as a nurse. Was appointed as a Kawaii Ambassador (Lolita Fashion Representative) by the Ministry of Foreign Affairs in 2009. Has visited and attended events in over 30 cities across 20 countries and regions. Now has countless overseas fans.

Involved in setting up the Japan Lolita Association, has released "Lolita Fashion Book," has also worked in the development and promotion of new products. Contributes to activities that promote Lolita Fashion.

Misako Aoki official blog: http://lineblog.me/aokimisako/
Misako Aoki official website: http://www.misakoaoki.com/
Related Articles

This comment section is for readers to leave opinions and comments. Inappropriate comments may be deleted, so please remember to be respectful. Thank you!