Ayaka Wada (ANGERME) presents "Ukiyo-e" Vol.10 Eizan Kikugawa "Fashionable Decorations for the Five Seasonal Festivals: Iris Festival"

Edo is Kawaii
After almost a year of its serialization, we've now reached the final installment in the "Ukiyo-e" series. I've seen all various kinds of ukiyo-e prints over this year, and for me, Edo has become a period in history that I can now really relate to. Ukiyo-e is fun and kawaii! An exhibition was held at the Ōta Memorial Museum of Art (they looked after me when I was researching my article on Kunisada Utagawa) that fits this statement perfectly: the "Kawaii: Cute Girls in Ukiyo-e" exhibition. I went to museum with Sakurai-san, the producer of this column, and together we spoke to all the curators and listened to all of their really informative and inspirational stories. I really do look up to curators. I definitely want to try and become a qualified curator myself one day.

For me, one of the paintings in "Kawaii: Cute Girls in Ukiyo-e" that really stood out was Eizan Kikugawa's "Tosei Kusudama Go-Sekku" (Fashionable Decorations for the Five Seasonal Festivals: Iris Festival).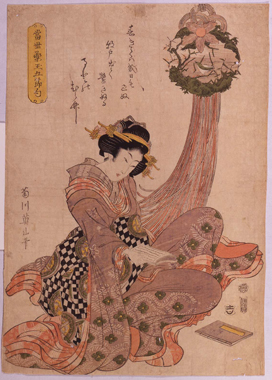 Eizan Kikugawa "Tosei Kusudama Go-Sekku" (Fashionable Decorations for the Five Seasonal Festivals: Iris Festival)
Bunka Era circa 1809-18.
(Ōta Memorial Museum of Art Collection)
But He Was A Leading Ukiyo-e Figure After Utamaro…
It was at this exhibition that I first learned of the artist Eizan Kikugawa. He was Eisen Keisai's master and after Utamaro Kitagawa's passing, he became a leader of the bijinga scene and an ukiyo-e artist with immense popularity.

One of the things that surprised me most when I started learning about ukiyo-e was that a number of artists who garnered such fame in the late Edo period are virtually unknown in modern-day Japan. Some of these artists like Kunisada Utagawa, Eisen Keisai and Eizan Kikugawa possibly even surpassed Utamaro Kitagawa and Kiyonaga Torii in terms of popularity back then, so how then did they lose their place in the spotlight? ANGERME has a song called "Taikibansei (A Late Bloomer)" that features a person who doesn't get recognized for their talents until later in life, much like the artists Van Gogh, Gauguin and Rousseau who didn't receive acclaim until after their deaths. So it's like the complete opposite of this!

Then, moving into the Meiji period, under orders to promote civilization and enlightenment, the Japanese abandoned much of their Edo culture, but at the same time, Edo culture or "Japonism" as it came to be called was receiving high praise from the West, and as that wave of popularity came back to Japan, ukiyo-e was in the spotlight once more. It was during this time that Japanese people began to see ukiyo-e not just as a product, but as art, and in the process the fate of the ukiyo-e artists were decided. It's like watching a movie where ukiyo-e is the main character set on a course of hapless fate.
Girls' Feelings
The exhibition "Kawaii: Cute Girls features works from a lot of the forgotten artists like Eizan Kikugawa, Eisen Keisai and Kunisada Utagawa. The girls that have been depicted in these works are clearly having a ball with the fashions. It's like looking at the streets of Harajuku through ukiyo-e.

Ōta Memorial Museum of Art specializes in ukiyo-e works and the fact that it's in Harajuku was a little strange for me at first, but now I feel like that's what makes this museum so good. I enjoy looking at ukiyo-e works, particularly those of Eizan, Eisen, and Kunisada, because whenever I do I learn something about how the people of Edo regarded fashion.

Take the kimono for example. To pick out a kimono for my coming of age ceremony I had to go through tons of catalogues, and looking at Eizan's and similar artists' works, I'm reminded of those feelings all over again. It wouldn't be strange in the slightest if their ukiyo-e featured in the present-day kimono catalogues. I guess even the girls of Edo were acute to fashion trends.

And the ones to pick up on and understand girls' feelings so well were the ukiyo-e artists like Eizan. According to Michi Akagi of the Ōta Memorial Museum of Art, the kimonos that you see in these ukiyo-e paintings were not your regular garments that just anybody could wear whenever they wanted. But I guess that's what the common people of Edo loved about them as well: they longed to wear such a kimono themselves.

I can understand those feelings completely! Sometimes when you are looking through fashion magazines you come across an outfit that you just love but you know you can't afford it. It can be fun just looking, or you might go out and try and find something similar in your price range – it seems like the people of Edo even used to do this too. Like if the kimono was out of the question, they might try and find a washcloth in the same pattern instead. It's basically taking a sample size of a particular pattern or design that you really like and incorporating it into your daily life somehow. The girls of Edo were so cute. I feel like I've grown so much closer to them now. I think it's incredible how the women of the Edo period had so many different tricks when it came to fashion as well. Whether it's girls of Edo or the present day, we like kawaii things - nothing has changed!
Edo Kimonos and Harajuku Fashion
Ukiyo-e prints are simply packed with Edo girls' adoration of all things kawaii. I've never thought more so than when I started looking at the works of the late Edo period.
Even if I can't buy the kimono, I can still buy the ukiyo-e print.
If ukiyo-e fans of around Harunobu Suzuki's era were predominately men, then the later Edo period surely would have seen quite a few female fans take an interest. The minute detail when it comes to fashion is what appeals more to women than to men after all.
Looking at Eizan's ukiyo-e, I was reminded of my childhood. Putting on lipstick or fake nails to be like my mom, longing to be like my aunt in her high heels, click-clacking as she walked – these kinds of memories.I was so excited when I got to wear my kimono at the coming of age ceremony; I even went around to all my relatives to show them. Though, all the kimonos that I had been looking at in all the ukiyo-e prints I had been going through at the time possibly added to my excitement somewhat. Essentially, Edo kimonos and Harajuku fashion are one in the same: they're both a source of the "kawaii" that girls are after. Leaving the art museum, I just wanted to go up to all the people walking the streets of Harajuku in their own distinct kawaii attires and tell them.
I wrote this at the very beginning of this series, but the more you learn about ukiyo-e the more relatable the Edo period becomes. In its time, Edo was the world's leading artistic nation, and the people enjoyed ukiyo-e without being aware of it all; not the people creating ukiyo-e, or the people buying them. The ukiyo-e artists heavily influenced impressionist painters like Manet, who changed my life completely, but their lives ended without ever knowing what would transpire in the years to come. This has all just made me want to study the Edo period more and more.
Thank you all so much for joining me on this 10-part series through ukiyo-e. My journey with art, though, will continue for as long as I live. As a student of art history, writing this column has been such a great learning experience for me. Thank you for your readership and your support.                                    
Ayaka Wada
Ōta Memorial Museum of Art
Ōta Memorial Museum of Art is the museum specializes in Ukiyo-e which are woodblock prints and paintings produced in the Edo period. The museum houses over 14,000 pieces of ukiyo-e include works by masters such as Hokusai and Hiroshige in their collection, and holds exhibition of specific theme and change exhibits every month.
HOURS
10:30 - 17:30 (the Last Admission is 17:00)
CLOSED
Mondays (except national holidays)
If Monday is a holiday, closed on the next work day.
Please see the
calendar
for the closed period.
ADMISSION
Admission differs depending on each exhibition. Please confirm the "Calendar & Admission (Click
HERE
for 2014 Calender)" page before visiting the museum.
Location
1-10-10, Jingumae, Shibuya-ku, Tokyo, 150-0001 Japan
TEL
: 81-(0)3-3403-0880
Official Website (English)
http://www.ukiyoe-ota-muse.jp/index-E.html
ACCESS
5 minutes walk from Harajuku Sta. on the JR Yamanote Line, or 3 minutes walk from Meijijingu-mae Sta. on the Tokyo Metro Chiyoda Line and Fukutoshin Line
Related Articles

Ayaka Wada(ANGERME) presents "Ukiyo-e" Vol.01 Harunobu Suzuki "Couple Under Umbrella in the Snow"
Harunobu Suzuki was the first superstar of the ukiyo-e technique known as nishiki-e.
Nishiki-e developed through advances in polychrome woodblock printing techniques and is a style of ukiyo-e that layers multiple colors on top of each other.
---

Ayaka Wada(ANGERME) presents "Ukiyo-e" Vol.05 Toshusai Sharaku "Actor Otani Oniji 3rd as the yakko Edobei"
Have you ever looked over a painting by a famous artist on display at an art gallery or art exhibition and found yourself wondering this? Do we look at these paintings with such appreciation because the artist is famous and has received praise from people around the world? Famous paintings are famous because society and all the textbooks and guidebooks tell us so.
---

Ayaka Wada (ANGERME) presents "Ukiyo-e" Vol.10 Eizan Kikugawa "Fashionable Decorations for the Five Seasonal Festivals: Iris Festival"
After almost a year of its serialization, we've now reached the final installment in the "Ukiyo-e" series. I've seen all various kinds of ukiyo-e prints over this year, and for me, Edo has become a period in history that I can now really relate to.
---

Interview with Ayaka Wada to Celebrate the Launch of her New Book, "Rediscovering Japan Through Art" (ODYSSEY BOOKS INC.) – Ayaka Wada (ANGERME) X Takamasa Sakurai (Producer)
Following on from her 2014 publication that shed a fresh new light on the fine art book industry, "Otome no Kaiga Annai" (PHP Shinsho), on the 12th of March 2016, ANGERME idol group leader, Ayaka Wada, will release her second book, entitled, "Bijutsu de Meguru Nippon Saihakken ~ Ukiyoe, Nippon-ga kara Butsuzou made" (Rediscovering Japan Through Art: From Ukiyo-e and Japanese Paintings, to Buddhist Sculptures) (ODUSSEY BOOKS INC.).
Columnist: Ayaka Wada (ANGERME)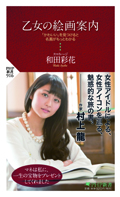 Ayaka's looks and style have seen her grace the covers of multiple magazines and gravure publications. She likes art and Western paintings, particularly the works of Rembrandt and Édouard Manet. She studies art history at university and has recently developed an interest in Japanese Buddhist sculptures and paintings. She even has her own "shuincho" (seal stamp book) and is currently collecting stamps from all the temples she visits around Japan. Ayaka discusses paintings in her monthly serialization, she is the author of the book "Otome no Kaiga Annai" (Maiden's Guide to Paintings), and she also performs with Riho Sayashi (Morning Musume。 ) in the two-girl unit, Peaberry, which was formed alongside the SATOYAMA movement: a movement which has also begun expanding their activities to include art field as well.
Author of: "Otome no kaiga annai"
http://shuchi.php.co.jp/article/1846
This comment section is for readers to leave opinions and comments. Inappropriate comments may be deleted, so please remember to be respectful. Thank you!
PRESENTS
All the info. on asianbeat's present campaign!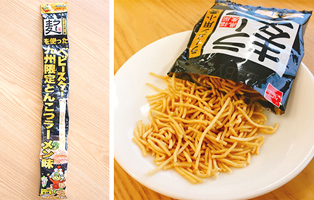 * Win a packet of "Ramugi Baby-Star (Kyushu limited edition tonkotsu ramen flavor)"!
[Details] Click
HERE
!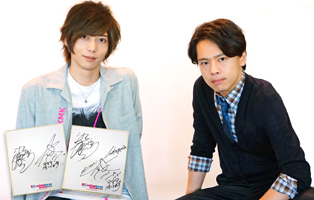 *Win a card signed by Akinori Nakagawa & Toshiyuki Someya!
[Details] Click
HERE
!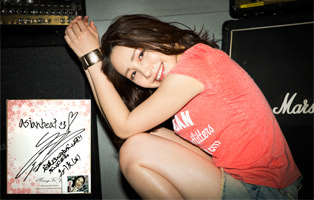 * Win a card and a cheki (photo) autographed by You Kikkawa!
[Details] Click
HERE
!