The New "BOATHOUSE OHORI PARK" is Finally Here!

Come and Enjoy the Relaxing Boathouse Complex
Located at the heart of Fukuoka with a pond that has a perimeter of nearly two kilometers, Ohori Park is famous for its greenery and nature. Being a great spot for joggers and cyclists, it has also recently become a popular destination for foreign tourists. Each season at Ohori park brings with it a new surprise. In spring there are a lot of sakura in full bloom, in summer there are fireworks, in autumn the leaves of the trees turn beautiful shades of red, orange, and brown, and in winter you can enjoy Christmas lights in the park. In addition to all this, the newly-opened "BOATHOUSE OHORI PARK" has added to the park's splendor.

There is a place you can rent a boat and go out onto the pond with and it is next to this facility that the restaurant has been built. The area had previously been used as a resting ground, but because the structure was ageing it was sadly closed down in May 2013.

And then on February 6th, the restaurant, cafe, shop, and rental boat house rolled into one opened up under the name "BOATHOUSE OHORI PARK." Those of us at asianbeat wanted to bring you an update on this as soon as possible so we immediately went to take a look around!
We initially set foot into the Royal Garden Cafe, on the first floor. You can see the beautiful outside scenery and the sunshine through the shop window and it makes you feel almost as though you were in a resort. All of their dishes were also made from fresh ingredients and it was absolutely delicious. Outside on the dog terrace, they also have a place where you can eat a meal with your dog which is really great.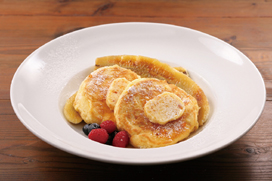 Pancakes are one of the most popular dishes on the Royal Garden Cafe menu.
On the second floor, is the French restaurant "HANANOKI" with a rich history. It has just been reopened. With a birds-eye view of the park's exquisite scenery, not only it is an excellent location but you can enjoy a variety of Fukuoka-produced seasonal foods and special wines. We certainly hope that one day you will have the opportunity to try their luxurious meals.
Now, for those that love sweets on the first floor is the first shop of its kind in Kyushu and we recommend this place to those that are health-oriented. At the American frozen yogurt shop, "pinkberry" you can customize your own froyo from a selection of over 30 different toppings and fresh fruit, cut in store on the day.

There are so many different flavours and toppings to choose from why not pick something you have never tried before! While "pinkberry" has 261 shops in 21 different countries, this is only the second shop to open in Japan and is something not to miss, especially for those that like to try new things.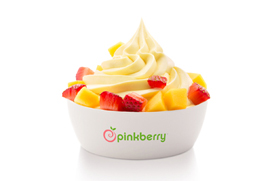 Frozen yogurt with a fresh fruit topping
Many people enjoyed the previous restaurant-cafe and upon hearing of its renewal these same people were very excited about it. Ever since February 6th, when it went back into business, the place has been absolutely packed day after day. With the store's new goal being, "We would like to make this shop into something everyone can enjoy," we are sure that they will soon be one of Fukuoka's number one spots.

For more details and photos on each of these places please visit the "Hot Spots" corner! (Editorial Dep't. Yamashita)
Check Out the Newly Opened Facilities in the "BOAT HOUSE OHORI PARK"
Information: BOATHOUSE OHORI PARK
BOATHOUSE OHORI PARK is a restaurant, cafe, shop, and rental boat house all rolled into one and provides park-goers with a new way to enjoy the Ohori area and is a new Fukuoka attaction in and of itself.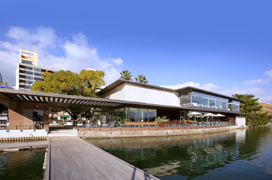 Address: BOATHOUSE 1-3 Ohori Park,Chuo-ku,Fukuoka
Access: (By Subway) 2-minute walk from the Fukuoka City Subway Ohorikoen Subway Station Exit No.3
Premises:Restaurant HANANOKI [French], Royal Garden Cafe[Cafe & Restaurant], PARK SHOP [Light Meals / Shop] * pinkberry [Frozen Yogurt], Rental Boat
Website: http://www.oohoriboathouse.jp/
Related Articles
External Links