"Chun Shui Tang (春水堂)" finally reaches western Japan! The Taiwanese café known for specializing in tea and has opened a new branch in the Tenjin Chikagai!

Known as one of the main originators of tapioca milk tea, this is a hugely popular café in Taiwan!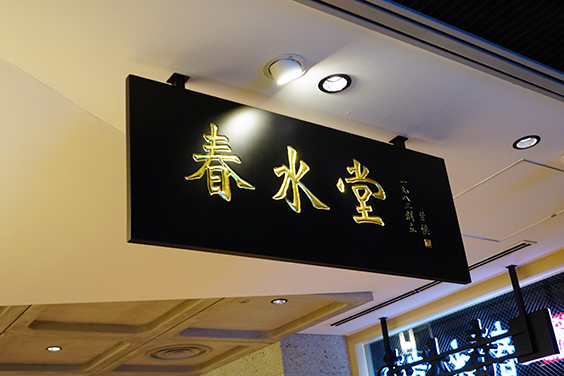 Tapioca milk tea (Pearl milk tea) is made by dropping large tapioca balls into milk tea. This top quality drink has a subtle sweetness, coupled with a mild taste, don't you wanna give it a try sometime? You might not be able to get enough! A drink that is really accessible, this is great news for all tea lovers! "Chun Shui Tang (春水堂)" is a popular café that is known as being one of the main originators of tapioca milk and has finally made its way from Taiwan to Fukuoka. Highly anticipated and with much attention surrounding their first branch in western Japan, the store finally opened on Friday 16th September 2016 in the Tenjin Chikagai (Nishi 6 Bangai). We managed to have a sneak preview before the official opening, here's what we found inside…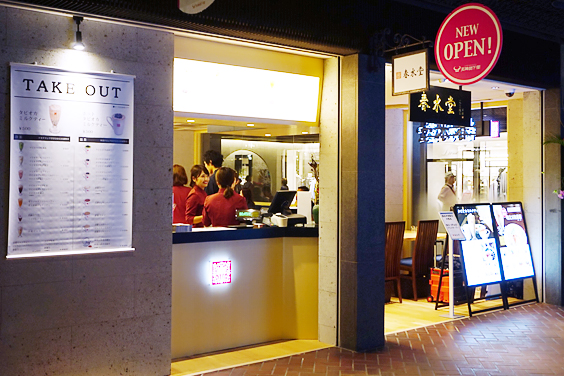 You'll find the store located near the passage that leads to the underground entrance of Fukuoka Mitsukoshi. The calm, refined exterior looks super stylish.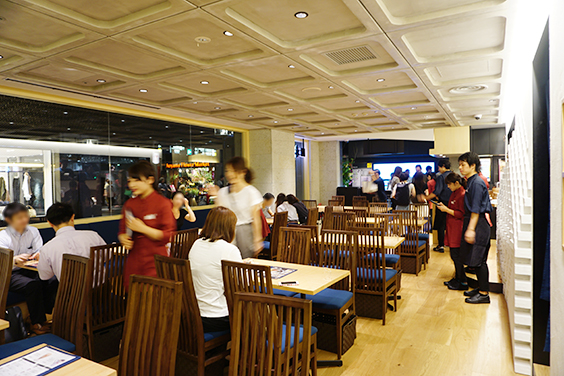 There are lots of seats to choose from.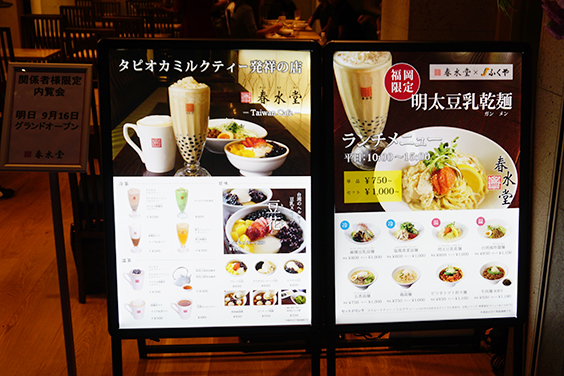 They don't just do drinks, they also serve lunch! There are also items on the menu that are only featured for limited periods, so make sure to check-out the specials!
Serving authentic Taiwanese tea, they have managed to create a relaxing space to unwind!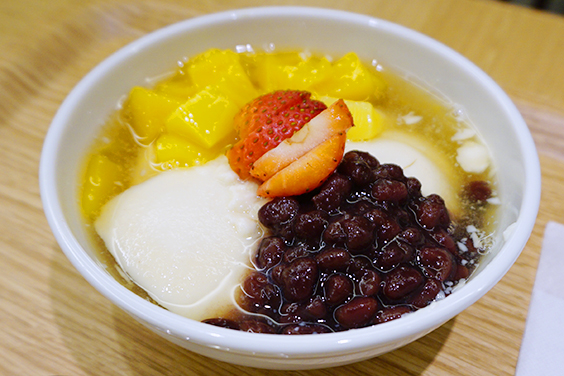 I love soy milk so was very excited to find "Fruit Douhua (豆花)" on the menu! The slightly sour quality of the fruits alongside the sweet azuki beans are the perfect match for fluffy tofu-esque douhua, which is made from coagulated soy milk. Popular with both men and women, the sweet flavor leaves a lovely, but subtle aftertaste that will leave you craving more! This being Chun Shui Tang, their specialty "Tapioca Milk Tea" is a permanent fixture on the menu! Soft black tapioca served in a rich aromatic milk tea this is one drink that will definitely leave you satisfied!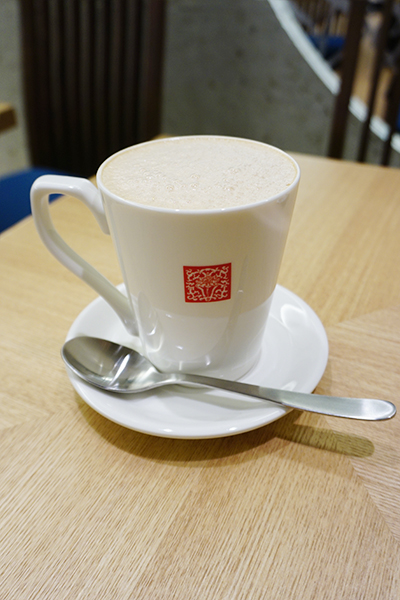 During the cold months, its worth trying one of the hot drinks on their menu, such as the "Tapioca Tieguanyin Milk Tea."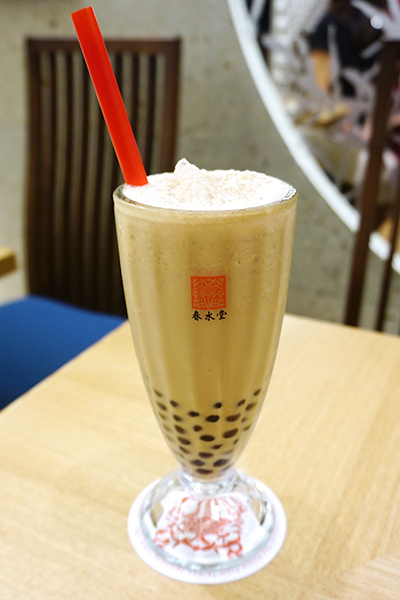 Here is Chun Shui Tang's specialty, "Tapioca Milk Tea."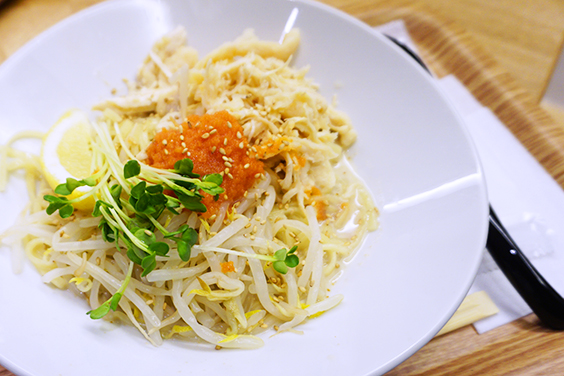 "Mentai Soy Milk Ganmen (明太豆乳乾麺)" is a dish limited to the Fukuoka area.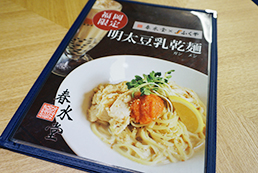 In addition to the fabulous drinks, they also offer a food to choose from. You can find all kinds of treats, such as the Taiwanese specialty "Beef Noodle Soup (牛肉麺)," the summer favorite cold "Ryan-men (Chilled/Refreshing Noodles)," as well as a special dish limited to the Fukuoka area called "Mentai Soy Milk Ganmen (明太豆乳乾麺)." This comes highly recommended and is the result of a collaboration between "Chun Shui Tang" and the famous mentaiko store "Fukuya." The person sitting beside me clearly couldn't get enough of the "Mentai Soy Bean Ganmen" and told me that the "spicy mentaiko and fantastic Taiwanese noodles are the perfect match!" Hearing this like that, you can't help but feel curious about the texture of the dried noodles they serve!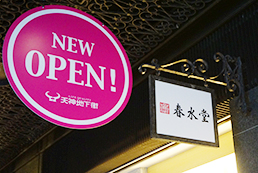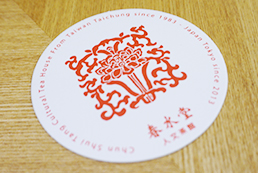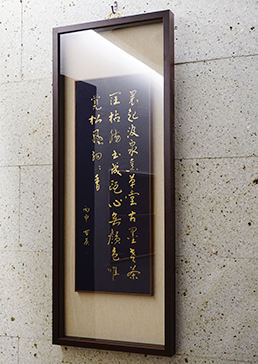 Kikawa-san (Chun Shui Tang) said, "This store is one of the true innovators when it comes to tapioca milk tea. The aroma from the tea leaves is the result of an original blend created by Chun Shui Tang and perfectly fits with the soft, chewy tapioca. Please enjoy!" They also feature items on the menu that only run for a limited time, so be sure to check-out what specials are on offer next time you're strolling through the Tenjin Chikagai! (Editorial Dept.: Gon)
Chun Shui Tang (春水堂), Tenjin Chikagai
Location: Chika 1-122, Tenjin 2-Chome, Chuo Ward, Fukuoka City (Tenjin Chikagai Nishi 6-Bangai)
Telephone number: 092-753-7272
Opening hours: 10:00 - 22:00
Closed: Open all year round (except New Year's Day)
Number of seats: 36 seats (takeout is available) (* please note: there is a counter specifically for takeout)
Free Wi-Fi is available (please ask staff for the Wi-Fi password)
There is also free Wi-Fi available throughout the Tenjin Chikagai
Tenjin Chikagai
Tenjin is located in the center of Fukuoka, which is the biggest city in Kyushu. Right in the middle you'll find Tenjin Chikagai. With all the shoppers and commuters (travelling back and forth between work and school) passing through, as many as 200,000 - 300,000 people make their way along this shopping mall on any given day. Linking the Tenjin Subway Station, to the Tenjin-Mimami Station, as well as to the Nishitetsu Fukuoka Station and the Nishitetsu Tenjin Bus Terminal, the underground network also connects together various commercial facilities and office buildings, whilst also offering people of all ages a huge selection of places to shop and eat everyday of the week. There are services for customers who are visiting from overseas, and even some stores that offer duty-free shopping!

- Opening Hours: Shops 10:00 - 20:00, Food and Drink (Restaurants, etc.) 10:00 - 21:00
* Please note, opening times may vary depending on the store
- Official Website: http://www.tenchika.com/
- Address: Chika 1-3, 2 (Chome Chika) Tenjin, Chuo-ku, Fukuoka-shi
Related Articles
External Links
PRESENTS
All the info. on asianbeat's present campaign!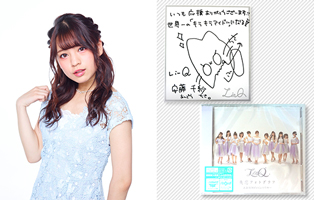 * Win a CD & a card signed by LinQ Chisa Ando!
[Details] Click
HERE
!