New Year's Greetings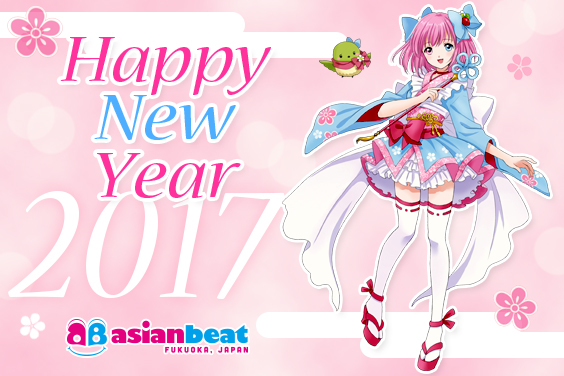 Happy New Year! Last year proved to be another busy year for asianbeat, beginning with a relocation of our office headquarters and the entire team working tirelessly to source the very latest info on Japanese popculture and trending topics in Fukuoka and deliver it to you, our readers, throughout the year.
April saw the start of "charismatic lolita" Misako Aoki's "
Travel Diary from the World of Lolita
" detailing her work in the international scene and her lolita-related events held across the globe. In June, "face of Fukuoka" and the man in the know when it comes to the local music scene, Kenjiro Fukamachi, launched his new column, "Kenjiro Fukamachi Presents Asia's Music City Fukuoka," reporting on various aspects of Fukuoka's music scene with his unique angles and insight (articles currently available in
Japanese
, Korean and Indonesian). And, building on the will and work of the late Sakurai Takamasa and his long-running column, "World Peace with J-POP Culture!", artists and talented professionals of various industries joined forces to form "TEAM SAKUSAKU" (the name itself an ode to Sakurai-san) and together created "
TEAM SAKUSAKU Presents - Favorite Collections
," with a different team member authoring an article each installment.
A special feature project saw popular Taiwanese cosplayers MON and STAY launch, "
MON and STAY's 'full-on' Fukuoka Trip from the latest hotspots to traditional culture
," focusing on the latest hotspots around Fukuoka. Shortly, Misako Aoki will join us for a new project reporting on the various unique and charming locations around Fukuoka through the lens of Japan's lolita culture, (tentatively) entitled "Misako Aoki presents Timeless Tripin Fukuoka."
Branching out of Japan, we travelled to Indonesia in July where we held "Fukuoka Fair 2016," and event to introduce some of the many delicacies and attractions that Fukuoka has to offer to the local people in Indonesia. And in November, we visited Vietnam to host "asianbeat Fall Festival 2016" where we got to meet and interact with Japanese culture lovers and fans of Fukuoka not only from Vietnam but from countries all over the world. We also joined premier fashion event "
Fukuoka Asia Collection (FACo)
" again this year, using fashion to showcase Fukuoka to the world with the help of the Kawaii Ambassadors selected through our online voting contest.
However, asianbeat is only possible with the help of our contributors and the support from our readers all over the world. This year we want to go back to our roots of "making Fukuoka a hub for information on youth culture in Asia," cherish the ties that connect us on a human level, and continue to deliver the latest info on pop-culture and all things "Fukuoka" to our readers at home and abroad.
Thank you and we look forward to your continued support in 2017.
asianbeat Editorial Staff
Related Articles