Enjoy dance and music from all over the world at the "FOSA Culture Show 2017!"

A platform for international students and locals to showcase aspects of their culture through song and dance!
Held annually since 2002, this year's "Fukuoka Overseas Students Association Culture Show 2017" marks the 16th time that the event has been held. Every year both international students based in Fukuoka and locals come together to provide insight into their respective cultures through the medium of song and dance. The audience will be treated to traditional dance performances by students from places such as Vietnam, India, and Nepal. There will also be a Japanese taiko drum performance, a fashion show featuring native outfits from various locations around the world, and a special Latin-style Colombian dance!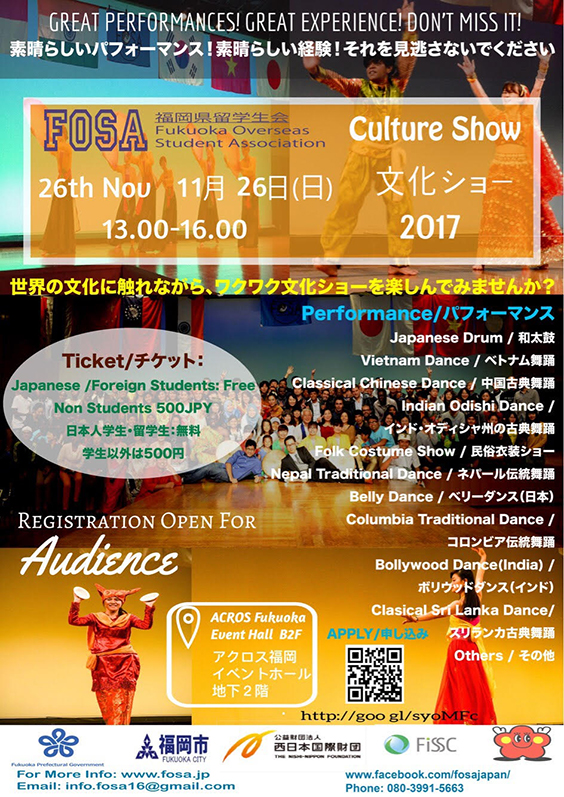 This is a unique opportunity to enjoy performing arts from all over the globe in the same event! Be sure to head over to ACROS so that you can start filling your Autumn with arts and culture! (Editorial Dept.: Sassy)
FOSA Culture Show 2017
Date: 26th November 2017 (Sunday) 13:00-16:00
Venue: ACROS Fukuoka Event Hall B2F
1-1-1 Tenjin, Chuo-ku, Fukuoka City
Fee: Free for students, 500 yen for general audience.
Tickets: Please apply for tickets at the Fukuoka Overseas Students Association (FOSA) website:
https://goo.gl/YpUDqa
Organizer: Fukuoka Overseas Students Association (FOSA)
E-mail: Info.fosa16@gmail.com
TEL.: 080-3991-5663
*For further information check the Fukuoka Overseas Students Association website (FOSA) or Facebook page:
FOSA Official Website:
http://fosa.jp/
FOSA Facebook page:
https://www.facebook.com/FosaFukuoka/
Related Articles
External Links