"Attack on Titan" Live Action Movie Slated for 2015 Release - January Trailer To Feature Live Action Titans

Work on the "Attack on Titan" live action movie has already begun!
Hajime Isayama's "Attack on Titan (Shingeki no Kyojin)" is to receive a live action film conversion. Filming is to begin in the summer of 2014 for a scheduled 2015 release.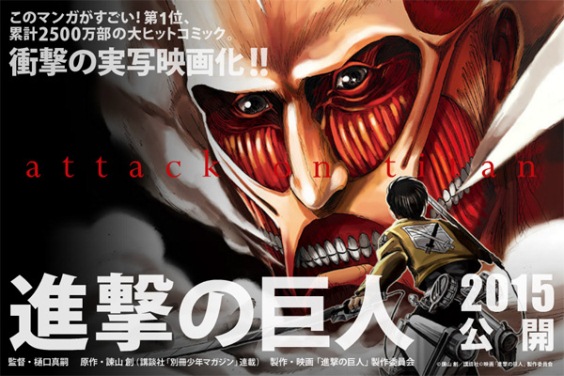 Shinji Higuchi, director of "Japan Sinks" and "The Floating Castle" will be directing with a script from Yusuke Watanabe who has previously written three volumes of "20th Century Boys" and two of "Gants". Creator Hajime Isayama's close friend and movie critic Tomohiro Machiyama will also be on the team.
At this moment in time the cast list has not yet been announced but we are assured it is being put together with great care.
While the release of the movie is still over one year away the Titans will make their live action debut next month in a collaboration with Subaru Forester.
The commercial will air towards the end of January 2014 on Nippon Television's "Friday Road Show"'s commercial break.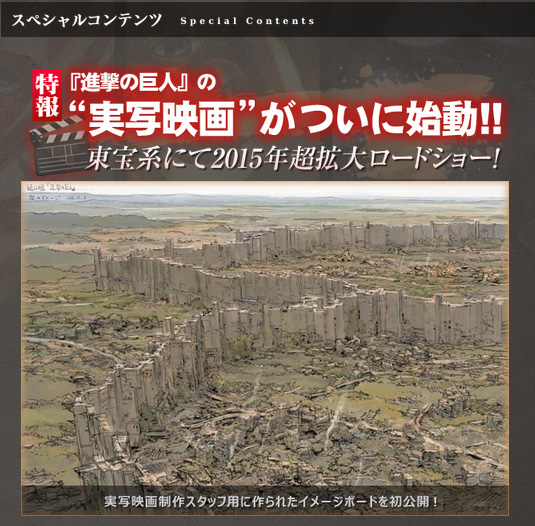 [Official Website] (All the sites are written in Japanese)
"Attack on Titan" official site
"Attack on Titan & Subaru Forester" collaboration site
Movie "Attack on Titan" official site
Related Articles to "Attack on Titan"
Click the image to read the article you are interested in!