Interview Now - Azusa Tadokoro -(1/2)

Voice actress and artist Azusa Tadokoro, who released her debut single "DREAM LINE" on Wednesday 22 April 2015, was visiting Fukuoka, so we made sure to catch up with her whilst she was still in town! During the interview we covered a wide-range of topics, such as her experiences of filming promotional videos for her debut single, the voice actor/actresses and artists she admires, the things shes into right now, as well as her performances abroad! We also spoke about her single launch in Kitakyushu on Saturday 17 May and even about Fukuoka!

We have signed cards of Azusa Tadokoro to give away to 3 of our lucky readers! For information on how to apply, please check the bottom of the interview!
"DREAM LINE" is a real song that is filled with my own emotions and feelings!
Q.(asianbeat) Azusa, thanks for joining us! Could you please tell us about your debut single "DREAM LINE," which was released on 22 April?

Before the lyricist yozuca* had penned the words for "DREAM LINE," we had a meeting together, and spoke about what's been on my mind recently and the things that I'm yearning for in my life, and that is how the lyrics came about for the tune. "DREAM LINE" is a real song that is filled with my own emotions and feelings.

Q. You had to shoot some clips for your promotional videos, right? How did it go?

The theme for the promotional video was "setting off on a journey." And so we filmed on location at a university, which resembled an airport. Hmmm... Well... when we were filming the clips for the promotional video it was really cold (lol)! And in the freezing cold we shot a scene where I was running and lip-syncing to my track, there was lots of things like that I was trying for the first time, so it was really fun!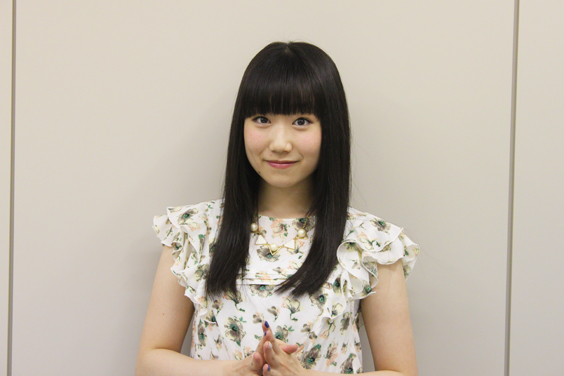 Q. Could you please tell us about "POSITIVE SHAKING," another promotional video that you made?

That song, as my first comical promotional video, was a challenge. The songs were coupled and released together, so we could relax and have fun shooting the videos. It was a fun challenge to play such a variety of roles!

Q. What do you feel are the differences between singing a song as an artist and a "character song," performing a song as a character?

When you're playing a character, I want it to sound as if the character is singing and so it's best if some of their characteristics, an aspect of the character, comes out in the song. Whereas with your own song, you're dealing with a different set of feelings, you're own feelings and emotions.

For example, when I am singing one of Shizuka Mogami's songs as part of "THE IDOLM@STER MILLION LIVE!," I am singing beside a huge illustration of the character, and performing as if she is on stage. So when it comes to a "character song," you are always conscious that you are talking and singing as the character (you are playing).

But I am still a little lost when it comes to my own tunes... As a musician I still haven't found myself, I am still wavering a little bit, so I'm gradually trying to decide what kind of artist I want to be. There are many songs that I will challenge myself with, so I will try and explore lots of different things.
I was so excited! It will be a treasure of mine forever!
Q.There are 2 CD covers for this single. One features your photograph and the other one is an illustration of you by Hiroko Yaguchi, TV anime "Aikatsu!" character designer. What were your feelings when you first saw the illustration on your CD?
I was so, so excited!! I've always been a fan of "Aikatsu!" and had wished someday to have my portrait done, but this was a thought that was somewhere in the back of my mind, and so I was super surprised to see this kind of illustration for the sleeve of my single. And she has made me look more beautiful than I am (lol)! I was so excited! It will be a treasure of mine forever!

Q. Talking of "Aikatsu!," the character that you play, Aoi Kiriya has a catchphrase "Odayaka jya naiwane (It's out of the ordinary./ This is not so common.)" Are there any phrases or sayings that you use regularly?

Actually, there isn't really! When I am specifically speaking about "Aikatsu!," I will use "Odayaka jya naiwane" on my blog, but it can be a bit embarrassing to use normally, in daily life (lol)!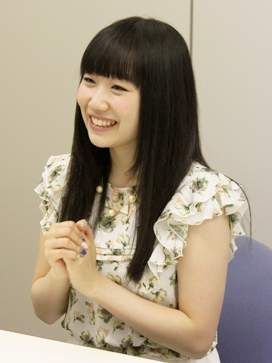 Other people would think "hey, she just used that phrase!"...
Up until now, I've used the phrase "Odayaka jya naiwane" so much in the TV anime. When I was speak normally, if I couldn't find other expressions to use, there would be times when I would want to say "Odayaka jya naiwane!" But I try not to say it (lol)!

Q. There have been launch events for the CD single taking place throughout the country. Are there any experiences that stand out?

I definitely think that there is some! Every place I have been to, I have eaten a ton of delicious food! When I visited Sapporo, I ate out at around 4 different places at night. I was so stuffed throughout this promotional tour!

But I suppose this is a kind of occasion when I can explore lots of places, and I don't want to blow the chance, so I'd like to enjoy all the places to the full extent. Even if it's just a few, I want to make memories that will stay with me. Then I can talk with everybody about what I have eaten, like I have done with you.

I particularly like Fukuoka food. Yesterday I ate motsu-nabe (hotpot made with beef/pork tripe and offal), sushi and mizutaki (a type of hot pot in which chicken and vegetables are simmered in a traditional Japanese soup) (lol)! I just love motsu-nabe, it's a shame that I have a small appetite. I really want to eat more so I'll definitely come back to Fukuoka!

Q. Oh yes, definitely. If you visit Fukuoka you just have to try some of our tasty delicacies! Yesterday you were at an event in Kitakyushu. What were your impressions, did anything stand out about the trip?

I find people from Fukuoka to be really well-mannered. I feel that people in Fukuoka are really good listeners. Wherever I go, I always find that each place and the people have a kind of uniqueness.

For example, people from Osaka tend to be in good spirits, and we sing and dance together, whereas I find that people from Fukuoka tend to listen more intently. I really do like both kinds of fans, this is the only chance I get to see these kinds of differences.
I hope to become an artist that can captivate an audience!
Q. Are there any voice actresses/actors or artists that you look up to?

Well, if we're talking about voice actresses, I really admire Akiko Yajima! Yajima's performance as Kohaku in "Inuyasha" and as Shinchan in "Crayon Shinchan" are what inspired me to become a voice actress. I really love the male characters that Akiko Yajima performs as!

She is really able to express the hardships and feelings of the characters that she portrays. Even without talking about negative topics, without having to explain the character's background, just through her voice alone, you can understand the character's personal histories, the lives they have lived and the circumstances that they grew up in. I think that this is so amazing!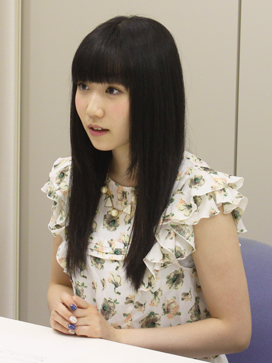 I want to become the kind of voice actress that can portray a character just through their voice, that's why I really look up to Akiko Yajima.

The artist that I really love is LiSA, she used to provide the vocals for a band called "Girls Dead Monster" that appeared in the TV show "Angel Beats!" And then I bought her album "Keep The Beats!," and since then I've become a massive fan of LiSA. Even now I still go to her live shows!

LiSA's live shows are so awesome, I'm totally fascinated by her! She has the incredible gift of drawing in and captivating her audience. When I go to her performances I get overcome with emotion and just get totally mesmerized by her! Someday I hope to become an artist that can really capture the imagination of the audience and have them hanging on my every word, just like LiSA!

Q. By the way, are there any voice actresses/actors that you are close to?

There's lots of opportunities to spend time with the voice artists from my agency, as well as those who perform for "THE IDOLM@STER MILLION LIVE!", so we are all really close with each other. And recently I have been hanging out with the voice actress Machico who is in the same agency as me. We're usually in contact about the same old things, and then suddenly I will get a picture message from Machico of her in party glasses! It's so nice to have a friend nearby like that who you can really have fun with!