TV Anime "Free!" Season 1: Story Overview(3/3)
9Fr "Mayoi no Loosen Up!!" ("Hesitant to Loosen Up!)"
With the prefectural contest now finished, Haruka and the group realize just how far they have come and developed.
With the summer festival about to begin, they decide to take a well-earned rest.
Nagisa finds out that Rin is at the festival, and asks Rei to follow Rin in order to make sure that Haruka and Rin do not meet.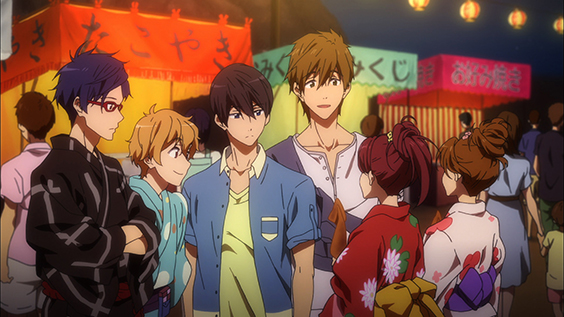 10Fr "Iradachi no Heart Rate" (A Frustrated Heart Rate)"
To get ready for the swimming meet, which is now fast approaching, they start special training with Coach Sasabe.
On the other hand, Rei grows frustrated at being the only one who doesn't know about the group's shared past.
Rei opens up and confides to them. Haruka responds to his feelings and starts to talk about the boys years at elementary school...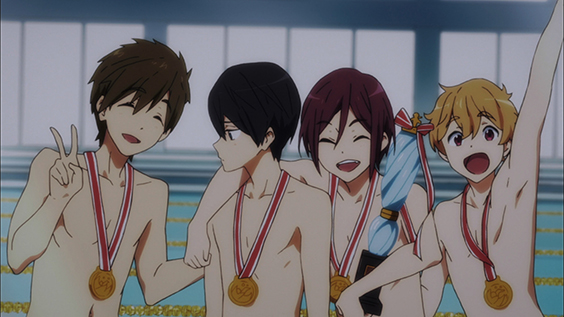 11Fr "Gekijo no All out! (All Out Passion!)"
After hearing Haruka talking about the past, Rei heads over to the Samezuka Academy to ask Rin what it is that he wants. Iwatobi High and Samezuka Academy make their way towards the venue for the competition. That night Rin calls Rei and they speak about their feelings towards the relay.
An announcement is then made at the Samezuka Academy lodgings about the line-up for the medley relay...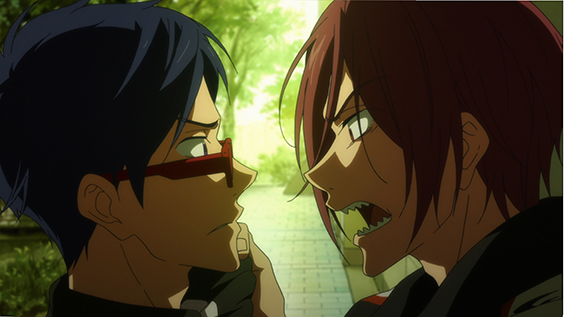 12Fr "Harukanaru Free! (Long Road to Free!)
In order to advance to the nationals, nothing except victory will do...
The tension increases between Haruka and the others, and Rin cannot hide the frustration he feels towards himself.
The medley relay is finally upon them.
With each of them aware of their friends feelings, they take to the starting blocks with complete confidence in themselves!