Let's Go to Comiket!~Summer Comiket 2011 Event Report~(1/2)

Japan's largest self-published comic book fair, the summer "Comic Market (Comiket) 80," was held on August 12th-14th at the Big Sight convention hall in Tokyo. The total number of attendees over the three days at this year's summer fair was 540,000! We enlisted the help of Tokyo correspondent, Misamisa, to fill us in on all the details and report the happenings over the first two days (12th, 13th) of the event.
Summer Comiket – Day 1 (opening day, August 12th)   
The first day of Comiket was a scorcher with temperatures somewhere in the 30 degrees range. On this day Tokyo Big Sight becomes a battlefield; participants become "warriors." At the peak time 200,000 people will accumulate in this one spot!
On this day, I too will become the warrior! I was determined from the outset not to perish on the battlefield and leave without getting the items I wanted, so after filling up on supplement jelly for breakfast and assembling the four must-have sacred elements for a successful Comiket: sports drink, energy bar, towel and sunscreen, I was all set for my summer siege!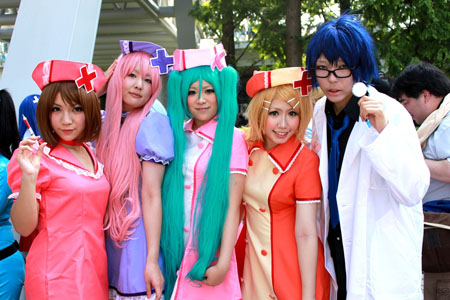 ●Misamisa (centre) and friends in"Koi iro Byoutou"cosplay!
Tadaaaa! This is the infamous Comiket lineup (below photo)! As explained in the Comiket catalogue, once you've left the line you CANNOT return to the same position. There's even rumored to be some people who get a little carried away with preparations and equip themselves with diaper!
There are plenty more Comiket rumors and urban legends but whether you believe them or not is up to you! Here are just a few…
1. There have been people who haven't survived the wait in line for the toilet…
2. A sweat-cloud forms above the crowd during peak times due to intense body heat.
3. Lining up for the booths crowds have been known to break into synchronized cheering.
4. Every year, the staff who best manage the crowds become event idols in a sense and their quotes preserved online.
Here is a collection of quotes from this year's and past Comiket staff (Japanese).
※For the Japanese-language-abled, here are the best staff quotes from summer-Comi this year and a collection from previous years↓↓↓
■コミケスタッフの名言集 2011夏コミver(C80) ※三日目分追加。運営お疲れ様でした!
■【押さない駆けない】コミケスタッフの名言まとめ【夢をあきらめない】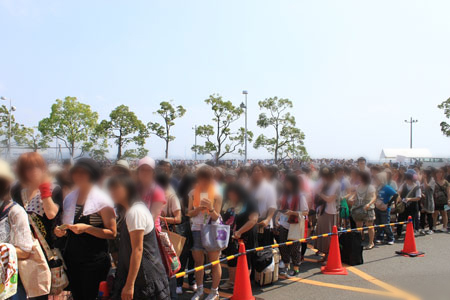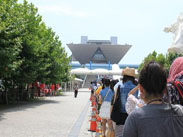 ●In line at Tokyo Big Sight. The entrance is still way, way off though!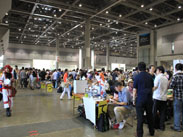 ●What the booths look like.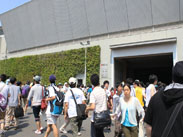 ●Once you've obtained your desired items move on to the next booth in an orderly fashion.
Most of the booths that were set up on the 12th were mainly of the Jump Comics and Hetalia variety, and it was also the day with the attendance record of 200,000. This was a new record for attendance numbers for Comiket set in a single day. There was a particularly large assembly of girls on this day, most likely due to the immense popularity of Hetalia.
At the company booths, "We Still Don't Know the Name of the Flower We Saw That Day" (aka "Ano Hana"), was incredibly popular! There was a 2 hour lineup that went out the doors! What I saw a lot of at this point was people applying cooling pads to their necks – a new technique is born! I'm going to steal this technique for myself for the next event!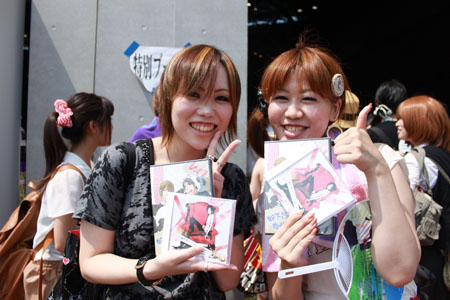 ●Well worth the wait!!Two very happy customers!!
>> Let's Go to Comiket! TOP
>> Comiket Tips TOP
>> Special Report: Cosplay & ItashaTOP
PRESENTS
All the info. on asianbeat's present campaign!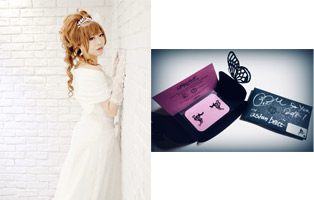 * Win paper eyelashes! The package is signed by Milktee-nu Tiara!
[Details] Click
HERE
!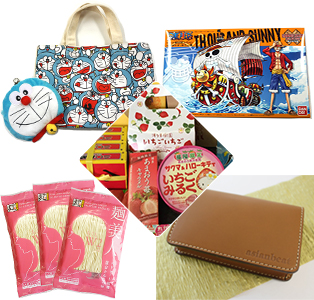 * Reader Survey: We're giving away great prizes to SIX lucky people!
[Details] Click
HERE
!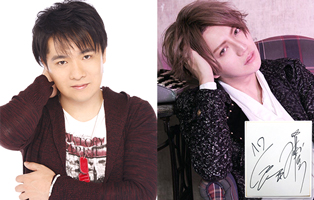 * Win a card signed by Takahiro Mizushima & A9 Shou!
[Details] Click
HERE
!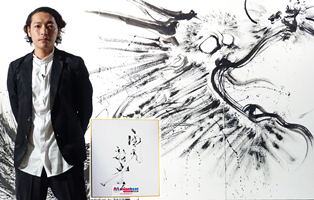 * Win a card signed by sumi-e artist Yu-ki Nishimoto!
[Details] Click
HERE
!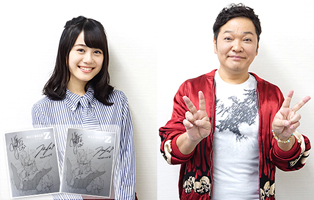 * Win a "Theatrical Version: MAZINGER Z / INFINITY" press sheet signed by Kappei Yamaguchi and Miku Ito!
[Details] Click
HERE
!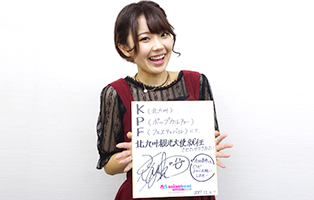 * Win a card signed by Yuuki Takada!
[Details] Click
HERE
!