SUNSET LIVE 2016 Instant Updates! Report from Day 2(1/51)

Day 2!! The audience were wowed by artists that transcend both genre and generations!!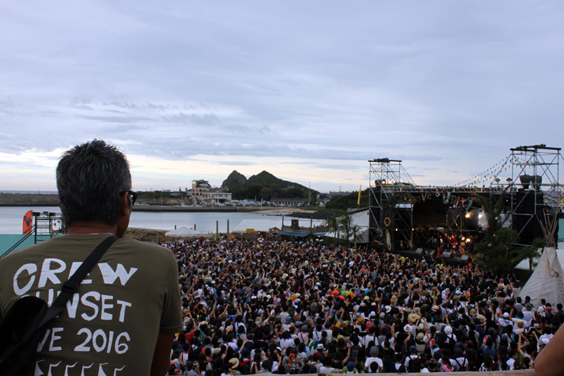 >> Day 2 Photo report, starts here!
Click the image and it will automatically go to the next.
With typhoon No.12 approaching, there was a concern whether or not things would be able to proceed as planned, but it was announced at 06:00 (on the day) that the festival would go ahead. And although there were changes to the timetable and stage layout, organizers responded quickly, making it possible for fans to find-out what was going on by posting up dates on their website. It was really evident that ensuring everyone had a great time was first and foremost in their considerations.
Eventually the second day got under way, and despite an initial concern as to whether or not the spectators would be alright in such conditions, they might even have drew in a record breaking number of fans! Even though we arrived at roughly the same time as the day before, the only space we could find in the car park was about 1km away from the venue. And inside was absolutely packed; it was almost overflowing with fans and spectators. The food stalls were the talk of the festival and were even busier than Saturday. It's going to be interesting to see exactly how many people attended the festival when they release the official figures!
Due to a traffic jam, we didn't get in until after midday. As might be expected, Sunday was busy with kids and families. There was two of us from editorial department there on the day. Both being single, we couldn't help but feel a little bit envious of all the families who were there enjoying themselves!!! There was a bit of both of us thinking how awesome it would be to be a part of that scene when we have our own families (lol)!
Across the different stages the crowds were treated to a stellar line-up that included acts such as R-Shitei and DJ Matsunaga from the hip-hop group "Creepy Nuts," who are huge right now, as well as "Group Tamashii" who are fronted by Sadao Abe and Kankuro Kudo. There were also performances from "RHYMESTER," who is well-known to the SUNSET LIVE audience, as well as "C&K," who were a special, top secret guest. And we can't forget SUNSET LIVE debutants "THA BLUE HARB" and "MIGHTY CROWN," who delivered impressive performances that are sure to last long in the memory. THA BLUE HARB had the audience hooked! The crowd was completely transfixed by the energy of their performance, soulful message and unique outlook that wasn't just limited to the work of hip-hop.
In keeping with MIGHTY CROWN's claim that they are fans of not just reggae, but also hip-hop, punk and rock, they were not limited to any one genre and rapidly threw down tune after tune, much to the crowd's delight. There was also a powerful performance from MASTA SIMON that seemed to shake the surrounding area to its very core! It was an incredible performance that really showed that genre is not a barrier when it comes to enjoying music.
Let's not forget the chairman of the organizing committee Hayashi-san, as well as the efforts of all the staff and people involved. Their preparation was impeccable and they responded incredibly well to all the changing circumstances at the drop of a hat. The festival finished safely without any major incidents and that is no doubt thanks to all of the people working behind the scenes. A big shout out to them! We're incredibly thankful for all their hard work and can't wait for next year, when the festival will be celebrating its 25th year! Bring it on!
Related Articles