Fukuoka Otaku Map #04 Animate Fukuoka Tenjin(1/4)

Text/Interview:トク(1093)
■ The Global Shop and Anime Industry Giant Advancing into Overseas Markets
This time around we take a look at a new otaku shop district, "Tenjin Area."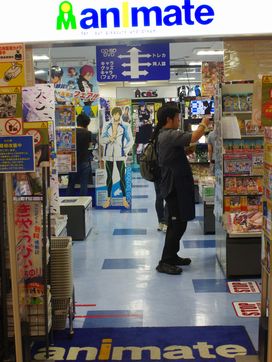 ● The fact that there are directional signs inside the shop gives you an idea just how big the place is.
The first store we will introduce you to in this "Tenjin Area" feature, is "Animate." This store, with it's many branches, has grown to become one of the biggest of its kind in Japan. The company even operates on a global scale, providing its USA Animate Online Shop, Taiwan & China Mail-Order Business services.
Animate's Fukuoka Tenjin branch is located on the 6th floor of the "Tenjin VIVRE" building, right in the heart of Tenjin, Fukuoka. The building is also conveniently connected to the "Tenjin Chikagai" underground shopping mall and within close proximity to bus, subway and train lines. The store deals in anime goods, comics, music, DVDs and game software, and shop floor itself is one of the largest in this line of retailers that you'll find in western Japan. The experience Animate aims to offer its customers an "anime industry theme park." There's plenty of fun to be had here regardless of age, gender or nationality, and we're here to show you a little of what to expect.
The first really surprising thing was the directional sign at the entrance to the store that looks just like a signpost you see on the road. The sign tells you which way to specific areas, so you make your way to the items you're looking for with ease.
Upon entering the store, the first section I stopped by was the manga and books corner. The sheer volume of manga and books is incredible! They even have a display of titles recommended for people new to manga. It's a great idea to have a shop where you can buy your favorite manga and the character goods from the series as well.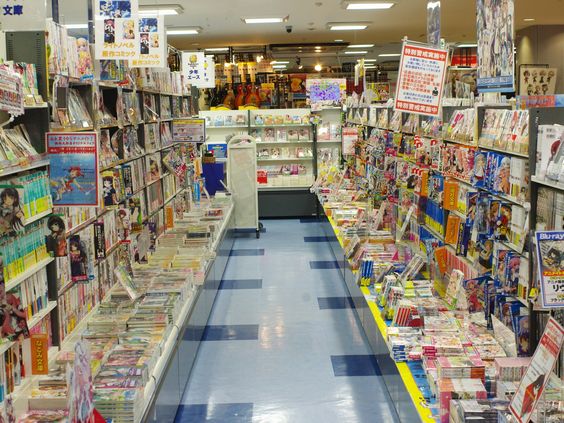 ● From the picture it looks like just another bookstore.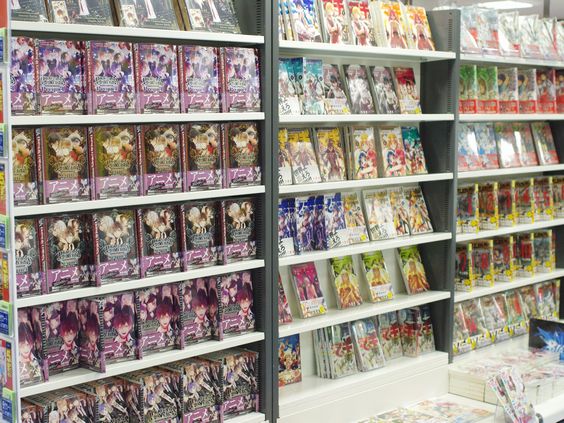 ● This is the section for recommended works.
At the back of the store I found manga manuscript-paper. Although not shown in the photos here, they have a whole range of items for illustrators, like dip pens (in Japan: "G Pen" or "Tsuke Pen"), and feather brushes used for clearing away eraser residue.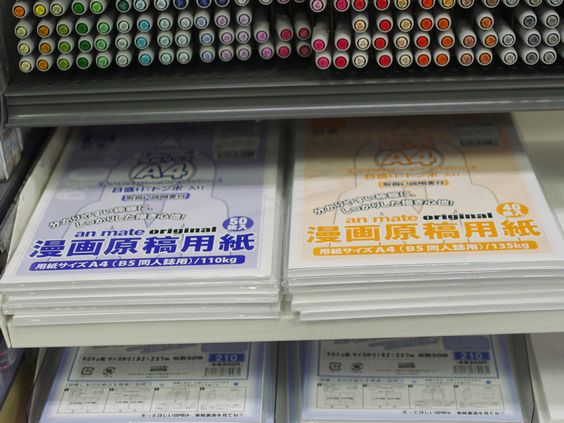 ● Professional manuscript-paper for manga artists.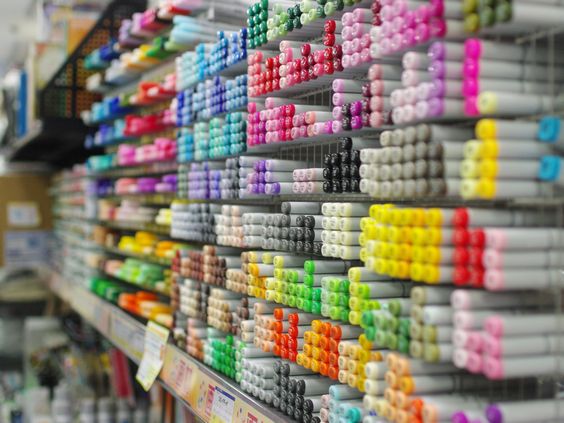 ● "Copic" markers, used for coloring illustrations.
In the center of the store was a section devoted to "Attack on Titan." The series is that popular that even visitors from overseas come to buy its affiliated goods. According to the store manager, "The Internet and SNS have developed that far that even customers from overseas see the series in almost real time. So popular character goods for them are about the same as those in Japan."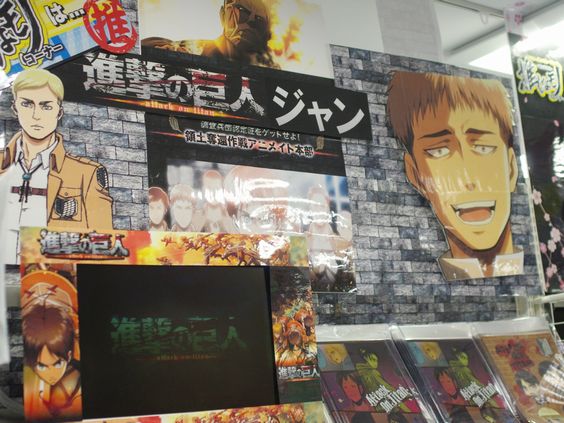 ● I couldn't help but watch the trailer for the upcoming DVD.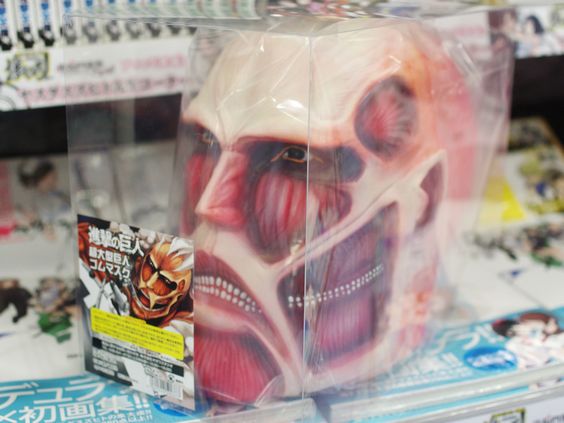 ● The quality of this replica mask is incredible! You might even get arrested for walking around the streets at night wearing this!..
As the store is located inside "VIVRE," one of the fashion hubs in Tenjin, "Animate" also attracts a lot of female customers – perhaps a reason behind all the "ikemen" (cool guy) character displays around the store. One of the most popular of these series, though, is "Free!" a series developed by Kyoto Animation – the anime production company behind such hits as "K-ON!" and "Haruhi Suzumiya." Animate branches around Japan hold regular events relating to the series and you could say it's definitely one of the store's hot series' right now.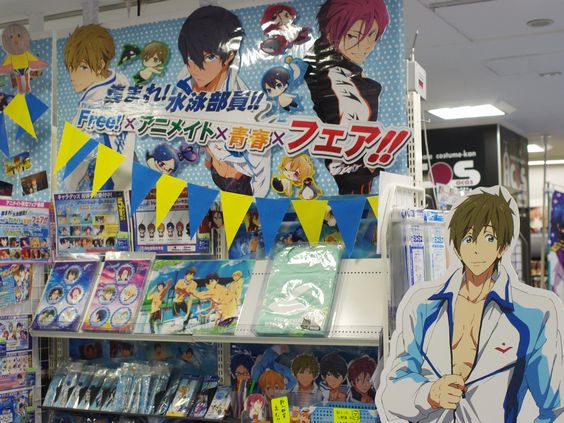 ● Even to other guys, the characters in this series are "
kakkoi
" (cool).
The "K-ON!!"
manju
(steamed cake filled with sweet bean paste) come with a special "K-ON!!" coaster. Makes you want to collect the entire set, right?
I also found "Oreimo" sauce.
Moe
condiments are a first for me! It struck me that someone even thought to go as far as to bring
moe
to the dining table and incorporate it into daily life.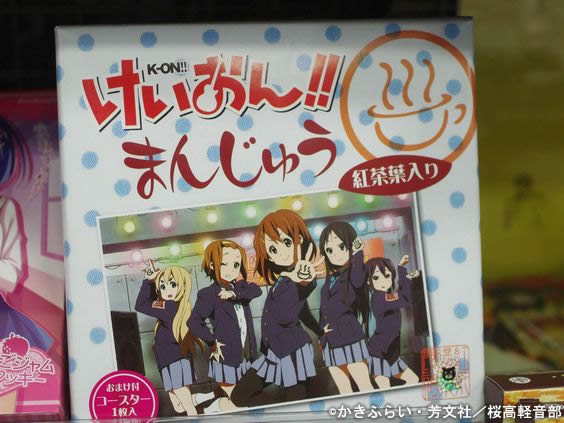 ● I want to eat these as I'm watching the anime.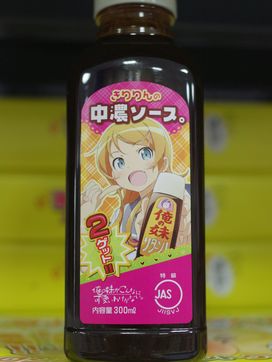 ● This would certainly brighten up your sauce rack!
Animate Fukuoka Tenjin want to create their store together with their customers and they regular hold special events to foster interaction with voice actors, creators and the fans. The shop staff even cosplay as they work, and it's certainly a store that works day and night to spread the word about this subculture.
>>To see more inside Animate Fukuoka Tenjin
CLICK HERE
Animate Fukuoka Tenjin is HERE!
Animate Fukuoka Tenjin
■Products: Character goods, Books, Art supplies, Figures, Collection toys, Cosplay Costumes, Trading cards, Capsule toys
■Address: Tenjin ViVRE 6F, 1-11-1 Tenjin, Chūō-ku, Fukuoka-shi, Fukuoka Prefecture
■TEL: 092-732-8070
■Business Hours: 10:00-20:30 (Open daily except otherwise noticed)

*All information correct as of December 2013.