POWER OF GIRLS from TOKYO Vol.6 maki from Angelic Pretty(1/2)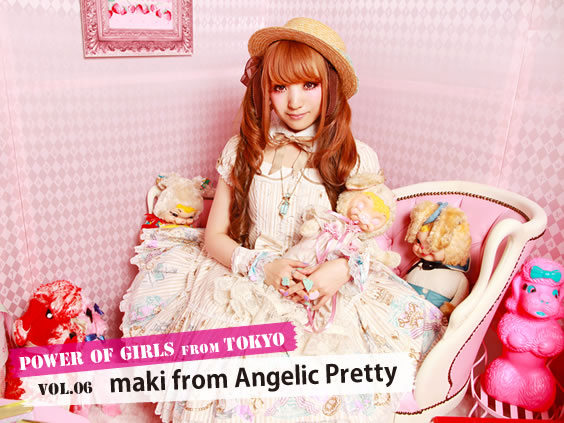 photo+intervew : 田口まき(MIG) / text : 所ありす
Last summer, Asakusa-bashi's gallery – parapolica-bis – held a joint exhibition between "maki by Angelic Pretty Collection" and the illustrator Imai-kira under the name: "Music of the sea constellation-mayline girl.
After getting off at Asakusa-bashi station and wandering for a few minutes between the maze-like buildings, I found myself in front of an orange building. Upon opening the concrete door, I was hit with a medley of sweet smells and the beautiful voice of what was likely a very young girl coming from the first floor. And, with this, I entered the world of "Angelic Pretty."
Angelic Pretty is a Lolita brand that is representative of that genre of Japanese fashion.It's a style that centers around the concept of reminding girls that it is okay to hold onto your dreams. With costume-like outfits that look like they came straight out of a fairy-tale, these dresses have been covered in lace, ribbons, and have silhouettes of confectionary and frolicking animals patterned all over them.It's a brand epically suited to girls who want to remain forever cute and never forget to dream on.
And in order to approach the exclusive illustrator and designer Maki-san, who is at the center of "Angelic Pretty," we took part in her very popular Tea Party event.
Angelic Pretty's designer and illustrator maki: Interview
On the 1st floor, past collections and accessories were set on display and the 2nd floor was decorated with Imai-kira's and Maki-san's original illustrations.
A by-reservation-only Tea party was also held and as a per dress code regulations, all were required to don Angelic Pretty dress wearWhile maki-san and Imai-kira treated us to a talk show, we were also able to enjoy some of their original sweets.Despite the fact she was so busy preparing for her Tea Party, we were still able to get an interview with her and ask here a few questions.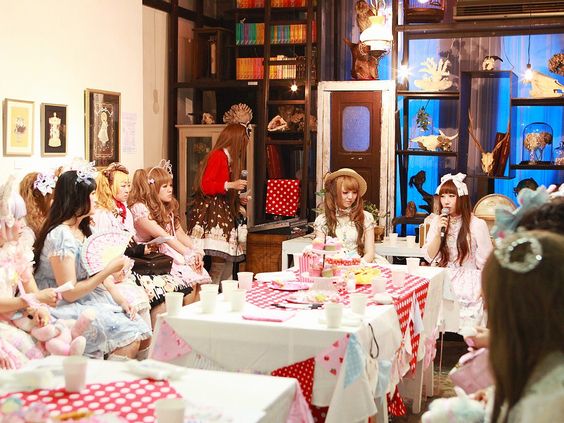 Left: maki; Right: Imai-kira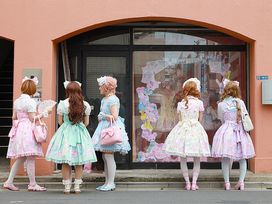 The entrance to the gallery "parabolic-bis" where the joint exhibition was held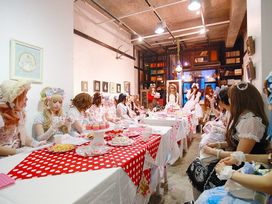 The Angelic Pretty Tea Party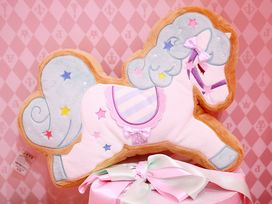 A pastel-colored, cute pony cushion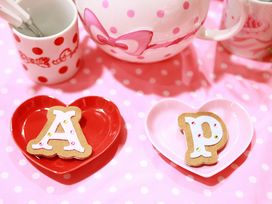 "A"ngelic "P"retty cookies
Taguchi Maki : As the person behind "Angelic Pretty," I'd like to ask you about how you got started. Do you remember a time when you were originally just drawing pictures?

maki : For as long as I can remember, I enjoyed doing graffiti and sketching pictures. My mother often tells me that I would make a lot of princess fairy-tale sketches. I would read many fairy-tale classics such as Cinderella, Marina, and Snow White. At the time, I much preferred drawing pictures to playing with friends and even before entering kindergarten I hardly every let go of my pen.
Taguchi Maki : From anything you remember from childhood, what influenced you to slowly become a part of this world?

maki : For the longest time time, I loved the princess look and have stuck with it and feel that I just naturally ended up in this world.

Taguchi Maki : How did you come to know about Angelic Pretty?

maki:I wanted to get into Lolita fashion and Angelic Pretty is probably the top brand in its field. In the Lolita world the shop "Pretty" in Harajiku is probably the first place people will stop by.

Taguchi Maki : At what age did you discover "Pretty?"

maki : Probably around the time I was 14 – in junior high school. I used the bag I bought at "Pretty" all throughout my school career and would take it to school all the time. It may have been a white and simple bag but I loved it and used it to the point that it was totally worn out.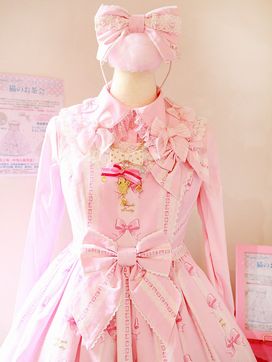 Dress from Angelic Pretty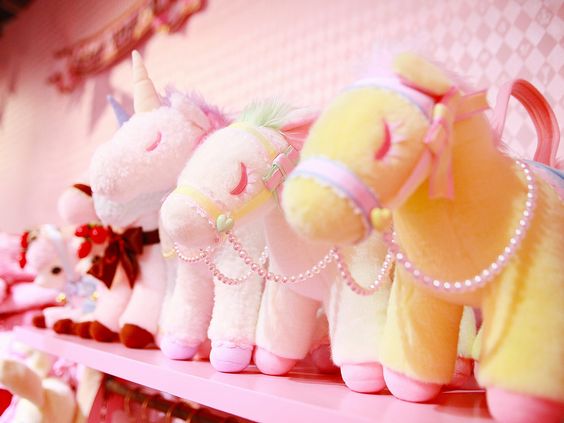 Angelic Pretty's unicorn bags
Taguchi maki : When did you realize that you wanted to become a part of the "Angelic Pretty" team for sure?
maki : As a vocational school student, I would go visit "Pretty" a lot and one day when I looked at the shop window, there was a sign in it saying "Illustrator Wanted." Looking at it I knew I had to apply and sent in an application. There were limitations on having to be 20 and over and that you were not allowed to apply if you were a student but I begged them to please at least take a look at it. Shortly thereafter, the company president said he took a look at my illustrations and really liked them and asked if I would like to try at doing illustration and design for them. Anyway, I was so happy and touched by the whole thing that I still remember that feeling to this day.
PRESENTS
All the info. on asianbeat's present campaign!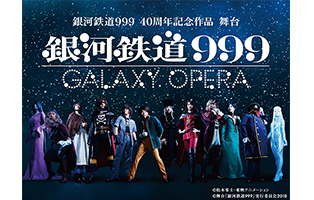 * Win 2 pairs of tickets to the play "Ginga Tetsudo 999" -GALAXY OPERA- Kitakyushu Performance!
[Details] Click
HERE
!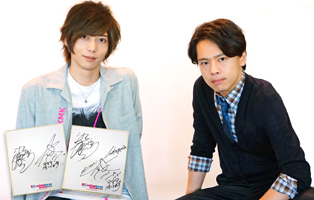 *Win a card signed by Akinori Nakagawa & Toshiyuki Someya!
[Details] Click
HERE
!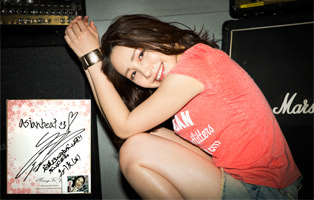 * Win a card and a cheki (photo) autographed by You Kikkawa!
[Details] Click
HERE
!