Chuka Soba Gouya Tenjin Branch (中華そば郷家 天神店 )

Committed to using top quality ingredients, this restaurant was a pioneer in serving Hakata seafood-based shoyu ramen!
Chuka Soba Gouya broke the mould when they began serving Hakata seafood-based shoyu (soy sauce) ramen in Fukuoka City, an area where tonkotsu (pork bone) dishes are the norm! The main branch has now in its 22nd year, while the restaurant in Tenjin is celebrating its 16th year in business. The base of the broth is made using tonkotsu, chicken bones, and five types of vegetables. Various seafood, such as dried sardines and katsuobushi (dried bonito flakes) are added to the stock, giving the dish a natural umami-flavor. The ramen is topped with char siu (roasted pork fillet) and shinachiku (Chinese bamboo roots). Carefully prepared from scratch, Gouya's dishes are loved by people of all ages!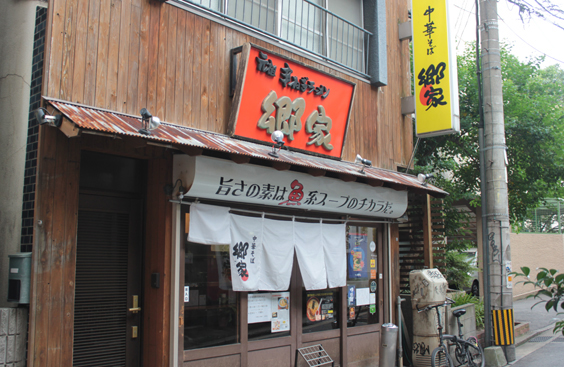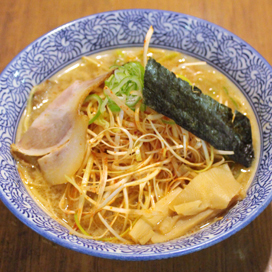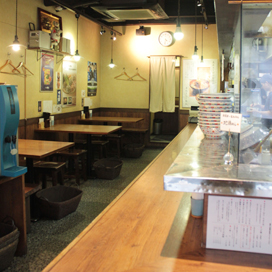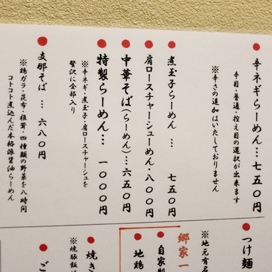 The soup that Chuka Soba Gouya serves has gained high praise from both locals and people visiting from outside of the prefecture. The broth has a strong, umami-flavor, yet leaves a fairly fresh aftertaste.

The most popular items on their menu is the "Kara Negi Ramen" (spicy spring onion ramen). This wonderful dish is served finely chopped spring onions, which have been seasoned in kara-miso (spicy miso). The magnificent fusion of tastes really works a treat! The slightly spicy spring onions enhance the fresh flavor of the soup. A great deal of time, effort, and care goes into creating this gem of a dish! The restaurant's deep sense of commitment to using the finest ingredients available is clear to see.

It is definitely worth sampling the "Jidori Meshi (chicken rice)" as an accompaniment to their tsukemen (Chinese noodles served with dipping sauce) or chuka soba (Chinese-style noodles)!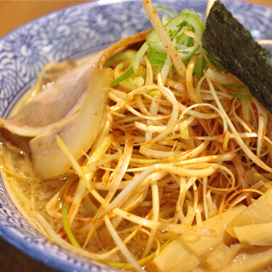 Menu
Kara Negi Ramen (spicy spring onion ramen)… 750 yen
Chuka Soba… 650 yen
Kata-Rosu Char Siu (shoulder roast pork fillet) Ramen… 800 yen
Shina Soba (soy sauce ramen)... 680 yen
Gyoza (dumplings)... 380 yen (7 pieces)
Jidori Meshi (chicken rice) ... 100 yen (1 piece)
Other dishes are available.

Chuka Soba Gouya Tenjin Branch (中華そば郷家 天神店 )
Address: 5-25-11 Watanabe-dori, Chuo-ku, Fukuoka-shi, Fukuoka-ken
Telephone Number: 092-713-1333
Number of seats: 23
Opening Hours: 11:00 to 23:00 (Tuesday to Saturday) and 11:00 to 22:00 (Sundays and National Holidays)
Closed: Mondays
*All information correct as of September 2016.