[Report from Kobori in Bangkok] Healthy drinks in Thailand are now trending for girls that want to be beautiful
Bangkok is the city among five Asian municipals that is most beauty-conscious. So what exactly do they drink there?
Girls in Bangkok are becoming more and more conscious of their health and have started to regularly intake health drinks. This recent trend in the beverage industry of companies vying hard for customers by churning out non-calorie and collagen-based products can be clearly seen also in various poll results. Let's go and have a look at the very industry that has catered to every girl's dream.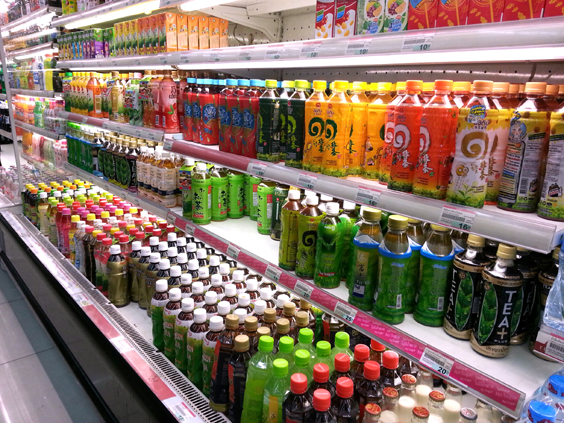 ▲You can see the variety of green teas that line the shelves in Thailand. (Photo is taken in Bangkok.)
"If you want to become beautiful, sugar is a big no-no. All the tea in Thailand is really sweet so I only ever drink the sugarless Ichitan," says Noi (20) a university student at Ramkhamhaeng University. Jun (20), a classmate who was with her at the time says, "Recently, I only ever drink collagen-based or 100% fruit juice."As you can see, if they do not know what is in it, they will not drink it. Both of them seemed to be your very typical, fashionable university girls.

With a lot of families in debt and the overall slowing of the economy in Thailand, one of the few businesses to have pulled though is the drink industry because of the current buzz over beauty and health. The section responsible for all this hype is likely the unquestionably the Ichitan group of beverage production and restaurant chain that Noi mentioned.

President Tan is an entrepreneur, who has succeeded in starting up several different companies and is known for his flashy style. He also is a lover of Japan. Shortly after entering the green tea business, his company almost instantly skyrocketed to the top. In the first half of this year (January-June), market shares (in the green tea industry) stood at 44.9%. Oishi Group, which was set up by President Tan and has since been sold off, was in second place with a 36.7% share.

Ichitan estimates that this year the green tea drinks market will reach approximately 180 billion bahts (over 50 billion yen), a 10% increase on last year.

The new product and Ichitan's trump card, "Ichitan Selected" was introduced as being a series of low-to-no sugar beverages. The low-sugar and no-sugar green tea beverages are among the fastest growing in the industry and sales pulled in 200 million bahts (7 million yen approx.), nearly double that of last year. This trend is expected to continue and so is the competition among makers.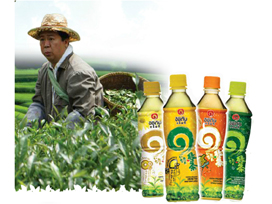 ▲Ichitan's President Tan alongside his products. (Image sourced from the website)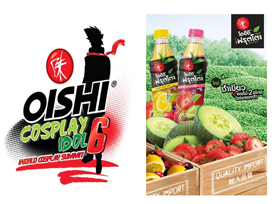 ▲Products and an advertisment from Oishi. (Image sourced from the website)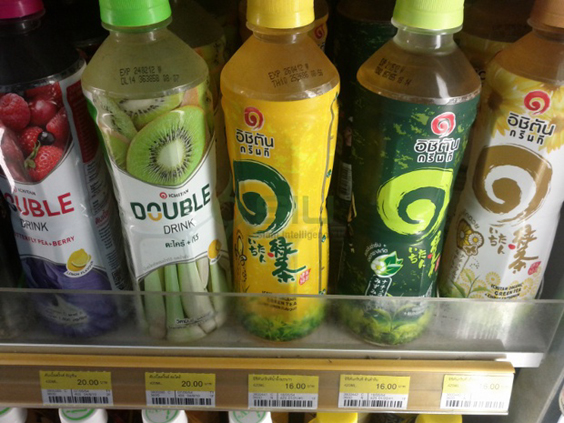 ▲Ichitan's products on sale in a Bangkok supermarket
The collagen-based and 100% fruit juice drinks that Jun pointed out to us are also surrounded by a whirlwind of activity.
TC Natural, manufacturer and distributer of dietary supplements, released low calory soft drinks with collagen in May, sales exceed their expectations and they are coping with its growth.
It is said to be very popular among young girls that are concerned about their skin and body. The 100% fruit juice beverage industry is also continuing to expand.
TIPCO, a major fruit juice company, estimate their market size at about 45 billion bahts. "There is still a lot of room for expansion," according to the Public Relations Office.
There is a large possibility that 2-3 years from now these will dominate over half of the marketplace so it may be time to review current product lines. Interest in dietary fiber drinks including fruit juice is a very big thing recently.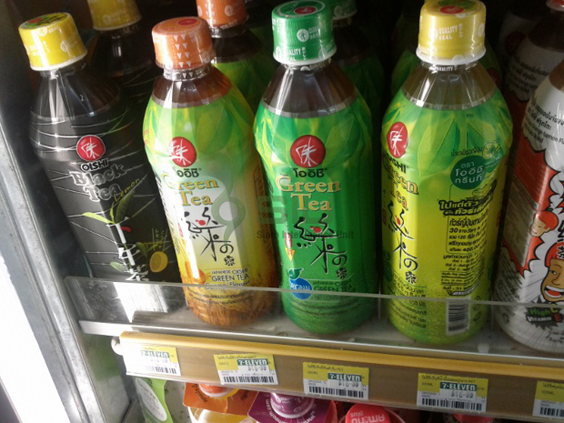 ▲Oishi's products on sale in a Bangkok supermarket
According to the "2014 Survey on Women's Health and Beauty Needs in 5 Asian Cities," which was carried out by the research firm "Japan Management Association Research Institute," out of Tokyo, Bangkok, Jakarta, Ho Chi Minh and Seoul, it was Bangkok and Jakarta that were found to be the most health and beauty conscious, around 30-40% more so than Tokyo and Seoul.
When asked about these issues, it was conformed that many women in these two cities regularly purchasing healthy drinks. Looking at the results, it is clear that in Jakarta most women drink mineral water and standard fruit juices. In contrast women in Bangkok, aside from fruit juice, have an equal fondness for healthy drinks such as soy milk, green tea, collagen-based drinks, as well as vitamin-drinks.
(* The original article was posted on the asianbeat website (Japanese site) on October 21, 2014.)
Overseas correspondent Kobori PROFILE

Former newspaper journalist who ventured alone to Bangkok, Thailand, in November 2011. Regularly employed by Tokyo Shimbun (Chunichi Shimbun Tokyo HQ) and TV Asahi in the local news department. Was in charge of Section 2 and 4 of the Metropolitan Police Press Club for a total of four years. Originally a police reporter but also covers a variety of fields, including politics, economy, society and culture. Currently writes for web magazine "anngle"
http://anngle.org/
– Asian news and info from a Thai perspective.
PRESENTS
All the info. on asianbeat's present campaign!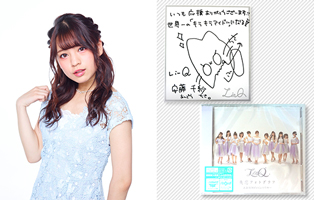 * Win a CD & a card signed by LinQ Chisa Ando!
[Details] Click
HERE
!