[Report from Robin in Hong Kong] Kyushu Ramen shops opening up all across Hong Kong!
In Hong Kong, the most popular ramen variety is currently the Kyushu traditional ramen!
There are many people in Hong Kong that really like Japanese food. Sushi, teppanyaki, and sashimi have all come to be greatly appreciated foods in Hong Kong. However, it is ramen that is probably most popular.
It is often said that Japanese ramen comes in a wide variety of flavors. Miso-ramen, shoyu (soy sauce) ramen, tonkotsu (pork broth) ramen are just a few. From Hokkaido to Honshu or Kyushu, each and every area has their own traditional ramen. That being said, in Hong Kong the most popular ramen variety is currently the Kyushu traditional ramen.
The gourmet capital, Hong Kong has seen many Japanese ramen shops opening along its streets. The secret of the pork-based broth, the perfect texture of the ramen, and even the Japanese way of eating it have all been incorporated into Hong Kong ramen tradition. Not only have the foods of Kyushu infiltrated the Hong Kong market, but it would seem the traditions have as well. Of the various ramen shops that have opened up in Hong Kong, let's figure out which one I will like best!
Ichiran Ramen
Ichiran is a very well-known ramen shop in Fukuoka, with its main, unique feature being the individual seats, divided by wooden planks. It's great, especially if you want to enjoy your ramen alone and to the fullest!
I went in around 11 at night to cover this report and was surprised at the long line outside. It took about 30 minutes before I could get inside! That goes to show just how popular this shop is in Hong Kong. The shop's interior and tableware have all been crafted in the likeness of their Japanese counterparts and when you step foot inside it almost feels as though you have been transported back to the homeland.
Well then, let's have a look inside!
The way we order at Ichiran is the same as in Japan. More important than the interior, however is of course the food. The flavor and texture of the ramen at the Hong Kong is the exact same as that of the original and is just as delicious! In fact, this ramen chain store boasts of such popularity that it is often featured on magazines and T.V. programs in Hong Kong as the number one place to get ramen.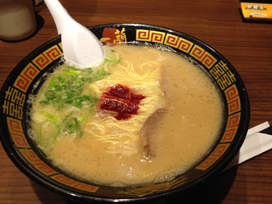 Ippudo Ramen
Ippudo has had a long history as being a most renowned ramen shop, and there is no doubt that their recipe has lent to this success. The age-old formula has also been used in the Hong Kong shops. When eating at Ippudo you get the distinct feeling that you've traveled to Kyushu for those few moments. Maybe because of this, it is often said that even the Hong Kong branch of this chain is very good. Not only is the texture of the noodles the perfect consistency but the broth that it is in has a strong flavor to it that is so good, that I wouldn't be surprised to hear many customers end up drinking all the soup as well. It's the further evidence of just how great it is.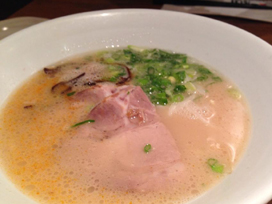 A ramen shop that is a bit hard to spot!
In Yuen Long, a place just outside of the city of Hong Kong, there is a ramen shop that is a bit hard to spot. I stumbled upon it completely by accident but it was a great, if unexpected finding. This shop's ramen was surprisingly not greasy at all, despite the thick nature of the broth it was steeped in. My guess is they've simmered chicken bones in place of the customary pork bones.
The size and texture of the noodles are perfect and with every bite you take, the more it feels like you're in Kyushu. Chashyu (Japanese-style barbecued pork) has the exact same flavor as that of those produced on the island of Kyushu. Many customers will wrap the seaweed around the noodles and eat them together that way. You can also do the same thing with the chashyu. I had a lengthy conversation with one of the staff and I was surprised to see this young man was in charge of the establishment. I also came to find that he had learned the art of ramen in Kyushu. When you're eating his ramen, you can tell that he has skillfully brought the original flavors of Kyushu to Hong Kong.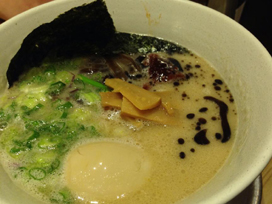 Ramen Competition Cafeterias
Just like Japan, in Hong Kong we've got ramen "competition cafeterias." In other words, that means the shop that sells the least, soon gets replaced by a new one. It is a method that has worked successfully in Japan. By bringing all these shops in the same place, the customers can determine what shop they like best.
Unfortunately, I have not been able to get any information on the Hong Kong ramen competition cafeteria. I've been there several times before, but they recently renewed the place and when I went to take a look for this report, they were not yet open. I'd like to eat there again sometime when I get the opportunity.

Having looked many places, I was afraid there was nowhere in Hong Kong that could recreate the original Japanese flavor, but after eating at many shops I was proven wrong.
If you are a fan of Kyushu ramen, you don't need to travel all the way to Japan for it. In Hong Kong you can still get your hands on some of the best ramen made by great ramen-makers who have studied the craft in Japan.

Robin
Related Articles
Overseas correspondent Robin PROFILE

Born in Hong Kong
RTHK DJ
Main DJ on the 16:00-18:00 program
Teen's Choice 「Teen 空 海 闊」 introduces Japan and Japanese pop music.