#23 The Nation's 'Moe' Characters Assemble for the "Moe 1 Grand Prix" in Akihabara
Without a doubt, the Japanese word to spread throughout the world more than any other in the 21st century would have to be "kawaii," but there's also another word which is fast converging on globalization in its own right. That word is "moe." And just like "kawaii," the day when "moe" is written and acknowledged by all in the English language will surely come.

It's not uncommon to come across the Chinese character for "moe" on advertisements when walking through cities in China. The word "moe" already existed in Chinese but is used to mean "like" (i.e. when you like something) rather than the way "moe~" is used by people in Japan. The Chinese "moe" too has come to be used particularly in reference to anime and two dimensional characters, much like its usage in Japanese.

On the 13th and 14th of October 2012, Bellesalle Akihabara in Tokyo played host to the national product and tourism exhibition, the "Moe 1 Grand Prix," attracting some 23,000 people over the two days.
I attended "Moe 1" as a member of the judging panel, judging the tourism and 'omiyage' (regional product) divisions of the event. The judges went around to each of the exhibit booths, learning about the origins of the various 'moe-kyara' (moe characters) and omiyage, judging the entrants as they went. There was a whole variety of moe-kyara and products on display and it really was a fun event to judge. For the tourism division, presentations were given by each of the entrants in a special judging room.
The "Moe 1 Grand Prix"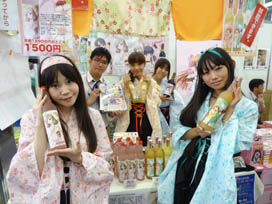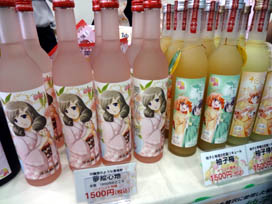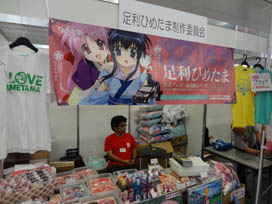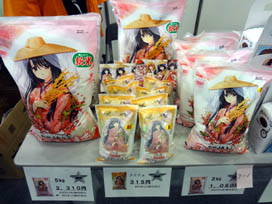 Talent-cum-Mascot Character, Akichi. In 2D (illustration) and 3D (the girl herself)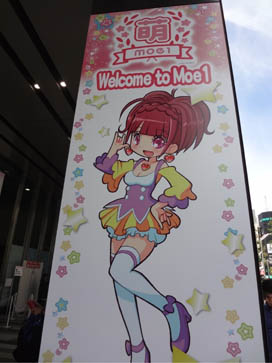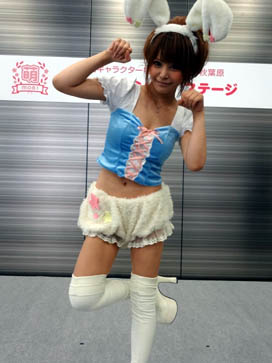 The moe-kyara that really stood out in the tourism division was "Komine Shiro" of Shirakawa city in Fukushima. The walls of Komine Castle were destroyed in the 2011 Great East Japan Earthquake, and "Komine Shiro" the moe-kyara was created to help raise money for its restoration. Shiro's special ability is she can transform by absorbing the energy found in other sightseeing spots in and around the city. Thus, at Komine Castle, Nanko Park, Shirakawa no Seki, and other tourist destinations in Shirakawa city, you can find alternate "transformed" versions of Shiro. The concept is remarkable in itself, however, Shiro the moe character will be around for a limited time only as we're told that upon completion of the castle wall restoration, Shiro too will return to her place in the wall.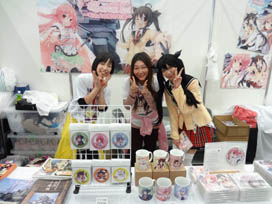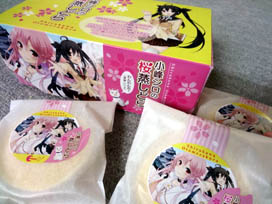 Tourism Division: the Komine Shiro booth and local omiyage, "Komine Shiro's sakura steamed dora."
Taking out the top spot in the Grand Prix's omiyage division was Akita prefecture's Ugomachi Tourism Association. Many people will know of JA Ugo's "Akita Komachi" brand rice which sold extremely well when it was fared online. The product represents a convergence of the agriculture and illustration industries with a manga stylized packaging that proved to be a big hit with consumers. JA have since adopted moe-kyara in some of their other products, such as their curry roux and stew roux, and they continue to garner favorable sales figues with these products also. They've combined moe with local produce and then applied the same formula to complimentary products - curry/stew and rice do go hand-in-hand after all. This is marketing at its best.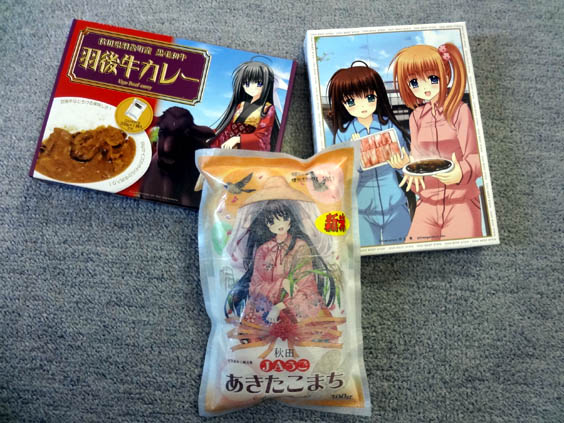 The Omiyage (regional product) Division: "Akita Komachi," "Ugo Beef Curry," and "Ugo Beef Stew."
As I'm walking around learning about the various moe-kyara from all over Japan, I'm reminded just how unique a country Japan is.
To sell products, companies will try to make their packaging as eye-catching as possible, but Japan takes it a step further. In Japan, packaging is treated as if it were a product in itself.
I've always considered Japan to be a country of great imagination, and that's what people all over the world have come to expect of Japan as well.
You're free to think what you like of moe characters but at the root of these creations is Japanese mentality and I think that Japanese people should take more pride in the fact that their moe-kyara culture has achieved all that it has so far.
A new article every Wednesday!
Next time: Morning Musume shake hands with fans in Bangkok

Columnist: Sakurai Takamasa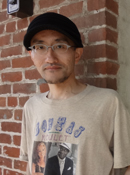 Contents Media Producer, author, journalist, managing director of Contents Street Inc. Chief Editor of iPhone magazine "Tokyo Kawaii Magazine" (ASCII Media Works), World Cosplay Summit Executive Advisor, Chief Researcher at Kodansha/Kodansha BC China Management Laboratory.
Cultural diplomat producing events in 103 cities in 24 countries. Books include "Galapagos-ka no susume"(Kodansha), "'Suteru' de shigoto wa umakuiku"(Diamond-sha), "Nihon wa anime de saiko suru
"(ASCII Shinsho), "Sekai no kawaii kakumei " (PHP Shinsho), and "Anime bunka gaiko "(Chikuma Shinsho). Writes regular columns in the weekly magazine "ASCII" and Yomiuri Shimbun.

●twitter http://twitter.com/sakuraitakamasa/
PRESENTS
All the info. on asianbeat's present campaign!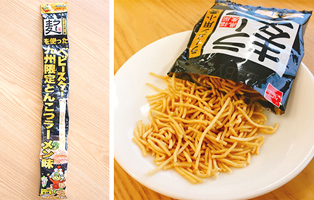 * Win a packet of "Ramugi Baby-Star (Kyushu limited edition tonkotsu ramen flavor)"!
[Details] Click
HERE
!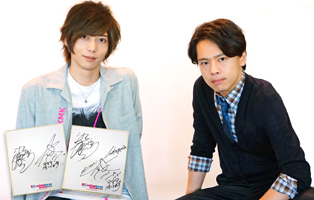 *Win a card signed by Akinori Nakagawa & Toshiyuki Someya!
[Details] Click
HERE
!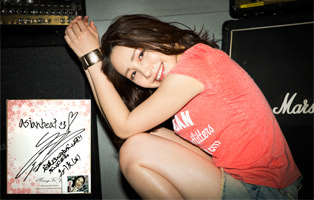 * Win a card and a cheki (photo) autographed by You Kikkawa!
[Details] Click
HERE
!