#24 Morning Musume's World Handshake Tour Hits Bangkok
On the 17th of September 2012, Morning Musume put on a mini concert (2 songs) and handshake session at Bangkok's "Gateway Ekamai" shopping center.
By the time I arrived at the event venue there were already crowds of people lined up at the front of the stage, right up to the upper levels, ultimately drawing some 3000 people.
For me, 2008, when I first began undertaking cultural diplomacy on a full scale, was also like a journey in discovering the extent of people's love for Morning Musume. I met girls in countries like Brazil and Thailand who could dance to Morning Musume's songs using their exact same choreography, and it only seemed inevitable that I would see these girls again when Morning Musume performed in Paris in July 2010. Concerts that have as big an impact on the audience as this one did don't come along too often.
#35 Interview with Ai Takahashi Pt.2 – On Performing Live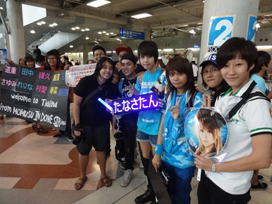 200 fans awaiting Morning Musume's arrival at the airport.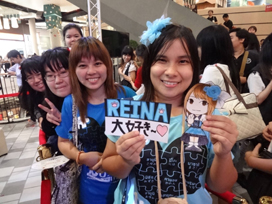 Half the fans were girls.
Since then, I've considered Morning Musume to be my close allies in the global promotion of Japanese pop culture. Quite often they will entrust me with video letters they've recorded to present at lectures I give in countries all over the world. With these messages to their fans and with their performances they're closing the gap between Japan and the world.

"We don't have groups like Morning Musume or Hello! Project in my country."

I often hear things like this in my travels and these people tell me how much they love Japanese culture.

"Japan is a country that makes things that can only be found in Japan."

Japanese idols are one of the important elements that people find so fascinating about Japan, and in the eyes of the world, Morning Musume is the perfect embodiment of this.

Morning Musume's first visit to Bangkok.

Putting a team together and performing cover dances of songs has long been a thing amongst the young people in Bangkok; I even witnessed this for myself when I visited in March 2009 and saw people recreating dances to hit songs of Morning Musume. So the girls' visit had been a long time coming.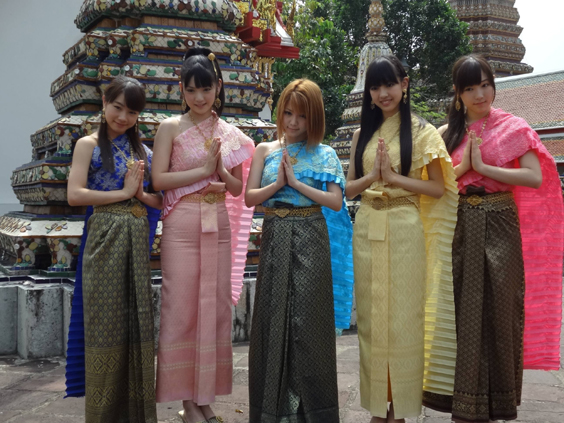 From left: Ishida Ayumi, Michishige Sayumi, Tanaka Reina, Iikubo Haruna and Fukumura Mizuki.
Following some cover dance performances by local Bangkok teams, Morning Musume then took to the stage to perform their latest single "Wakuteka Take a Chance" and "Be Alive" off their latest album, for what was their first Thailand concert.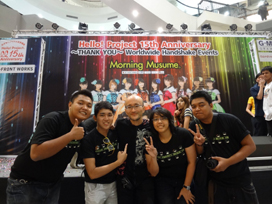 With fans who came from Philippines.
The sight of 3000 Thai fans going crazy for this idol group is something I wish all Japanese people could have seen. It was Japan's moment in the spotlight and everyone was watching.
"The power of culture is amazing, isn't it?"
These were the words of a friend of mine living in Bangkok who witnessed a Morning Musume concert for the first time.
At the handshake session that was held after their performance, there were girls in tears everywhere. I thought about how happy they must have been and then I started to get a little teary eyed myself.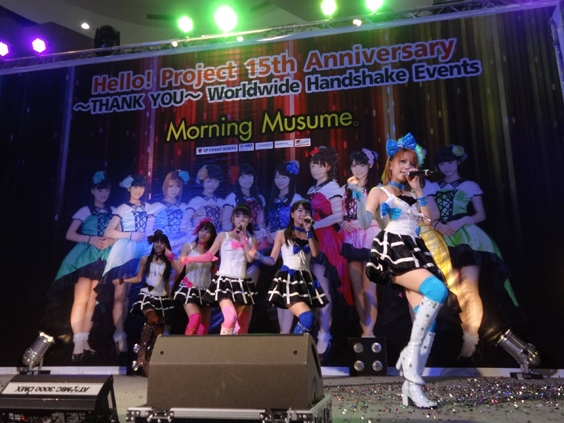 Performing 2 songs at their first Thailand concert.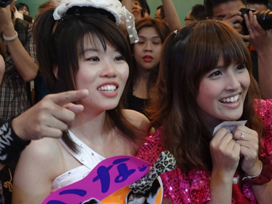 Fans in tears.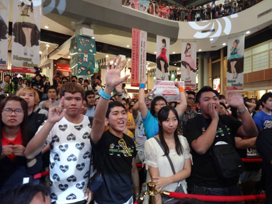 Some 3000 spectators.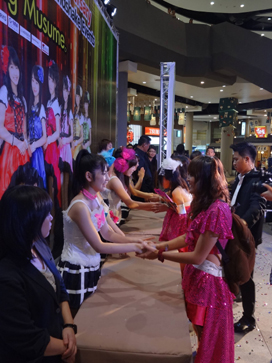 Handshake session.
The girls who took part in the World Handshake Tour of the ten member Morning Musume outfit were the five members above high school age – only two of which were members of the group that performed in Paris: Michishige Sayumi and Tanaka Reina. Yet the mentality running through the core of this group was exactly the same as what I felt at the Paris concert in 2010. Many people, myself included, liken Morning Musume to traditional culture. The fact that something is always changing is also how it stays the same.

Not long after being made leader of the group, Michishige Sayumi appeared on my radio program ("Tokyo No.1 Kawaii Radio" on the JFN network) to take about the pressures and pleasures of her new role.
"For me this is just the beginning."
It's this kind of mentality that has allowed Morning Musume to remain at the top of idol game for some 15 years, and it's also the reason, I believe, that they've such a strong global fan base.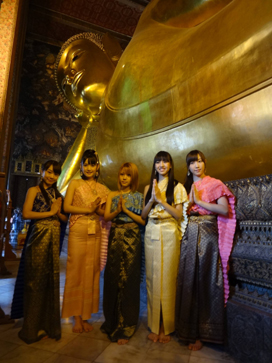 Idols go World Heritage. Morning Musume visiting Wat Pho - the Temple of the Reclining Buddha.
"So many fans were waiting for us at the airport. It made me feel proud to be a part of this group that's so loved. In my head, I know that we have all these fans overseas, but to actually see them like this, it really just hit home." (Michishige Sayumi)

"I've always wanted to be able to show people overseas the real Morning Musume. I think if you see us live, you'll gain a better understanding of what we're about. I would love to do a world tour one day." (Tanaka Reina)

The world waits for that day too.

A new article every Wednesday!
Next time: Virtual idol "Hatsune Miku" LIVE and on fire in Hong Kong!

Columnist: Sakurai Takamasa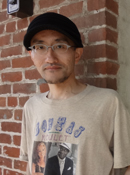 Contents Media Producer, author, journalist, managing director of Contents Street Inc. Chief Editor of iPhone magazine "Tokyo Kawaii Magazine" (ASCII Media Works), World Cosplay Summit Executive Advisor, Chief Researcher at Kodansha/Kodansha BC China Management Laboratory.
Cultural diplomat producing events in 103 cities in 24 countries. Books include "Galapagos-ka no susume"(Kodansha), "'Suteru' de shigoto wa umakuiku"(Diamond-sha), "Nihon wa anime de saiko suru
"(ASCII Shinsho), "Sekai no kawaii kakumei " (PHP Shinsho), and "Anime bunka gaiko "(Chikuma Shinsho). Writes regular columns in the weekly magazine "ASCII" and Yomiuri Shimbun.

●twitter http://twitter.com/sakuraitakamasa/
PRESENTS
All the info. on asianbeat's present campaign!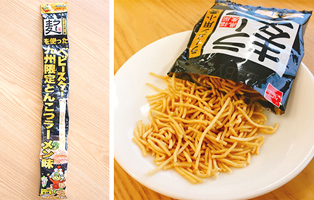 * Win a packet of "Ramugi Baby-Star (Kyushu limited edition tonkotsu ramen flavor)"!
[Details] Click
HERE
!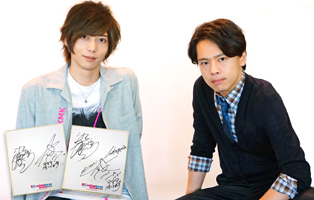 *Win a card signed by Akinori Nakagawa & Toshiyuki Someya!
[Details] Click
HERE
!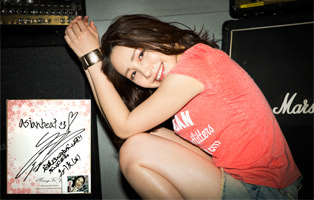 * Win a card and a cheki (photo) autographed by You Kikkawa!
[Details] Click
HERE
!