#26 How Do Voice Actors Become the Characters They Play? Let's Ask Uesaka Sumire.
Uesaka Sumire is a Japanese voice over actress and lover of all things Russian. You can read about how I first met her in one of my previous articles:
※#13 Interview with Voice Actor, Uesaka Sumire - Her Love of Russia and Aspirations for the Future
.
Currently, Uesaka is working on a TV anime called "Chunibyo demo Koi ga Shitai!" and voices the role of one of the female characters, Dekomori Sanae. She also works with me as a personality on the radio program, "Tokyo No.1 Kawaii Radio" (aka "Kawaraji"). It's a program that focuses on the latest Japanese trends making waves outside of Japan.
※#8 Kawaii Radio with Sakurai Takamasa and Uesaka Sumire feat. Special Guest, Michishige Sayumi
.
Becoming a voice actress was a dream for Uesaka Sumire, but I wonder how she feels about that dream now that she has made it a reality.
Voice over actors and actresses pour their souls into anime and the characters they play, and I think that the connections they maintain between Japan and the rest of the world are of great importance.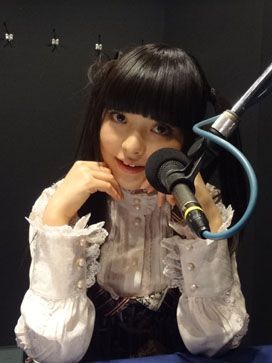 ▲During a recording session for "Tokyo No.1 Kawaii Radio."
I don't want to watch the dubbed version; I want to watch Japanese anime in the original Japanese. That's the general opinion of young people throughout the world right now. It's because they know just how closely connected the Japanese voice over artists are to their characters.
And it's having a big impact on Japanese language learning overseas as well.
The global status of Japanese made electronics and cars has dropped somewhat in recent years, and although research conducted by the Japan Foundation suggests that the number of Japanese language learners is on the rise, what this research doesn't factor into its findings are the countless number of people throughout the world who are studying Japanese on their own – people who I encounter on an almost daily basis throughout my work in cultural diplomacy.
I want to watch anime and be able to hear the voice of the original voice over actor. This is the desire of young people all over the world and it's widely agreed that this is what is inspiring people to take up learning Japanese language.
"The greatest thing about being a voice actor is that you can transcend age and space and become just about anyone."
Uesaka Sumire says that when she meets a new anime character she always holds conversations with the character in her mind. Apparently she begins the process by trying to establish a friendship.
"Before trying to become the character myself, I like to figure out what kind of lives they lead, what they do for fun, etc, so I ask them various questions. I really enjoy this time. Even with Deko-chan, the character I'm currently voicing for "Chunibyou demo Koi ga Shitai!" it comes across like she's just insane, but everything she does has its reasons. That's one of the things I realized after having a conversation with her."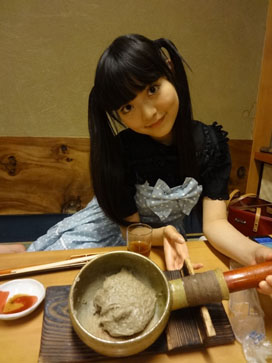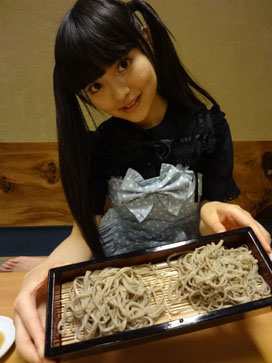 Uesaka in Asakusa. Soba, sobagaki, anime, voice actors - they're all important aspects of Japanese tradional culture.
A love for making things and a stoic attitude towards their craft: the creative mentality of Japanese people is an asset that we should be proud of, and works of Japanese anime, put together through the efforts of numerous people, are a perfect example.
To me, I feel that Uesaka is a girl who grew up with anime and just never wanted to part with it.
"Momoi Haruko was the reason I wanted to get into voice acting and I'm finally at the point where I can speak with her on the same level."
Voice actress and singer/song writer, Momoi Haruko, has twice appeared as a guest on Kawaii Radio, and after getting to know her through the program, I know that the feelings she had when she was a little girl are still very much the same.
"Kawaraji is a program that allows me to meet people who I would otherwise never get to meet. I've met Momoi Haruko, world renowned 'anison' composer, Kageyama Hironobu, the girls from Morning Musume, some of this generation's biggest idols, as well as Kimura Kan, who moved me with his live performance in Moscow which I saw online. They're all really amazing people."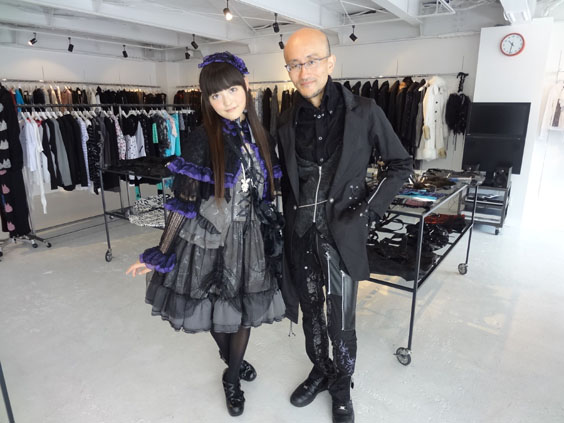 h.NAOTO designer, Hirooka Naoto, who has also appeared as a guest on Kawaraji, put an outfit together for us.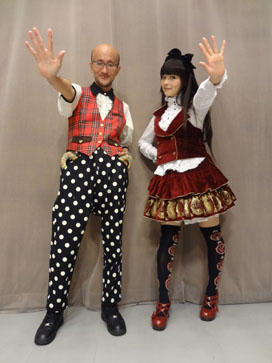 During a recording session for "Tokyo No.1 Kawaii Radio."
People who have tuned into Kawaraji before will understand, it's a very lively show, hosted by Uesaka and myself. One thing that always impresses me though, is how this girl, who is a professional in what she does, has so much respect for the other guests on the show. That's part of what it means to be a voice actor.
It has been two years since we first met and the chance to undertake cultural diplomacy activities together with Uesaka has finally arrived.
From December 12-22 this year, both Uesaka and I will be appearing as guests in the "Doha International Book Fair" in Doha, Qatar.
It won't be so much about Japan and the world as it will, Japanese anime that connects the world. As the name suggests, the event is a large scale book fair – not a place where you would expect to see masses of Japan lovers or anime fans. So it will be a challenge to figure out how to promote anime and voice-over work and Japan to an unspecified number of people, but we're going to give it our all.
Stay tuned for the report from Doha, coming soon!

A new article every Wednesday!
Next time: My interview with the teenage members of Morning Musume on their World Handshake Tour!

Columnist: Sakurai Takamasa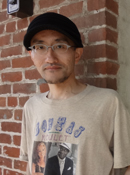 Contents Media Producer, author, journalist, managing director of Contents Street Inc. Chief Editor of iPhone magazine "Tokyo Kawaii Magazine" (ASCII Media Works), World Cosplay Summit Executive Advisor, Chief Researcher at Kodansha/Kodansha BC China Management Laboratory.
Cultural diplomat producing events in 103 cities in 24 countries. Books include "Galapagos-ka no susume"(Kodansha), "'Suteru' de shigoto wa umakuiku"(Diamond-sha), "Nihon wa anime de saiko suru
"(ASCII Shinsho), "Sekai no kawaii kakumei " (PHP Shinsho), and "Anime bunka gaiko "(Chikuma Shinsho). Writes regular columns in the weekly magazine "ASCII" and Yomiuri Shimbun.

●twitter http://twitter.com/sakuraitakamasa/
PRESENTS
All the info. on asianbeat's present campaign!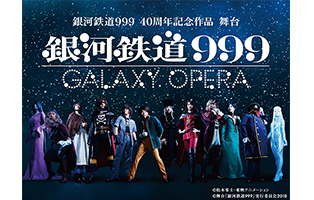 * Win 2 pairs of tickets to the play "Ginga Tetsudo 999" -GALAXY OPERA- Kitakyushu Performance!
[Details] Click
HERE
!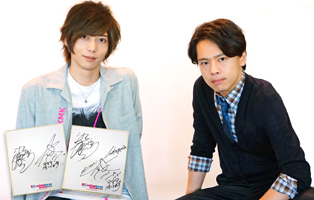 *Win a card signed by Akinori Nakagawa & Toshiyuki Someya!
[Details] Click
HERE
!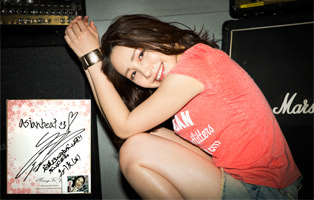 * Win a card and a cheki (photo) autographed by You Kikkawa!
[Details] Click
HERE
!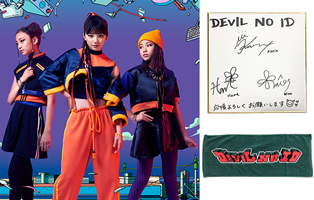 * Win a card or a towel autographed by DEVIL NO ID
[Details] Click
HERE
!