#42 Video Letters From Morning Musume and JAM Project Connecting Japan to the World
I first began my work in cultural diplomacy in December 2007. In saying that though, it wasn't until my visit to Saudi Arabia in March 2008 that I really started to grasp the significance of cultural diplomacy and feel that it was something worth devoting my life's work to. And it wasn't long after that that I took on the responsibility of producer of the Ministry of Foreign Affairs' Kawaii Ambassador project, as well as begin advocating anime cultural diplomacy and the kawaii revolution.

At that time, most of my trips overseas were conducted alone. Of course I had plenty of interaction with staff and officials at the various Japanese embassies at my points of destination, as well as with the organizers of anime events, etc., but most of the time I would just pack my laptop into my bag and head off on another solo journey.
Then, following the Kawaii Ambassador project in 2009, my activities overseas increased dramatically and I suddenly found myself being joined in my travels by Japanese artists and models more and more. I've written about these travels regularly here on asianbeat.
I've been joined on stage by artists like Antic Café's Kanon and Teruki, Up Up Girls' Saho Akari, and voice over actress, Uesaka Sumire, as well as all the various friends I've made at events all over the world along the way. In 2010 I witnessed the then Takahashi Ai lead Morning Musume concert in Paris and it gave me a whole new perspective on Japan, even on life.

However, a man can only do as much as his schedule permits, and while there are many places I would like to visit, I'm limited by time restraints and various other commitments. But for all the people who come to these events overseas, I try to create as many entry points into Japan and Japanese culture for them as possible. That's why, whenever I hold a talk or a lecture overseas, I always try to play video letters from the Japanese artists that I know they would one day like to see in person.
I'm so grateful to groups like Morning Musume and JAM Project, both of which I'm personally a big fan, who have agreed to be a part of this initiative and have entrusted me with video letters to present to their overseas fans on numerous occasions.
The very first video letter I presented to an audience overseas was in February 2011, at a lecture I gave at the "Expo-Manga Comic" event held in Mexico. The letter I played was from Takahashi Ai and Mitsui Aika of Morning Musume.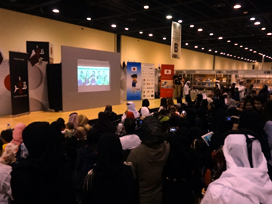 December 2012. Video letter presented to the people of Qatar from Morning Musume. The Japan booth at the Doha International Book Fair.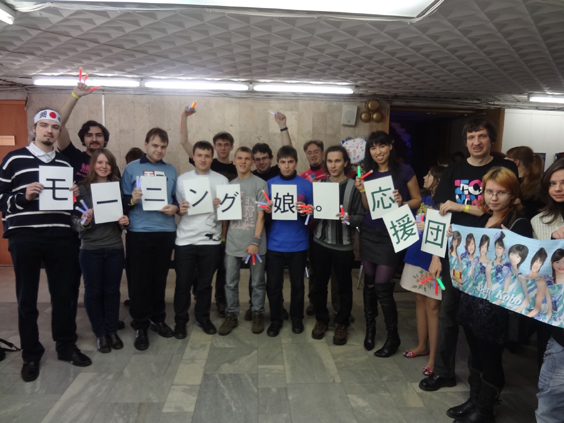 November 2011. Morning Musume fans gathered at "J Fest" in Moscow.
"Morning Musume are the best!"
"Morning Musume are the best!"
After watching the video letter, people suddenly began cheering for Morning Musume. I will never forget the shock and emotion that this episode stirred in me.
Kageyama Hironobu has spoken on video with the other JAM Project members about how they would one day love to visit their fans and perform for them in person.
When I've attended anime events, some of the Morning Musume members have recorded messages of them talking about their favorite anime and manga and various related personal episodes.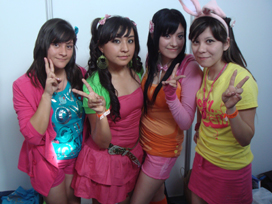 February 2011. ℃-ute fans at "Expo-Manga Comic" in Mexico.
"Japanese artists are very professional on stage but they're always so open and natural, and most importantly, they're always thinking of their fans."

This is very much the consensus regarding Japanese artists among the fans overseas. This is also why they like to read Japanese idols' personal blogs. Many young fans even say how they started learning Japanese just so they could read these blogs.
"The artists that you support, Sakurai-san, are all those who act as a bridge between Japan and the rest of the world."
This is what one interpreter said to me one time as we surveyed all the happy faces of an audience in the midst of watching a video letter I played them from a Japanese artist. I couldn't have put it better myself.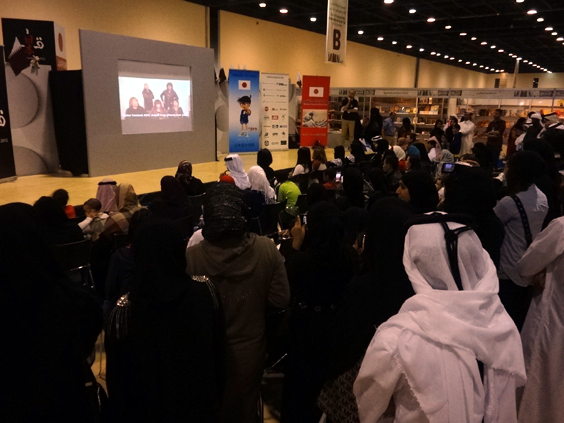 December 2012. An audience in Qatar watching a letter from JAM Project. The Japan booth at the Doha International Book Fair.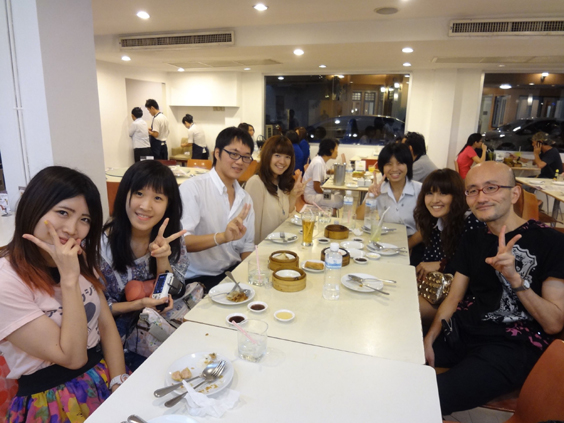 February 2013. Bangkok. A reunion with the fans I met at the Morning Musume handshake session in October 2012.
Of course nothing compares to the real thing (seeing the artists in person), but the only opportunities to see these special video letters are at such events. I think everyone would benefit if there were more such lines of communication connecting Japan and the rest of the world.
I myself am limited in my opportunities to speak overseas. But if I can use the time I'm there to act as an intermediary line of communication between the artists that I love and their overseas fans, nothing would make me happier.

A new article every Wednesday!
Next time: A new outlook on cultural diplomacy. Linking Japan and the world on an everyday level.

Columnist: Sakurai Takamasa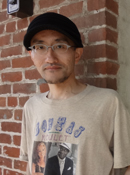 Contents Media Producer, author, journalist, managing director of Contents Street Inc. Chief Editor of iPhone magazine "Tokyo Kawaii Magazine" (ASCII Media Works), World Cosplay Summit Executive Advisor, Chief Researcher at Kodansha/Kodansha BC China Management Laboratory.
Cultural diplomat producing events in 103 cities in 24 countries. Books include "Galapagos-ka no susume"(Kodansha), "'Suteru' de shigoto wa umakuiku"(Diamond-sha), "Nihon wa anime de saiko suru
"(ASCII Shinsho), "Sekai no kawaii kakumei " (PHP Shinsho), and "Anime bunka gaiko "(Chikuma Shinsho). Writes regular columns in the weekly magazine "ASCII" and Yomiuri Shimbun.

●twitter http://twitter.com/sakuraitakamasa/