#51 Japanese Idols Have a Strong Support Base Overseas – Hanging Out with Idol Fans in Thailand
As the writer of this column, it's quite gratifying to know that it's also read by a number of people overseas. What's surprising, though, is that the countries with high access rates are countries that I've never visited before, like Singapore and Indonesia, and countries where I've yet to undertake any cultural diplomacy work, like Canada and the UK. I guess it's not unlike the feelings expressed to me by Japanese idols and visual-k artists who say how strange it is to have fans in countries they've never been to before. But I firmly believe that one day such an opportunity will present itself. In the meantime, I hope that you continue to read my column until it does. As for me, I will continue to write in the hopes that my articles will become a gateway connecting Japan to the rest of the world.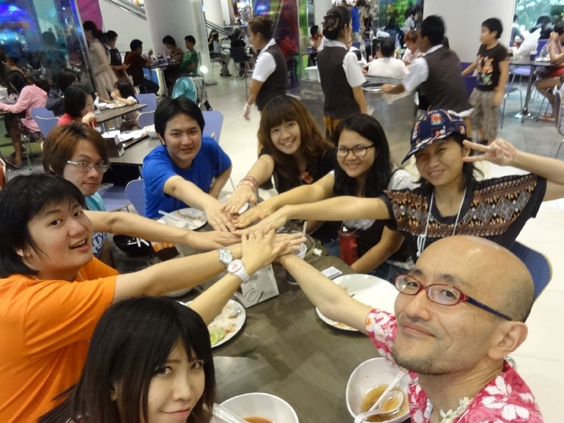 We made a promise to unite the world through our love of idols.
One of the countries with the highest access rates to my column is Thailand. In my previous two articles I interviewed Berryz Kobo members and spoke about their performance in Thailand, but this time I want to focus on their Thai fans.

When I visited Bangkok in April, I got a bunch of idol fans in Thailand to gather at a diehard Sugaya Risako (Berryz Kobo) fan's house and bring along items from their Japanese idol goods collections.

Just take a look at this photo. You can tell just how much support Berryz Kobo and Hello!Project have in Thailand from this one photo alone.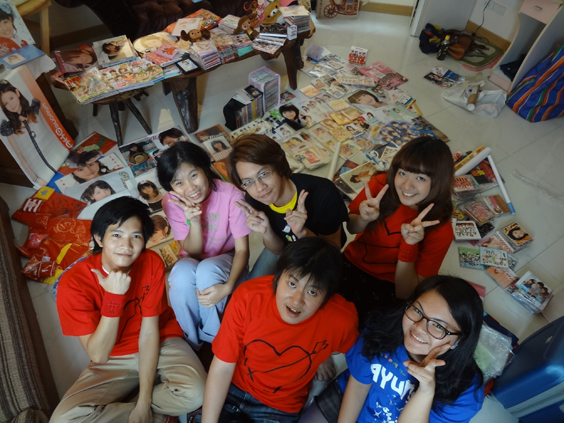 Back row, from left: Jet (26) violin/piano teacher, Bim (20) university student, Big (29) illustrator, Moh (23) postgraduate university student. Front row, from left: Net (27) bank clerk, Mui (20) university student.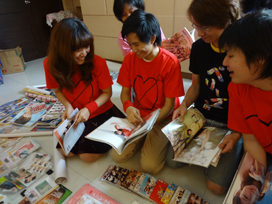 Getting carried away with idol talk.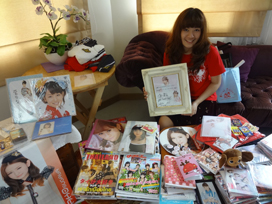 Moh's collection. A diehard Sugaya Risako fan for 8 years.
It made me so happy just watching as these fans talked with each, ogling over each other's collections. Though their ages and occupations all vary, they're strongly bound by their love of Japanese idols. That love then in turn is directed towards Japan itself. Why do they have so much love for Japan, though? I began to wonder to myself.
"Fans of Japanese anime, manga and music don't come to like Japan just because they like Japanese anime or manga or music. That's why it's so important for Japan to incorporate aspects of traditional culture into cultural diplomacy activities."

This was my very "bureaucratic" way of thinking back in 2008, when I first began advocating anime cultural diplomacy. I was mistaken in this way of thinking and I've even professed this to the ministry myself on several occasions. The spread of traditional arts and popular culture aren't contradictory forces; culture is culture, and we don't need to go highlighting every potential avenue in which it can be used for diplomacy.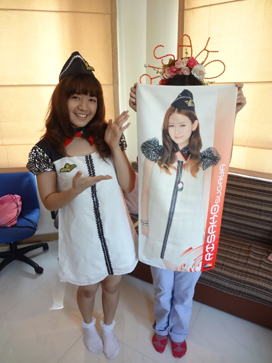 Cosplaying Sugaya Risako.
Anime and manga are without doubt Japan's greatest ambassador when it comes to global PR. These two resources are the world's gateway to Japanese food, traditional culture and even to Japan itself.

Young people all over the world often claim that the idols that you find in Japan don't exist in their own countries. The attraction, they say, is that while they're all professional when they're on stage, they're attitude towards they're fans is always so warm and genuine, and they also reveal various aspects of their private lives via their blogs. Idols are like walking billboards advertising the very nature of the Japanese people. You could say that their consideration for their fans is not unlike the hospitality that is considered one of the great virtues of Japanese culture. Using online tools like Facebook, etc., these Japanese idol fans living overseas are constantly sharing their love of Japan with the world. You could even say that these fans are highly important assets to Japan. Amongst the Thai fans who got together to meet me this time around were two individuals in particular, named Net and Oh, who have been avidly supporting their favorite Japanese idols for the past 13 years. The reason behind it all: Morning Musume.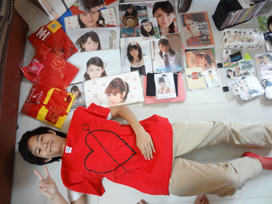 Jet's collection. Quite obviously a big Sugaya Risako fan and has been the past 9 years.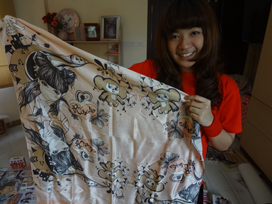 Moh's original illustration of Sugaya Risako.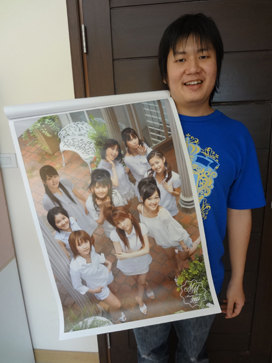 Net's favorite calendar. These were the members that were in the group shortly before I saw them in Paris.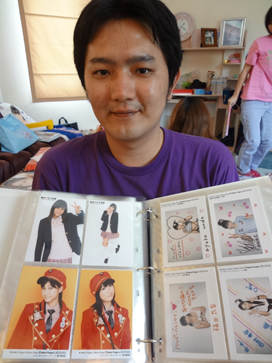 Oh (28yo, chemist) selects his favorite page from among his vast photo collection. He says he's a big fan of S/mileage's Wada Ayaka.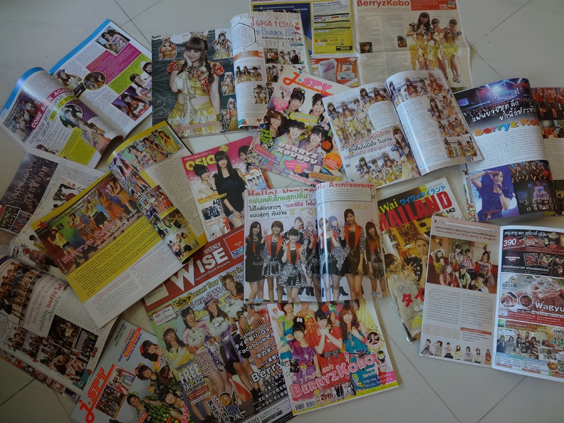 Articles written about Berryz Kobo in local Thai magazines.
Even from many years ago, back when I used to feel much differently about Japanese idols and thought they had nothing to do with me, these fans have continued to support them. They regularly come to visit Japan as well – mainly to take part in events hosted by Berryz Kobo and Hello!Project, or to see them perform live. Quite a number of Thai fans are reportedly going to be in attendance for Tanaka Reina's graduation performance at Morning Musume's concert at the Budohkan on May 21st as well by the way. As a Japanese, I'm grateful – that's the only way I can describe it. I made a promise with them, that we would try and bring the world closer together through our love of idols. It's only one small step, but in this world where it's so difficult trying to understand one another, this small step also carries great hope.

Taking a circle and making it bigger – that's what cultural diplomacy and fostering mutual understanding between countries is all about.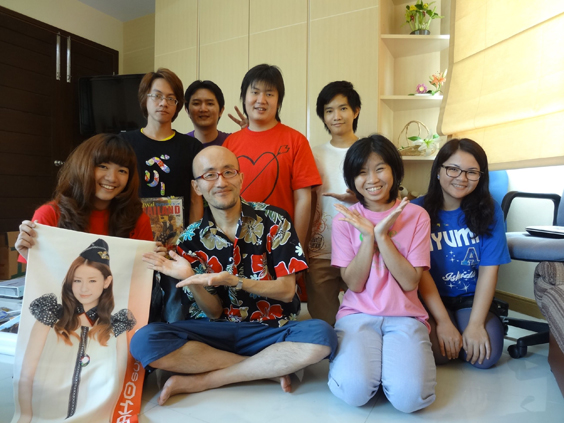 Everyone together.
A new article every Wednesday!
Next time: An exclusive with Berryz Kobo fans in Thailand.

Columnist: Sakurai Takamasa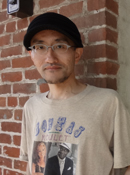 Contents Media Producer, author, journalist, managing director of Contents Street Inc. Chief Editor of iPhone magazine "Tokyo Kawaii Magazine" (ASCII Media Works), World Cosplay Summit Executive Advisor, Chief Researcher at Kodansha/Kodansha BC China Management Laboratory.
Cultural diplomat producing events in 103 cities in 24 countries. Books include "Galapagos-ka no susume"(Kodansha), "'Suteru' de shigoto wa umakuiku"(Diamond-sha), "Nihon wa anime de saiko suru
"(ASCII Shinsho), "Sekai no kawaii kakumei " (PHP Shinsho), and "Anime bunka gaiko "(Chikuma Shinsho). Writes regular columns in the weekly magazine "ASCII" and Yomiuri Shimbun.

●twitter http://twitter.com/sakuraitakamasa/
PRESENTS
All the info. on asianbeat's present campaign!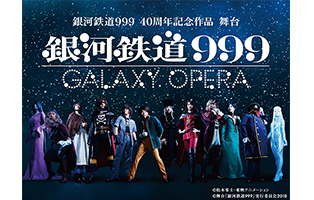 * Win 2 pairs of tickets to the play "Ginga Tetsudo 999" -GALAXY OPERA- Kitakyushu Performance!
[Details] Click
HERE
!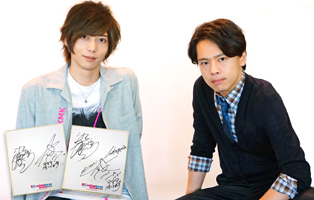 *Win a card signed by Akinori Nakagawa & Toshiyuki Someya!
[Details] Click
HERE
!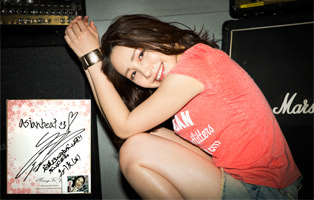 * Win a card and a cheki (photo) autographed by You Kikkawa!
[Details] Click
HERE
!