#50 Japanese Idols Representing Japan on the World Stage – Interview with Berryz Kobo Members, Shimizu Saki and Tokunaga Chinami – Part Two
Following their two live performances in Bangkok on March 10th 2013, three of the Berryz Kobo members (Sudou Maasa, Tokunaga Chinami, Natsuyaki Miyabi) then went on to perform in Myanmar the following day.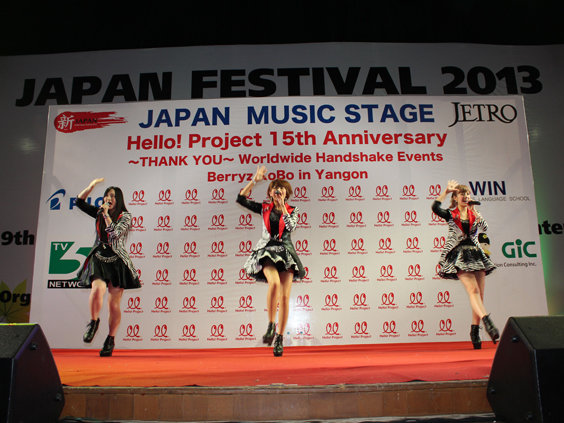 Live performance at the Yangon "Japan Festival 2013"
This was the first time for a well-known Japanese idol group to perform in Yangon – which was a big enough achievement in and of itself, but the other aspect of this trip that interested me greatly was "Japan Festival 2013": an event that was held at the Myanmar Convention Center (in Yangon). The event was being run by JETRO (Japan External Trade Organization) to introduce Japan made electronics, cosmetics, foodstuffs, office machinery and various other products to the people of Myanmar, and it was also here that Berryz Kobo performed their mini concert.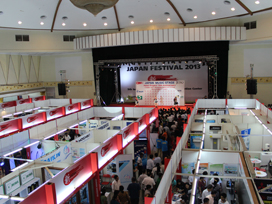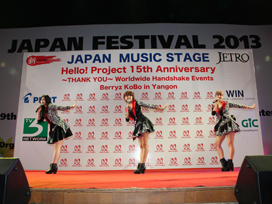 This event was unlike all the other events that I've introduced here in my articles in that it was not an event to promote Japanese pop culture. More than 100 companies and organizations took part in the event, attracting some 25,000 people.
"We started singing and everyone just stood there staring at us. It was so different to Japan and everywhere else we've performed until now. To be honest, mid performance I began to worry that people weren't having any fun." (Tokunaga)
The song that the girls performed was "Osakebi Boi WAO!" – an up-beat song with some rather intense dance moves. I've seen Berryz Kobo perform countless times before so I can imagine exactly the kind of anxiety they must have felt up there on stage.

"But then at the handshake session after our performance, a lot of people came up to us saying "That was great" and "You're so cute," so that was a relief." (Tokunaga)
This is what it means to be involved in the international scene, though. You never know how you're going to be received, you just have to believe in yourself and do your best.

"It's the not knowing that makes me want to go," says Tokunaga, and it's this kind of mentality that I believe is so important to Japan right now. We need to see places for ourselves and interact with the people living there so that we can establish how different countries represent different experiences and meanings. I believe that is the root of achieving mutual understanding between countries and I think there's a great importance for influential artists like Berryz Kobo to experience this for themselves. Having said that, the event where the girls performed this time around was not an idol event, nor was it related to anime. They performed at an event for the promotion of Japanese made products.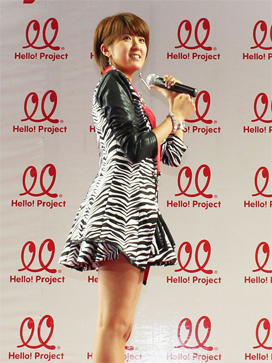 Tokunaga Chinami
Even if it was for an event for industrial products, combining it with entertainment only adds to the significance of presenting it to the world. One country that has employed this tactic to great effect in recent years is South Korea.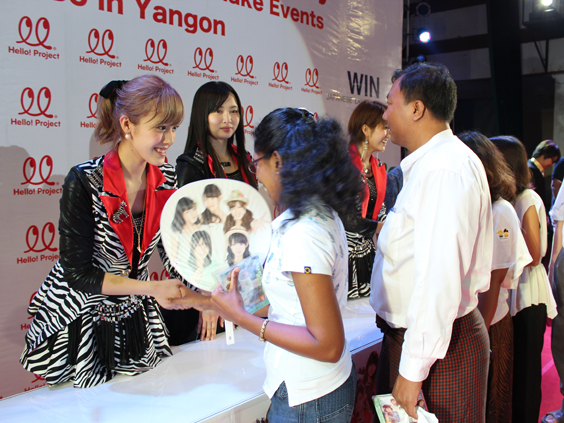 Handshake session.
"It made me so happy as a Japanese to hear the people of Thailand say they love Japan. They really are a friendly nation and they treat us so kindly every time we go there." (Shimizu Saki)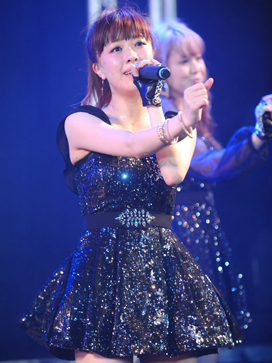 Shimizu Saki
"I've never understood why it is that we have so many fans in places like America and Thailand where we've never performed before. But once our performance begins you quickly understand that it doesn't matter that we speak different languages. We become one through music." (Tokunaga)

When Berryz Kobo visit Thailand they're always widely reported about in the local media. Which goes to show that there is a significant amount of information about Japan being received overseas. There are a number of issues involved with getting more Japanese idols to appear on the world stage that doesn't just pertain to the actual idols themselves. We need to start to think about what ways we can offer them support from the country as a whole.

In my next article I'll show you Berryz Kobo's Thai visit as the fans saw it.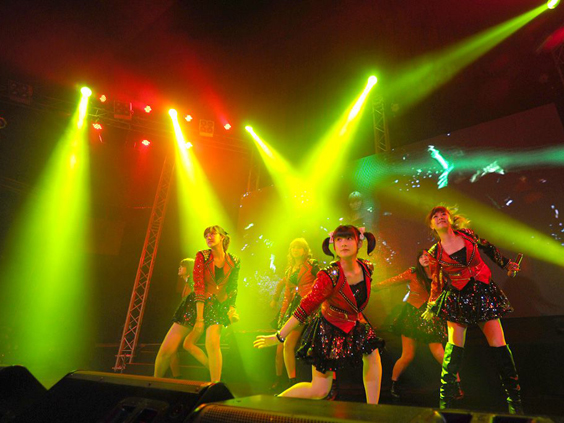 On stage in Bangkok.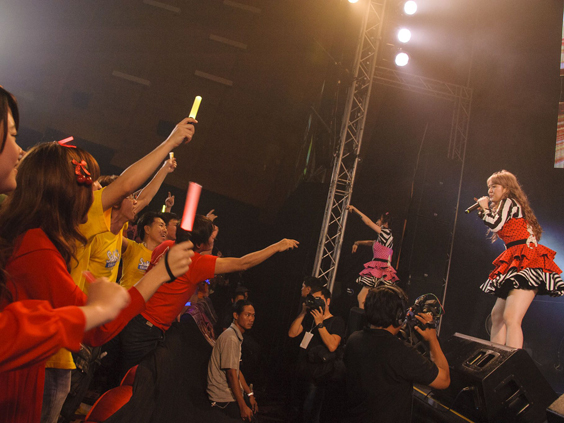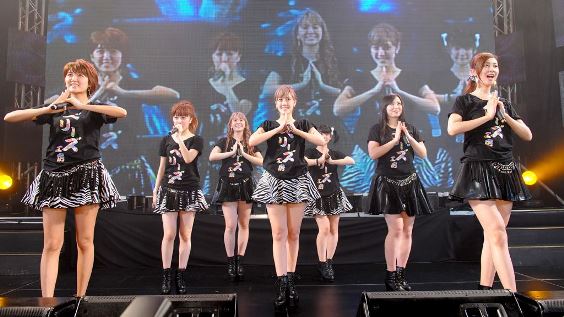 A new article every Wednesday!
Next time: Up-close and personal with Berryz Kobo fans in Thailand

Columnist: Sakurai Takamasa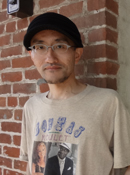 Contents Media Producer, author, journalist, managing director of Contents Street Inc. Chief Editor of iPhone magazine "Tokyo Kawaii Magazine" (ASCII Media Works), World Cosplay Summit Executive Advisor, Chief Researcher at Kodansha/Kodansha BC China Management Laboratory.
Cultural diplomat producing events in 103 cities in 24 countries. Books include "Galapagos-ka no susume"(Kodansha), "'Suteru' de shigoto wa umakuiku"(Diamond-sha), "Nihon wa anime de saiko suru
"(ASCII Shinsho), "Sekai no kawaii kakumei " (PHP Shinsho), and "Anime bunka gaiko "(Chikuma Shinsho). Writes regular columns in the weekly magazine "ASCII" and Yomiuri Shimbun.

●twitter http://twitter.com/sakuraitakamasa/
PRESENTS
All the info. on asianbeat's present campaign!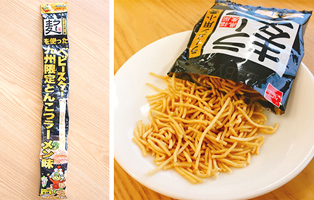 * Win a packet of "Ramugi Baby-Star (Kyushu limited edition tonkotsu ramen flavor)"!
[Details] Click
HERE
!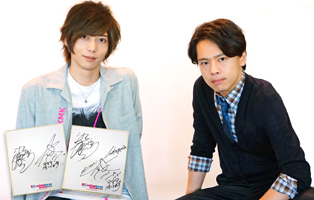 *Win a card signed by Akinori Nakagawa & Toshiyuki Someya!
[Details] Click
HERE
!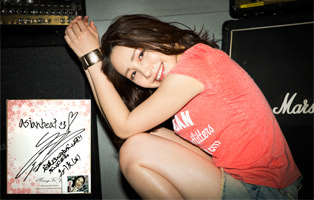 * Win a card and a cheki (photo) autographed by You Kikkawa!
[Details] Click
HERE
!