#68 Japanese Artists and Their Thoughts on "Cool Japan"
Without a doubt, "Japan Expo" is the most well-known overseas-based Japanese pop culture event in Japan, and it was held again this year from July 11th~14th. This year marked the event's 13th year. The event is currently held in Marseilles and in Belgium, and in August this year, it crossed the Atlantic Ocean for the first time and was held in San Francisco.
The first time I attended the Paris Japan Expo was in 2008. Excluding 2011, I have been every year since and each time I go it gets bigger and bigger, with attendance numbers now exceeding 200,000. Perhaps the biggest change I've noticed since the first time I attended in 2008 is the number of Japanese people at the event. There is a serious lack of Japanese people in attendance at the Japanese pop culture events that are held throughout the world, and nothing has really changed in that regard over the years, but the Japan Expo attracts quite a significant number of Japanese, both regular customers and employees running company stalls. At this particular event, it's not uncommon for me to run into colleagues I don't usually get to see back in Japan.

A number of friends of mine also performed on stage at Japan Expo this year, including "Urbangarde," a group that's fast growing in popularity in France.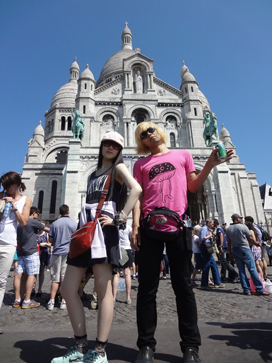 In front of The Basilica of the Sacred Heart of Paris, Montmartre.
I spoke with the two vocalists of Urbangarde, Hamasaki Yoko and Matsunaga Tenma, as we walked through the streets of Paris the day after Japan Expo. I had promised I would show them around Montmartre, so that's what I did.

Hamasaki: "It was a shock to see how many people there were in the audience once we got up on stage. This was the second time we've performed in France but the audience was just that loud, it was really energizing. I'm sure there were plenty of people there who didn't know who we were up until that point, but with each song we played you could tell they were getting more and more excited. It was a lot of fun."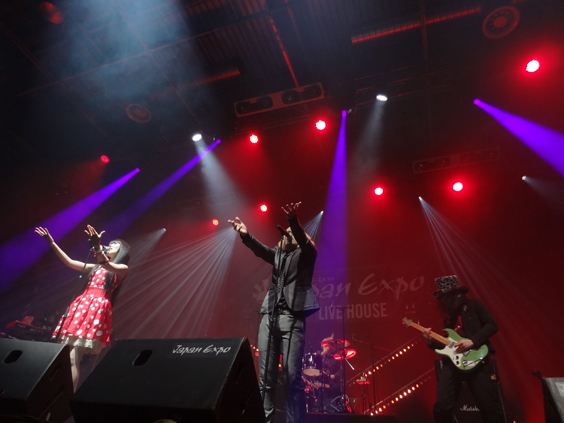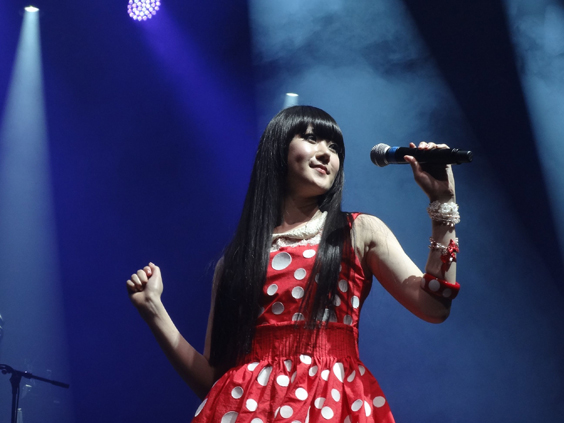 Hamasaki Yoko.
I believe that how well a group can turn those audience members, who originally knew nothing of the group, into fans at these concerts held at Japanese pop culture events overseas, is of great importance.
With each song they played Urbangarde began to win over their crowd of 3000 more and more, and to experience that with a crowd of French people at the event hall made me happy not only as a Japanese, but as a fan of their music and a friend.

Matsunaga: "That responsive feeling we got from the crowd was awesome and helped me rediscover the joys of performing live."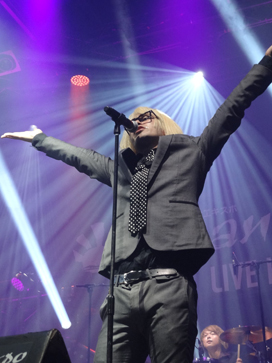 Matsunaga Tenma.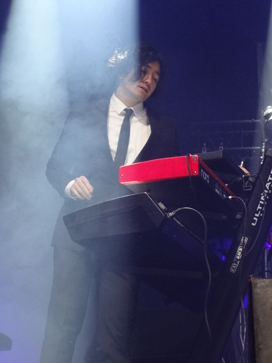 Yachimura Kei.
First off, they wanted perform at the Paris Japan Expo to a large audience. They've now completed their first step towards a shift to a more internationally focused career, but what are some of the issues that Urbangarde must face if they're to adopt a more globally focused approach and perform to international audiences more regularly from here on?

Hamasaki: "First of all, there's the language barrier. The lyrics to our songs mean a lot to us and they contain very little English. So we're currently thinking about what to do in that regard. Second is raising our performance energy. We gave everything we had this time around but I think we still need more experience playing in Japan before we can take on the bigger event halls overseas. Bigger halls require bigger energy."

Japonism refers to a Japanese artistic movement that spread throughout Paris in the late 19th century and given the current state of affairs, it's like we're witnessing a revival of the Japonism movement.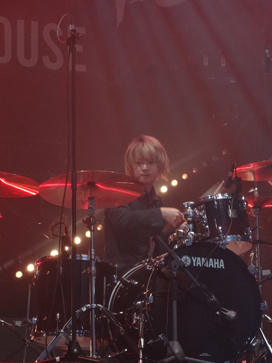 Kagiyama Kyoichi.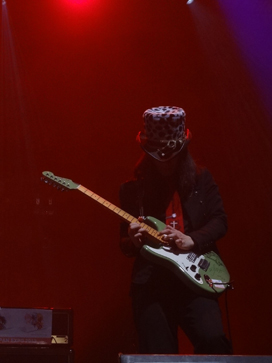 Zeze Shin.
Just like how impressionist painters like Van Gough encountered Ukiyo style paintings on the wrapping paper that covered pottery imported from Japan at the time, young people all over the world are encountering Japanese culture via the internet, and it's even having an impact to the point at which it's influencing who they become as people. And while it has become much, much easier for Japan to present itself to the world compared with Japan during the first wave of Japonism all those years ago, there are still a lot of Japanese artists who feel incongruous about it. The establishment and promotion of the "Cool Japan Policy" was a bold move, but many artists don't feel it relates to them.

Matsunaga: "There's not enough information being shared to let us know how and exactly what aspects of Japanese culture are being consumed overseas. Even the copyright laws – there's something wrong with the system if you assert your rights over a product and it doesn't result in monetization. I wonder if Japan still hasn't completely shaken off the predisposition towards national isolation."

Hamasaki: "Until recently, I didn't even know they held Japanese culture festivals overseas. If you know and you go and see these places for yourself your whole outlook on the world will change. There are so many people out there who love Japan but we don't seem to give them attention or we simply focus on one particular aspect of a country that puts them in a bad light and that's frustrating."

Matsunaga: "I think the current otaku culture boom is just like what happened when rock was born and spread throughout the world. How we turn this into a brand and whether or not Japanese people can understand it themselves are two of the biggest issues we face, I think."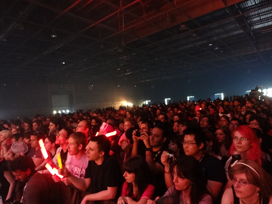 Urbangarde live at Japan Expo.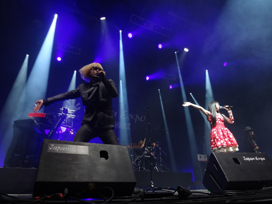 What I think is one of the biggest issues regarding Japan's current "Cool Japan Policy" is the fact that the artists most fitted to shouldering this objective aren't even aware that this is what the government's promoting. Who is Cool Japan for? If we're to believe that the policy was established to help carry Japan into a prosperous future, then I find it contradictory that there's so much emphasis being placed around this structure of rights and interests. This is also the reason why I don't use "Cool Japan" in my articles when the context of what I write about concerns how much love there is for Japan throughout the world.
A new article every Wednesday!
Next time: OTAKON – the long-standing event that puts America's east coast into frenzy year after year.

Columnist: Sakurai Takamasa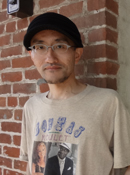 Contents Media Producer, author, journalist, managing director of Contents Street Inc. Chief Editor of iPhone magazine "Tokyo Kawaii Magazine" (ASCII Media Works), World Cosplay Summit Executive Advisor, Chief Researcher at Kodansha/Kodansha BC China Management Laboratory.
Cultural diplomat producing events in 103 cities in 24 countries. Books include "Galapagos-ka no susume"(Kodansha), "'Suteru' de shigoto wa umakuiku"(Diamond-sha), "Nihon wa anime de saiko suru
"(ASCII Shinsho), "Sekai no kawaii kakumei " (PHP Shinsho), and "Anime bunka gaiko "(Chikuma Shinsho). Writes regular columns in the weekly magazine "ASCII" and Yomiuri Shimbun.

●twitter http://twitter.com/sakuraitakamasa/