[J-Pop Culture Observations]#5 Fukuoka Prefecture's "World Seifuku Project" Infiltrating Barcelona!?

#5 Fukuoka Prefecture's "World Seifuku Project" Infiltrating Barcelona!?
The "World Seifuku Project" currently being advocated by Fukuoka prefecture in Japan is a project that aims to fill the world with kawaii 'seifuku' (school uniforms). Definitely not your stereotypical local government project! Don't get me wrong though, I believe this kind of thinking is what's needed to get people's attention in this day and age. Why? Because the seifuku is what the world has come to recognize as "made in Japan" fashion. There's no rule anywhere that states that we can use kimono but not seifuku.

There is a strong connection between seifuku and Barcelona's Salon Del Manga which attracts over 60,000 people every year, and also with me as well. In 2009 I was the organizer for the project which saw three girls entrusted by the Ministry of Foreign Affairs as the 'Kawaii Ambassadors' of Japan, but one of the major factors that this project even came into existence was my encounter with two seifuku-dressed girls at the Salon Del Manga in late October 2008.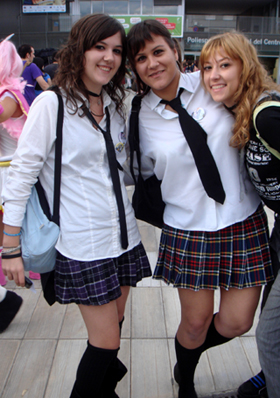 Portraying Japanese high school girls right down to the loose-fitting neckties.
About four months prior to this I also happened to meet a number of lolitas and seifuku clad girls screaming out "I want to be Japanese" at the Japan Expo in Paris, and this became one of the main reasons I started advocating Japan's kawaii culture to the world. And it was the following remark by one seifuku dressed girl in Barcelona which led me to believe that we're in the midst of a "world kawaii revolution" of sorts.
"A Japanese high school girl's seifuku is a symbol of freedom."
The impact of these encounters led to the founding of the 'Kawaii Ambassadors,' and furthermore, to the introduction of seifuku into the project as well.
Even though they're free to attend school in casual clothing they choose to style their uniforms in their own way as they see fit, and without realizing it themselves, these Japanese high school girls have become icons for girls all over the world.
Three years later and girls dressed in seifuku at the Salon Del Manga are still in abundance.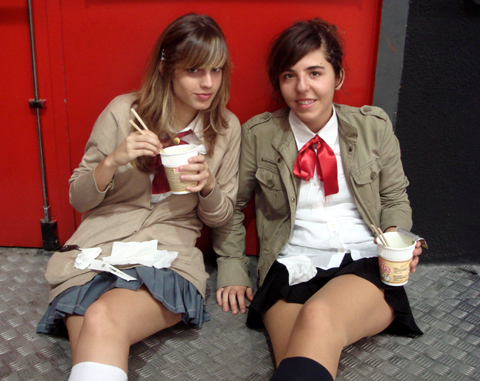 Instant ramen was a big hit at the event.
A love of anime stirs an adoration for seifuku (as a great number of Japanese anime are based around characters of middle to high school age – perhaps because the seifuku is an ideal form for the artist as well – not to mention kawaii) and incidentally invokes an interest in other aspects of Japanese society, culture and language as well.
The "World Seifuku Project" is perpetuating the world kawaii revolution and any project that can generate an interest in Japan in a sequence as smoothly as this is certainly highly worthwhile and an important conduit connecting Japan to the rest of the world.
Next Week: "Who wants to go to Japan!?" Report on the qualifying round of the World Cosplay Summit. Are Japanese the only ones not caught up in the hype!?
Sakurai Takamasa - at the forefront of bringing Japan's kawaii culture to the world.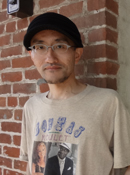 Contents Media Producer, author, journalist, managing director of Contents Street Inc. Chief Editor of iPhone magazine "Tokyo Kawaii Magazine" (ASCII Media Works), World Cosplay Summit Executive Advisor, Chief Researcher at Kodansha/Kodansha BC China Management Laboratory.
Cultural diplomat producing events in over 100 cities in 23 countries (as of July 1st, 2012). Books include "Galapagos-ka no susume" (Kodansha), "'Suteru' de shigoto wa umakuiku" (Diamond-sha), "Nihon wa anime de saiko suru
" (ASCII Shinsho), "Sekai no kawaii kakumei " (PHP Shinsho), and "Anime bunka gaiko " (Chikuma Shinsho). Writes regular columns in the weekly magazine "ASCII" and Yomiuri Shimbun.

●twitter http://twitter.com/sakuraitakamasa/