[J-Pop Culture Observations]#10 Russian Girls' Longing for Seifuku – Just how far has the "World Seifuku Project" Spread?

#10 Russian Girls' Longing for Seifuku – Just how far has the "World Seifuku Project" Spread?
Lolita fashion wasn't the only aspect of the Japan Pop-Culture Festival's "Harajuku Fashion Show," held in October 2010, that was garnering attention as Japanese fashion, but seifuku (school uniform) fashion (which now has strong associations with Fukuoka prefecture due to the "World Seifuku Project") also had a strong presence. I myself as a producer find it difficult to overlook the seifuku when it comes to Japanese fashion trends.

Three girls attended the festival wearing Harajuku born brand and seifuku fashion icon, CONOMi. When the camera's turned on them it's like they immediately became Japanese high school girls. Is that what happens when you put on seifuku, or is it a result of these girls studying Japan and having a keen interest in Japanese culture? It's both, I'm sure, but it amazes me how much knowledge female Japan fans can obtain just from researching Japanese culture on the internet.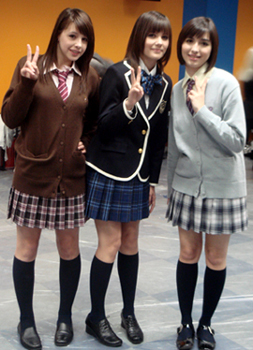 Three of the school girls selected at the auditions. They certainly look the part in their CONOMi uniforms.
Sure you can find plenty of photos of actual, real-life seifuku on the internet, but there is an abundance of seifuku in the two dimensional world of anime and manga also. Evangelion, Keion!, Haruhi, Inu Yasha…The seifuku appears frequently in Japanese anime and manga as many of the main characters in the stories are predominately middle school or school students. After years of accumulating these images of seifuku, when these girls put on their CONOMi uniforms – the ideal depiction of those images – it's as though the stereotypical Japanese seifuku model poses just come naturally.
The day can't be too far away when young people the world over raised on Japanese anime grow accustomed to implementing aspects of Japanese fashion in their real-world, daily lives.
Let's get more Japanese fashion overseas! This is something I've been proposing to people in the fashion industry and I eagerly await the day when Japanese fashion is made more easily available for young people the world over.
--"The Japanese seifuku is the most kawaii in the world!"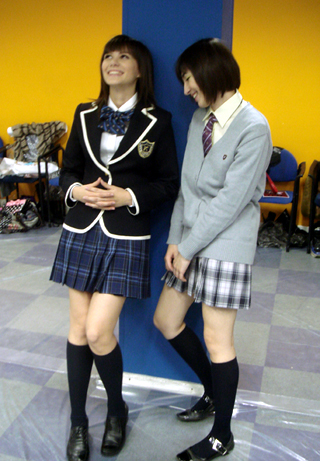 Japanese poses come naturally when the cameras turn on them.
It's the desire of the girls who told me this to attend school in Japanese seifuku. I'm told that in Russia, private school students wear uniforms and public school students wear casual clothes. Apparently there are even some customers from Russia who come to Japan just to visit the CONOMi shop in Harajuku.
It would seem that the "World Seifuku Project" is indeed steadily making its way through Russia.
Out Every Wednesday!
Next time: In line for two hours at a Fanzine event in Shanghai, China!
Sakurai Takamasa - at the forefront of bringing Japan's kawaii culture to the world.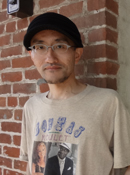 Contents Media Producer, author, journalist, managing director of Contents Street Inc. Chief Editor of iPhone magazine "Tokyo Kawaii Magazine" (ASCII Media Works), World Cosplay Summit Executive Advisor, Chief Researcher at Kodansha/Kodansha BC China Management Laboratory.
Cultural diplomat producing events in over 100 cities in 23 countries (as of July 1st, 2012). Books include "Galapagos-ka no susume" (Kodansha), "'Suteru' de shigoto wa umakuiku" (Diamond-sha), "Nihon wa anime de saiko suru
" (ASCII Shinsho), "Sekai no kawaii kakumei " (PHP Shinsho), and "Anime bunka gaiko " (Chikuma Shinsho). Writes regular columns in the weekly magazine "ASCII" and Yomiuri Shimbun.

●twitter http://twitter.com/sakuraitakamasa/

PRESENTS
All the info. on asianbeat's present campaign!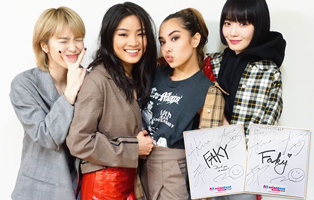 * Win a card signed by FAKY!
[Details] Click
HERE
!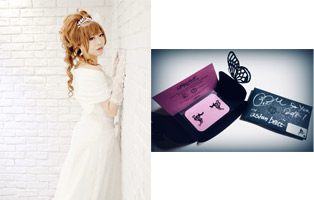 * Win paper eyelashes! The package is signed by Milktee-nu Tiara!
[Details] Click
HERE
!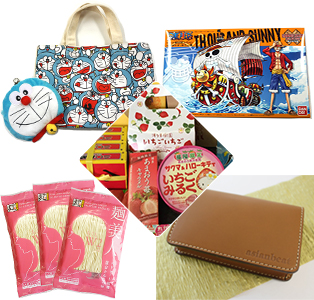 * Reader Survey: We're giving away great prizes to SIX lucky people!
[Details] Click
HERE
!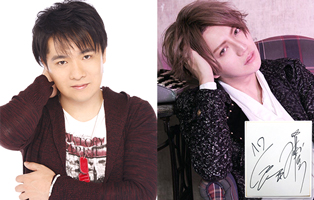 * Win a card signed by Takahiro Mizushima & A9 Shou!
[Details] Click
HERE
!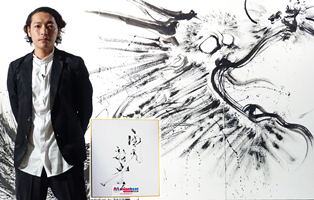 * Win a card signed by sumi-e artist Yu-ki Nishimoto!
[Details] Click
HERE
!