[J-Pop Culture Observations]#13 Hatsune Miku: Shanghai Cosplay Scene's Leading Lady!

#13 Hatsune Miku: Shanghai Cosplay Scene's Leading Lady! Could Miku be the Next World Revolutionary!?
The popularity of Miku in China goes way beyond what any Japanese could imagine. I got quite a shock when I was standing on a completely ordinary street corner when one of Miku's songs started streaming out from somewhere.

I came to fully realize the extent of this popularity after speaking with some of the local youth in China. When the conversation turns to Miku an expression of joy just seems to wash over their faces like they'd been waiting for the topic to finally surface. It has an even greater impact when coming from a cosplayer.

"I feel like there are so many possibilities with Miku."

These were the words of one young person in China. Miku's versatility with all types of musical genre and ability to stimulate users' creativity is possible the reason behind Miku and Vocaloid characters becoming arguably the most cosplayed in the world right now. Miku's ability to function as a bilateral agent must also be acknowledged as a revolutionary of global values and a mutual supporter of cross-cultural values.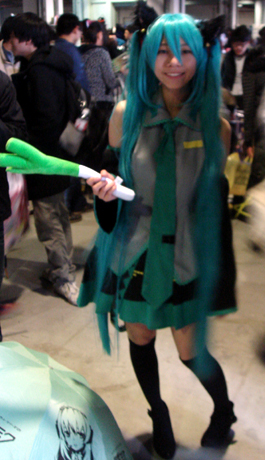 The number of Hatsune Miku cosplayers was astounding.
It's as though the world is becoming united through the existence of Hatsune Miku. I think it all stems from a want of a better tomorrow in a world that is full of so many problems.

Unfortunately though, there are still so many Japanese who aren't even aware of Hatusne Miku's existence. It's not my intention to tell everyone to go catch up on the Vocaloid boom and become Miku fanatics. That's for the individual to decide.

But I don't believe there's any merit in having this Japan-made character who's loved by the world and yet virtually unknown by so many adults, either. If we're ever to get Japan's economy back on track again I think there is ample enough reason for all Japanese people to think about what it is about Miku that has won the attention of so many young people the world over.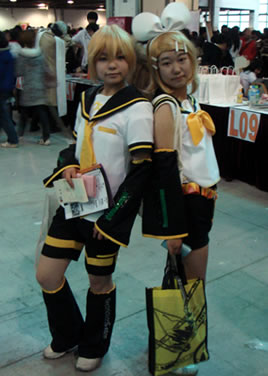 There were a lot of Rin and Ren players too.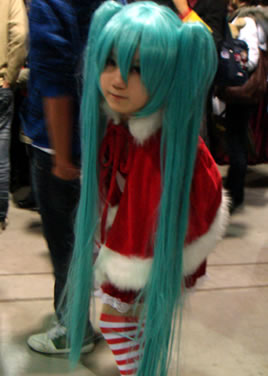 X-mas Miku was brimming with festive spirit.
Out Every Wednesday!
Next time: From China straight to Central America. Japan fever in Mexico!!

Sakurai Takamasa - at the forefront of bringing Japan's kawaii culture to the world.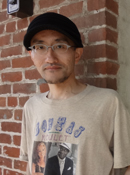 Contents Media Producer, author, journalist, managing director of Contents Street Inc. Chief Editor of iPhone magazine "Tokyo Kawaii Magazine" (ASCII Media Works), World Cosplay Summit Executive Advisor, Chief Researcher at Kodansha/Kodansha BC China Management Laboratory.
Cultural diplomat producing events in over 100 cities in 23 countries (as of July 1st, 2012). Books include "Galapagos-ka no susume" (Kodansha), "'Suteru' de shigoto wa umakuiku" (Diamond-sha), "Nihon wa anime de saiko suru
" (ASCII Shinsho), "Sekai no kawaii kakumei " (PHP Shinsho), and "Anime bunka gaiko " (Chikuma Shinsho). Writes regular columns in the weekly magazine "ASCII" and Yomiuri Shimbun.

●twitter http://twitter.com/sakuraitakamasa/

PRESENTS
All the info. on asianbeat's present campaign!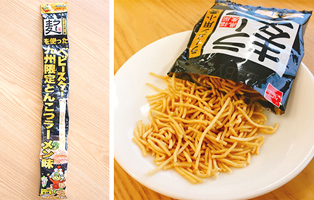 * Win a packet of "Ramugi Baby-Star (Kyushu limited edition tonkotsu ramen flavor)"!
[Details] Click
HERE
!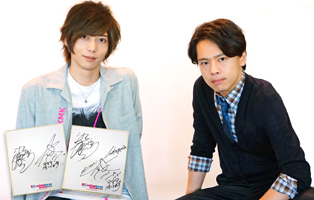 *Win a card signed by Akinori Nakagawa & Toshiyuki Someya!
[Details] Click
HERE
!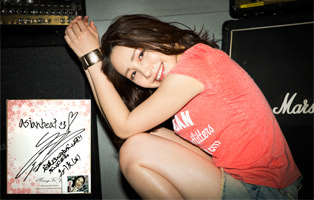 * Win a card and a cheki (photo) autographed by You Kikkawa!
[Details] Click
HERE
!