[J-Pop Culture Observations]#16 The Path of the Idol: S/mileage tells all

#16 The Path of the Idol: S/mileage tells all
Korean idol groups may be the ones taking Asia by storm right now, but from my experiences in the numerous countries I have visited I have come to realize that there is still a strong demand for Japanese idols in the global market. But just what is it about Japanese idols that has drawn so much interest from overseas? I wanted to put this to the people most qualified to respond so I asked the four girls from popular idol group, S/mileage, for their thoughts.

"When I was younger I thought that idol's hung out in these castle-like dressing rooms and got treated to buffets everyday!" (Kanon Fukuda)

Needless to say, this is not the case.

"Idol's have to be quite flexible so one of the ways we train ourselves is to do the splits and hold it for 10 minutes. I was in tears the first time I tried." (Saki Ogawa)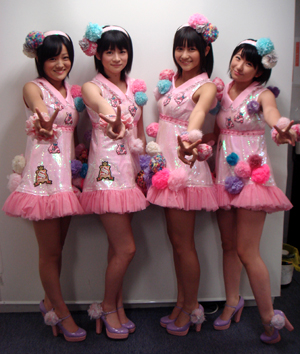 S/mileage members, from left: Saki Ogawa, Yuka Maeda, Ayaka Wada, and Kanon Fukuda.
"It was really tough not being able to do what our teacher asked of us straight away, and I found myself biting the inside of my cheeks and such." (Fukuda)

Whether it be Korean groups or Japanese, the work and effort that goes on behind the scenes is anything but half-hearted.

So just what is the real draw-card with Japanese idols? The girls of S/mileage are fans of other groups besides themselves as well, and when I asked them for their insight on this matter I got my answer almost immediately: "kawaii!" Kawaii: the word that you could say is perhaps one of the most important keywords for the Japan of our times, and the cornerstone of the way of the idol as well it seems.

"When I get home and see pictures of idols on the internet I just feel revived." (Ayaka Wada)

It's the generation that has had the internet available for as long as they can remember so sites like YouTube are indispensible to these girls. Just like the S/mileage group check out other idols online, idol fans all over the world diligently scour the internet for all the latest on Japanese idols night after night, hoping that one day their favourite groups will visit their country too.

Juggling school and idol duties. In order to balance these two aspects of life the internet will surely come to play an important role for young idols in Japan.

S/mileage, of the popular "Hello! Project" label, is one such group who has managed to continue to cultivate themselves through a balance of study and hard work and they accredit this largely to the advice and teachings received from 'senpai' (older members).

"It's a bit overwhelming when you're the newbie so I'm so grateful that our senpai are so open and friendly." (Yuka Maeda)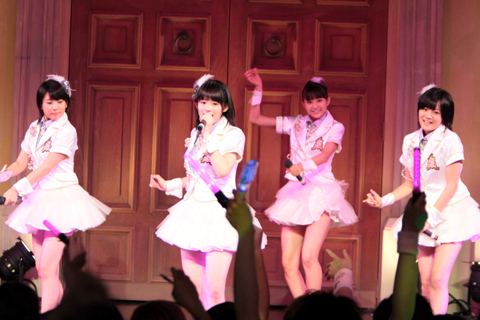 "The idols with the shortest skirts in Japan" That's their catchphrase.
I asked them which country they would like to visit to give a performance.

"Korea!"

This new-generation of Japanese idols who have been raised by Korean tv-drama fixated mothers don't seem to acknowledge any negative connotations that previous generations might feel in regards to Japan-Korea relations, but rather have a very open, neutral attitude. With these girls at the helm the future looks bright for Japan's "kawaii" movement.

Out Every Wednesday!
Next time: Nothing but Miku! Report on the all-Miku/all-Vocaloid fanzine event in Hong Kong!
Columnist: Sakurai Takamasa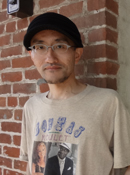 Contents Media Producer, author, journalist, managing director of Contents Street Inc. Chief Editor of iPhone magazine "Tokyo Kawaii Magazine" (ASCII Media Works), World Cosplay Summit Executive Advisor, Chief Researcher at Kodansha/Kodansha BC China Management Laboratory.
Cultural diplomat producing events in over 100 cities in 23 countries (as of July 1st, 2012). Books include "Galapagos-ka no susume" (Kodansha), "'Suteru' de shigoto wa umakuiku" (Diamond-sha), "Nihon wa anime de saiko suru
" (ASCII Shinsho), "Sekai no kawaii kakumei " (PHP Shinsho), and "Anime bunka gaiko " (Chikuma Shinsho). Writes regular columns in the weekly magazine "ASCII" and Yomiuri Shimbun.

●twitter http://twitter.com/sakuraitakamasa/