[J-Pop Culture Observations]#15 Why are Japanese idols so loved overseas?

#15 Why are Japanese idols so loved overseas?
The thing that left the biggest impression on me, personally, when I attended Mexico's EXPO-MANGA COMIC in February 2011, was just how popular Japanese idols are.
I decided to query the staff selling Japanese idol cd's and dvd's at the event about it.

"Who would you say are the most popular idols in Mexico?"

"Morning Musume!" They answered promptly. Glancing around the items on sale at the booth I could easily fiind Morning Musume, but there were also cd's by groups like Berryz Kobo, ℃-ute, and Buono!, all crammed together.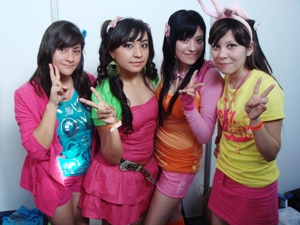 Some of ℃-ute's adoring Mexican fans.
I was aware of a rumor that Hello!Project is highly popular in Mexico and hearing about my travel plans, Morning Musume members, Ai Takahashi and Aika Mitsui, entrusted me with a video message they recorded for their Mexican fans. When I played it for the audience at the end of one of my talks a roaring applause and cheers of "Morning Musume, we love you!" broke out around the event hall. Straight after this, when I was wandering around the venue, I came across four girls who could copy ℃-ute's "Dance de Bakon!" perfectly – in song and dance moves. "We love ℃-ute!" Next time it's Mexico's turn to entrust me with a video letter that they've made.

The popularity and latent potential of Japanese idols overseas is far greater than what Japanese people fathom it to be. A large number of fans maintain that J-idols have a certain "quality" and "true-to-life" factor that sets them apart. Perhaps this "quality" that's cultivated through unceasing hard work and the so-called "true-to-life" appeal of J-idols are just two of the dynamic, resulting outcomes of the Japanese mentality of "modesty" and "hospitality." According to overseas fans of J-idols, "even when Japanese idols rise to fame, they don't become celebrities, per-se."

I posed this statement to ℃-ute, one such group who has developed such a strong fan base in various countries overseas without having even once performed outside of Japan.
"We spent such a long time on an indie label, so we really are so grateful to all our fans who have supported us all this time," they replied with a smile. Always with the fans in mind they devise the most entertaining performance they can and then figure out how best to deliver that performance as a team. This attitude that Japanese idols have towards their "craft," as demonstrated here by ℃-ute, has been so effective in getting through to foreign audiences, I get the impression that there's a good lesson to be learned here – about what to aspects to preserve to ensure the continued prosperity of Japan and Japanese entertainers from now and into the future.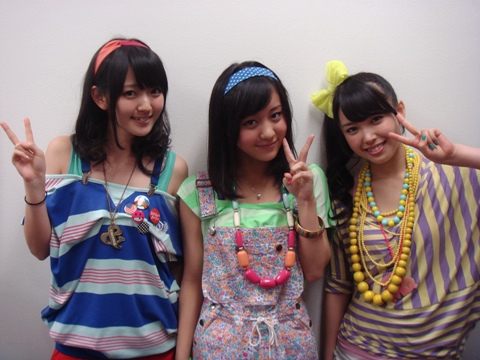 ℃-ute member interviewees: (from left) Airi Suzuki, Mai Hagiwara, and Saki Nakajima.
Out Every Wednesday!
Next time: Report on massively popular Japanese idol group, S/mileage!
Sakurai Takamasa - at the forefront of bringing Japan's kawaii culture to the world.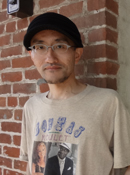 Contents Media Producer, author, journalist, managing director of Contents Street Inc. Chief Editor of iPhone magazine "Tokyo Kawaii Magazine" (ASCII Media Works), World Cosplay Summit Executive Advisor, Chief Researcher at Kodansha/Kodansha BC China Management Laboratory.
Cultural diplomat producing events in over 100 cities in 23 countries (as of July 1st, 2012). Books include "Galapagos-ka no susume" (Kodansha), "'Suteru' de shigoto wa umakuiku" (Diamond-sha), "Nihon wa anime de saiko suru
" (ASCII Shinsho), "Sekai no kawaii kakumei " (PHP Shinsho), and "Anime bunka gaiko " (Chikuma Shinsho). Writes regular columns in the weekly magazine "ASCII" and Yomiuri Shimbun.

●twitter http://twitter.com/sakuraitakamasa/

PRESENTS
All the info. on asianbeat's present campaign!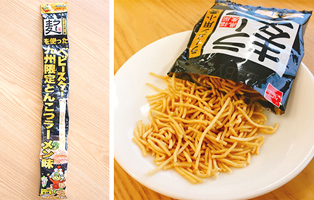 * Win a packet of "Ramugi Baby-Star (Kyushu limited edition tonkotsu ramen flavor)"!
[Details] Click
HERE
!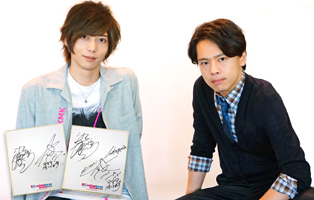 *Win a card signed by Akinori Nakagawa & Toshiyuki Someya!
[Details] Click
HERE
!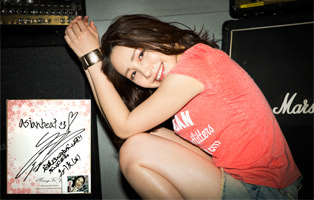 * Win a card and a cheki (photo) autographed by You Kikkawa!
[Details] Click
HERE
!