[J-Pop Culture Observations]#17 Otaku Power! Hong Kong's All-Miku/All-Vocaloid Fan Event!

#17 Otaku Power! Hong Kong's All-Miku/All-Vocaloid Fan Event!
On April 10th this year, "Miracle Vox," a fan event entirely dedicated to Hatsune Miku and Vocaloid, was held in Hong Kong. This was one event I just had to see.

It had been 9 years since my last visit to Hong Kong and as I was being shown around the downtown area of Kowloon Peninsula the day before the event by a young local I met on Twitter, it struck me just how otaku-ized Hong Kong has become. At the centre of downtown is "Sino Centre," a shopping district where you can find all Japanese anime, manga and idol related merchandise.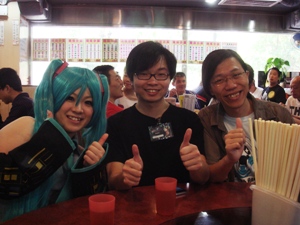 The organizers of Miracle Vox and Japanese university student, Misa Misa.
One of the noticeable changes that has occurred since I was here last is the significant decrease in the selling of pirated goods. As far as I could tell, the regular shops selling official merchandise were far busier than the few remaining stores selling bootleg products. In this district you can even find cd's by Japanese idols that have just been released in Japan. They had a price tag to match too, of course.

"Being an otaku in Hong Kong can be tough," my guide informs me, giving a wry smile.

On Sunday afternoon, as I arrived at the station nearby the event hall for Miracle Vox in the western district of Hong Kong Island, the organizers of the event came to meet me. Needless to say, they were of course self-professed otaku. During my trip I found a travel companion in Misa Misa (nickname), a female university student and otaku from Tokyo, who tweeted to me, "Just once I would like to attend an event overseas!" She met up with me for the event. I've been saying it for a while now, that young people should be getting more involved in Japan related events being held overseas, and I think we'd be better off if there were more active otaku like her out there. Taking the subway all the way from her hotel in a Hatsune Miku outfit, Misa Misa was most warmly received when she was greeted by the male organizers.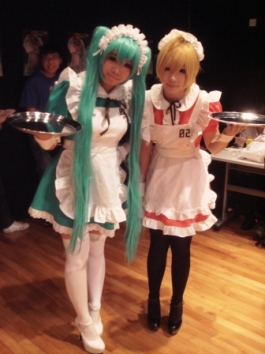 Miracle Vox was packed with Vocaloid cosplayers.
Surely enough, when we went inside the venue there was but one uniform theme: Vocaloid. From fanzines to cosplay, Vocaloid was the only thing on everyone's mind and it was clear they were all enjoying it thoroughly.
Hong Kong's famous 5 piece cosplay group, "V Project," were also there and outfitted accordingly.
As usual, we seemed to be the only Japanese at the event. Regardless of which, this place could very well have been Japan. As though playing the role of representative of Japan, Misa Misa was in amongst it, interacting with all the other otakus.

At this Miku dedicated event there were no borders, of race, sex or age. People free to like what they like. It's not easy to achieve such a simple outlook, but this is something that has been made possible thanks to Hatsune Miku. And that's why Miku is the link that can unite the world.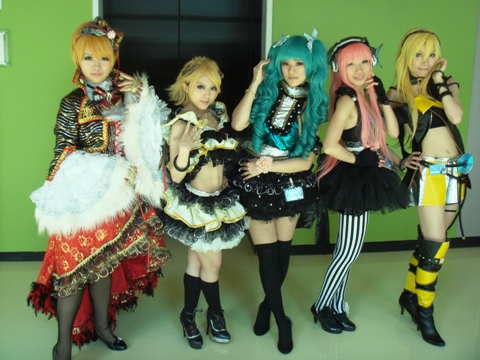 Hong Kong's famous cosplay group "V Project"
At night, after the event, the organizers of Miracle Vox took me out to karaoke. It was basically an ani-song (anime song) marathon! Then to wrap up the night, Misa Misa and one of the guys finished with a bit of a otagei performance for us.

When I see the baton of cross-cultural relations being passed along by the youth of various countries all over the world I can't help but think that the direction we're now heading in is the right one. One day in Hong Kong and a renewed sense of faith in the outlook for the future.
Out Every Wednesday!
Next time: Maid Cafés à la Hong Kong!
Columnist: Sakurai Takamasa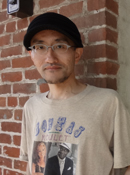 Contents Media Producer, author, journalist, managing director of Contents Street Inc. Chief Editor of iPhone magazine "Tokyo Kawaii Magazine" (ASCII Media Works), World Cosplay Summit Executive Advisor, Chief Researcher at Kodansha/Kodansha BC China Management Laboratory.
Cultural diplomat producing events in over 100 cities in 23 countries (as of July 1st, 2012). Books include "Galapagos-ka no susume" (Kodansha), "'Suteru' de shigoto wa umakuiku" (Diamond-sha), "Nihon wa anime de saiko suru
" (ASCII Shinsho), "Sekai no kawaii kakumei " (PHP Shinsho), and "Anime bunka gaiko " (Chikuma Shinsho). Writes regular columns in the weekly magazine "ASCII" and Yomiuri Shimbun.

●twitter http://twitter.com/sakuraitakamasa/