#44 Impressions of China with a Miss Japan Finalist
Since engaging in cultural diplomacy activities with China in January 2010, I have visited the country a total of 12 times (up until December 2012). That's about one trip every two months.
And not only to central areas like Beijing and Shanghai either; I've been north and south and even to the bigger cities in the far west. Friends in China also often comment things like, "Sakurai-san, you've seen more of China than I have."
Why has China taken such a pivotal role in my work? Of course there's the close proximity of our two countries and the importance of maintaining good relations with a neighboring country, but it's more than that – Japan and China just seem to work so well together.
Why do we go so well together? I put that down to the passion of the youth in China.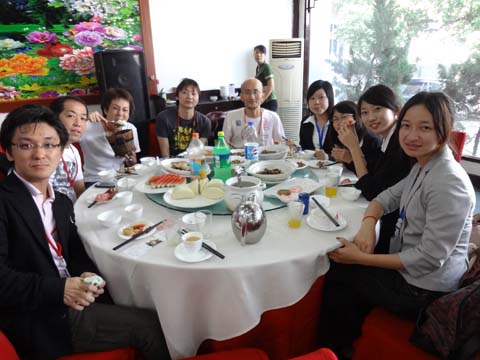 On visit to China - With some volunteer university students in Changsha, Hunan.
I've met a lot of people in my travels promoting anime, fashion and various aspects of Japanese pop culture and I've made a lot of young friends along the way, but I feel that among the bonds I've formed with people all over the world, the strongest would have to be with the people of China.

To give you an idea, there was the following episode:

In spring 2010, I made a trip to Guangzhou to do some PR work for a Japanese tourism campaign. While there I met one particular female university student who cleared her whole schedule to help us out during our stay, and even though no one asked her to, she handed out travel brochures for us at our booth and spoke to anyone who stopped by and told them why they should visit Japan. Currently she is teaching Japanese at a school in her hometown. Such people and such episodes reassure my faith in the future of Japan and China.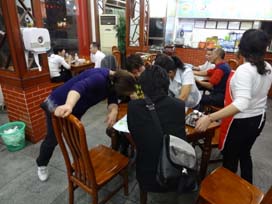 On visit to China - Asking for directions at a restaurant. Even though we couldn't understand each other we were still able to communicate.
I believe cultural diplomacy and making agreements between nations is highly important, but I don't believe that diplomacy is something that should only be left to politicians and diplomats.
I think the world would become a much brighter place if we all learnt to just respect each other and share basic common values.

What I want people to understand is that the China that's portrayed in the media is much different to the "passionate" China that I have experienced and a joint national project to try and relate this to people was even established between China and Japan. That project is the Japan-China Cultural Exchange Group. Chinese and Japanese participants in this project made visits to each other's countries and in October 2010 when I visited China as leader of the pop culture division of this project, I had the pleasure of being accompanied by Miss Japan candidate (and 4th year Hakuoh University student), Asami Masuda.

"University students studying Japanese in China volunteered to show us around, but I was quite surprised to find out how versed they are on Japanese anime and TV dramas – they probably know more about Japan than I do. They even knew about CanCam, the magazine I model for." – Asami Masuda.

Chinese versions of Japanese fashion magazines are extremely popular in China right now. It's not uncommon for there to be a bigger print run for the Chinese versions than the original Japanese versions either.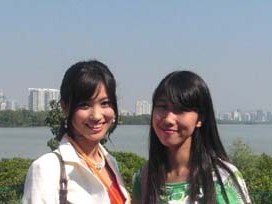 Asami Masuda with a volunteer university student.
I asked some girls what they like about Japanese fashion magazines and the most common response I got was "practicality." They say that Japanese magazines are full of tips on outfits and coordinating. The fact that these magazines also use non-professional models also seems to make them all the more appealing.

"During my stay in China I really felt the importance of human connections. Even after returning home to Japan I still keep in contact with the friends I made via e-mail. To all the people that looked after me in China, if you ever come to Japan I'll be sure to return the favor."

This visit to China was Asami Masuda's first time overseas and I'm sure her impressions of China before and after the trip are completely different. The same goes for the reverse as well.
People the world over are currently being brought up on Japanese anime and these people, most likely, would love to communicate with Japanese people in real life also.
The tendency for young people in Japan to be so introverted is now a hotly debated topic across various media.
My hope for the youth of Japan is that they learn to spread their wings and get out there. The world is waiting.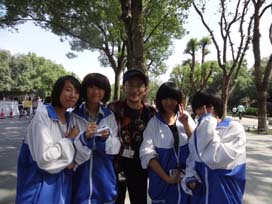 On visit to China - in Changsha. A bunch of middle school student anime fans asked us for our autographs just for being Japanese.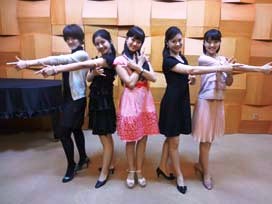 "In the name of the Moon, I will punish you!" Sailor Moon in Chinese.
Out Every Wednesday!
Next time: The power of song! Teresa Teng's hit song "Give yourself to the flow of time" strengthening the bonds between China and Japan.

Columnist: Sakurai Takamasa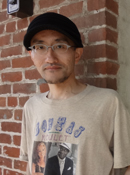 Contents Media Producer, author, journalist, managing director of Contents Street Inc. Chief Editor of iPhone magazine "Tokyo Kawaii Magazine" (ASCII Media Works), World Cosplay Summit Executive Advisor, Chief Researcher at Kodansha/Kodansha BC China Management Laboratory.
Cultural diplomat producing events in over 100 cities in 23 countries (as of July 1st, 2012). Books include "Galapagos-ka no susume" (Kodansha), "'Suteru' de shigoto wa umakuiku" (Diamond-sha), "Nihon wa anime de saiko suru
" (ASCII Shinsho), "Sekai no kawaii kakumei " (PHP Shinsho), and "Anime bunka gaiko " (Chikuma Shinsho). Writes regular columns in the weekly magazine "ASCII" and Yomiuri Shimbun.

●twitter http://twitter.com/sakuraitakamasa/

PRESENTS
All the info. on asianbeat's present campaign!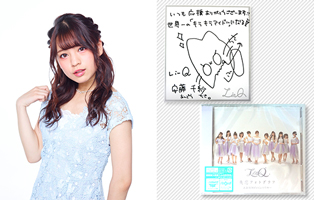 * Win a CD & a card signed by LinQ Chisa Ando!
[Details] Click
HERE
!