#45 The power of song! Teresa Teng's "Give yourself to the flow of time"
Over the past two years, from January 2010 to December 2011, I've made 12 trips to China and there's always been one particular song that has been right there by my side the whole time: the late Teresa Teng's "Give yourself to the flow of time."

It was during my first trip in January 2010 when I visited Chongqing - a huge city of some 30 million people. I was walking back to my hotel late one night when I came across a man who was singing and playing along to this particular song. Even though it was the Chinese version, I can still recall the melody quite clearly like it was yesterday.
And then in March 2010, I visited Chongqing again, this time joined by the Japan-China exchange group – a group of people involved in the anime, fashion and music industries, assembled together as part of a state project. A party was held for us at Chongqing University and as a closing to this party, to bid us farewell, a group of female students sang this song for us in Japanese.

Ever since then I feel like I hear this song wherever I go in China, and I myself have sung it on several occasions, in various locations. Why is that? It's because this song has the ability to breakdown national and cultural borders.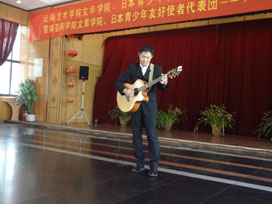 Guitarist, Shuji Koguchi, performing a song he composed after arriving in China.
Japanese song writers and composers were involved in the creation of "Give yourself to the flow of time," and if you were to ask what the most well-known song is in China, young or old, male or female, this song would have to be it.
Reaffirmation of this belief came in August 2011 when I saw the then recent Morning Musume graduate, Rin Rin, perform live in Harbin.
(I've written about this in a previous article. See #32)
Akari Saho of Up Up Girls joined Rin Rin on stage to perform a few Morning Musume hits, such as "Love Machine" and "Mikan," and as a finale to their mini concert they performed "Give yourself to the flow of time" in a mixture of Japanese and Chinese. The performance was held in the centre of Harbin's "Chuotaigai" and as "Give yourself to the flow of time" entered into its Chinese verses, just about everyone in the audience joined in. This song overcame any national borders and brought everyone together as one. It was just one of those moving moments. Song is incredible.
Then three months later, on another visit to China, I got to return the favour in a similar way.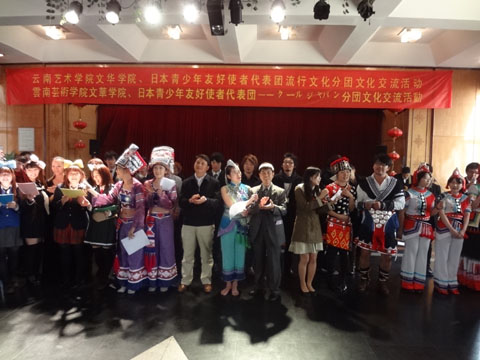 Yunnan Arts Institute, Kunming. Singing "Give yourself to the flow of time."
On visit to Kunming in Yunnan with the Japan-China exchange group, a party was held for us at the Yunnan Arts Institute. At the end of this party the Japanese members in the group, with the accompaniment of guitarist Shuji Koguchi, sang this song to the Chinese members to express our gratitude to them.
As the song began, the teachers of the academy and the students started running up to the stage one by one and it turned into one great big sing-along in Japanese and Chinese.

"It was so moving, I was shaking"

These words from one of the group members describe the exact same thing I experienced in Harbin.

Music won't provide swift resolutions to diplomatic issues or problems that arise between countries, but it is through music that we can express ourselves and relate to one another. Through the expression of these feelings through music we're able to see a different side of each other that we perhaps didn't, or couldn't, see before.

In just 3 minutes people can establish a whole new opinion on something or someone. The potential of this never rings greater than when I hear "Giver yourself to the flow of time" when I'm in China.

The Chinese put on various musical and contemporary dance performances.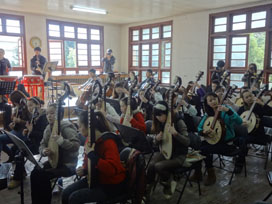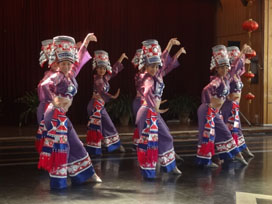 Out Every Wednesday!
Next time: Haruko Momoi LIVE in Moscow

Columnist: Sakurai Takamasa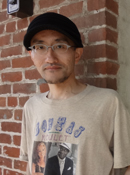 Contents Media Producer, author, journalist, managing director of Contents Street Inc. Chief Editor of iPhone magazine "Tokyo Kawaii Magazine" (ASCII Media Works), World Cosplay Summit Executive Advisor, Chief Researcher at Kodansha/Kodansha BC China Management Laboratory.
Cultural diplomat producing events in over 100 cities in 23 countries (as of July 1st, 2012). Books include "Galapagos-ka no susume" (Kodansha), "'Suteru' de shigoto wa umakuiku" (Diamond-sha), "Nihon wa anime de saiko suru
" (ASCII Shinsho), "Sekai no kawaii kakumei " (PHP Shinsho), and "Anime bunka gaiko " (Chikuma Shinsho). Writes regular columns in the weekly magazine "ASCII" and Yomiuri Shimbun.

●twitter http://twitter.com/sakuraitakamasa/

PRESENTS
All the info. on asianbeat's present campaign!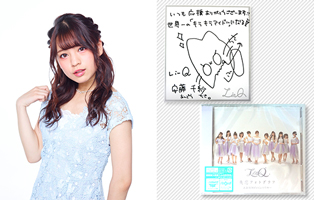 * Win a CD & a card signed by LinQ Chisa Ando!
[Details] Click
HERE
!